I'm sitting in my basement avoiding studying for finals. Young Jeezy's classic "Soul Survivor" featuring Akon just started on Pandora. It's time to blog.
So the World Cup draw happened last Friday. A tough draw for the US, but we'll get there. Settle yourselves. Let's look first at Group A and our host, Brazil.
Group A: Brazil, Croatia, Mexico and Cameroon
Immediate reaction: This is a fascinating group. Brazil is the obvious favorite, but after that… who knows? I have a gut feeling Mexico thrusts a fist out of the quagmire left in Brazil's wake, just because of course they advance while the US wade through a minefield.
In Focus
Brazil: Favorite'd to win this group, and favorite'd to lift their sixth trophy. Brazil is historically a very bipolar squad. Either they're setting the world alight or they're apathetically kicking the ball around (they were 22nd in the FIFA rankings prior to winning the Confed Cup). Typically full of individual superstars with less than ideal attitudes, Brazil last won in 2002, which I guess means they're due for one? Good lord.
I don't think attitude will be so much a problem here. Neymar, Thiago Silva, David Luiz, Oscar, Fernandinho and Dani Alves all have histories of being pretty easy to work with in the locker room. Not to say the people not listed have bad histories, just that these players are seem to be especially easy going (Dani Alves, for all he is on the field, has nothing but positive reports as a teammate).
Furthermore, this team is more built to win games across all levels than years past. The defense is quick and possession-minded, David Luiz's lunacy shored up by Silva's steady hand. Both Marcelo and Alves have a history of sweeping forward and being excellent 1v1 defenders. Neymar's selflessness has proven itself at Barcelona, while Oscar has risen to become a star at Chelsea this season (at the cost of Juan Mata, no less).
Not to get too far ahead here, but while I see them winning this group and making a run, I don't see them winning the World Cup. Their firepower is significant and impressive, but can't match that of Germany or Spain. They are more of an all-around squad than Argentina, and perhaps the speed of their counterattacks can surprise Spain (again) and the Germans. It's tough to say, but I think teams will be prepared for them now, they'll be more compact and pragmatic and perhaps more physical. Anyway, they win this group with 3 wins.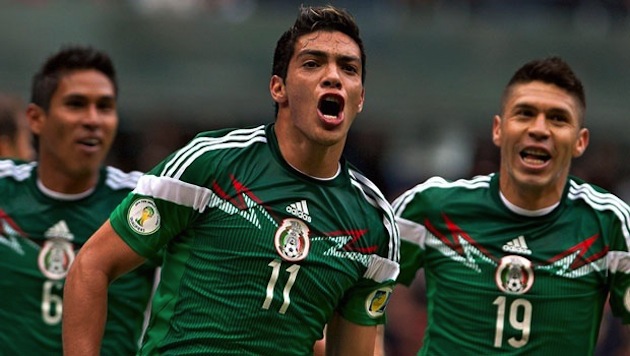 The Other Guy
Wait, who's the other team that's going to advance?
Mexico: Boy are they lucky to be here, and I think they know it. They shelled New Zealand in the playoff, but don't think that means they got shaken into action up against the wall; they still lost the 'must win' in the final game of the Hex. It's up in the air as to whether they'll be able to pull it together in the World Cup, or end up collapsing a la France in 2010.
Hernandez has faded significantly since his debut season with United, although 2013 has been his most prolific year for El Tri since 2010. There are squad concerns everywhere. Peralta, Guardado, Gio were all poor in qualifying. Rafa Marquez is so old I feel tired just watching him, although he's made a ramshackle comeback of late. Mexico missed the boat on Vela, who continues to play wonderfully for Sociedad, but I'd be surprised to see him playing in June. Gio has similarly been excellent in La Liga this year with Villarreal with 12 goals or assists in 14 appearances, but he failed to score in 2013 for his country, his first scoreless year since the 6 caps he made in 2008.
They make it out of this group, I think, but only just.
Match of the Group: Mexico v. Croatia. Should determine which of the two goes through. I thiiiiiink it'll be Mexico, but so far I've changed my mind twice. So I'm going to finish this post before I change my mind again.