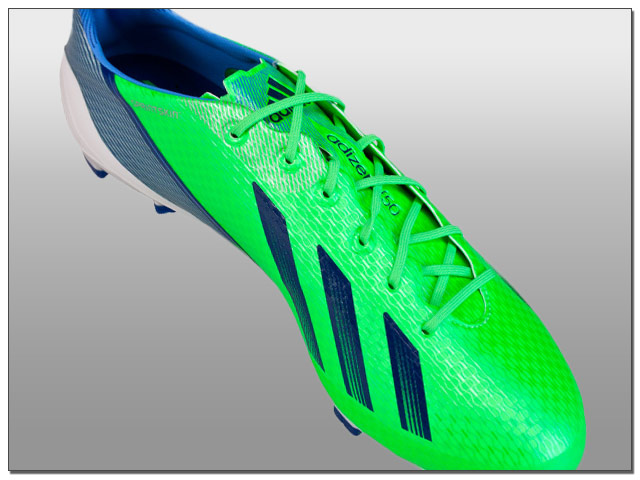 There are very few boots that carry the weight like Adidas prized speed silo. The first widely accessible boot that broke the 6 oz barrier, the pressure for a quality release is greater than ever now that other companies have started shaving the ounces. Has the newest adiZero improved on the boot's past success or has Adidas played it too safe with the newest incarnation? We decided to take a hard look and what we have to say may surprise you.
The first impression of this boot led me to think that Adidas had played it too safe. The profile and feel of the boot, despite an updated paint job, seemed far too similar to the last adiZero. The slight texture added to the upper seemed too minuscule to truly affect play and the painful break-in did not help my opinion. Factor in that I was testing and really enjoying the leather version, and I was not full of praise for this boot.

However, after (finally) breaking the F50 in, I really started to see that Adidas have made some key changes that have actually improved the boot. The boot fits much better in the mid foot and the increased size of the sprint-frame is definitely the contributing factor. The heel has also been changed slightly and I feel more secure in this F50 than in the last one (which is very important for a man with a past filled with broken ankles). And, despite seeming too recessed to truly affect your play, the pattern on the upper provides a little more grip on the ball in all conditions.
Adidas have had massive success with their adiZero line, and it would have been very easy for them to have left the boot unchanged. However, they have made several key changes that allows this to be the best F50 to date. Make sure you pick one up from our friends over at SoccerPro.com
Written by: Andrew McCole, writer, soccerprose.com