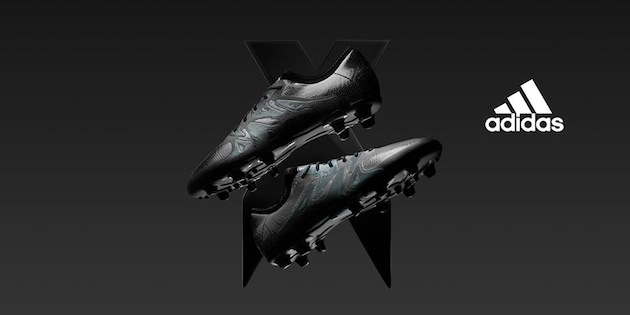 Adidas have gone and given the world the best of the light and dark side of cleats. The Etch Pack, which was released in a K-Leather upper in a stunning white and gold colorway, released along side an absolute beauty of a colorway in the Fluid Pack. This can go down as another creative look at blackout boots from adidas, in my mind it's almost better than a standard pair of blacked out pair of the X15.1 or Ace 16.1.
The X 15.1 is the more eye-pleasing release in my opinion with the more visible oily or metal X-Cage to give a bit of shine to the cleat. The rest of the boot is a spectacular shade of black with the upper seemingly matte black while also keeping a bit of shine to it as well. In case you were not already aware that this is a blackout boot, every thing on this pair is blacked out to give that stealthy look every fan loves when slipping the boots on feet. The X lineup has been popular since its release last year.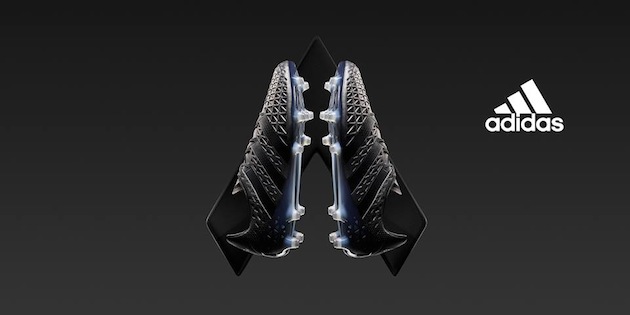 The Ace 16.1 receives its first full blackout treatment. Seems like just yesterday that we saw this boot come into existence. Time to stop getting sentimental, the Ace 16.1 takes the more pure look into the blackout game with the same Fluid design to the black upper, but this one looks more like a standard blackout compared to the X. You guessed it, neither white nor any other color can be found on this boot. The Ace 16.1 is the successor in the popular Ace 15.1, which took the world by storm in terms of control boots. The 16.1 is being tested by one of our expert reviewers as we speak so stay tuned for the review on the revamped Ace.
So what are your thoughts on the Fluid Pack? In terms of blackout releases from adidas I believe this one blows the Black Pack out of the water in all adidas black releases. If you are the type of player that likes to hide the brand or have subtle colorways of your adidas boots, this Fluid Pack is for you.