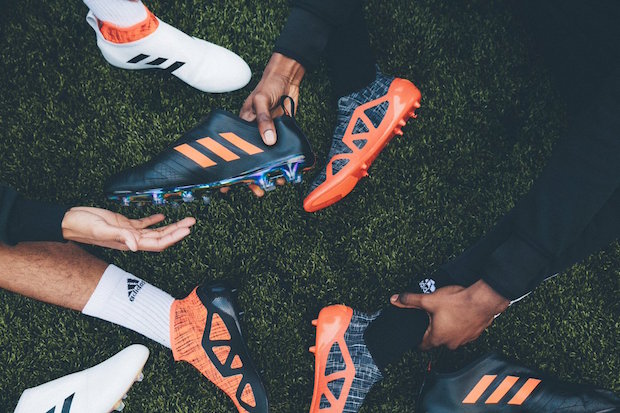 In one of the most interesting launches in recent memory, adidas has decided to make us question reality. Hints and whispers on social media for the last few weeks, coupled with disbelief from many boot fans, all gave way to the launch of the adidas Glitch yesterday. A boot that isn't meant to take the place of the X or ACE, but a foray into the world of boot customization that has always been a favored route of adidas. Will you take the blue pill or the red pill?
First, we'll focus on the boots themselves. While the color you can choose will only expand with time, the first item you'll need for the Glitch is the TechFit innards for the boot. Available with either a high or low cut collar, this piece is what will provide the fit in the Glitch. After you've chosen which size collar you'd like, you then choose a certain upper. Available in a wealth of colors (that will only grow larger with time), you can get a variety of synthetics, stud patters, and even a leather variation. Both parts can't function on their own, but they come together to form the Glitch.
All you have to do is slip in the TechFit sock inside the boot's upper, and you have yourself the adidas Glitch. Instant customization at the tips of your fingers. Remember the adidas TUNiT? This boot isn't even the same league as the Glitch.
London is lit. ? Break the pattern in #GLITCH16. Coming soon to the city. #FirstNeverFollows pic.twitter.com/1lnQNX7zHU

— adidas UK (@adidasUK) October 31, 2016
The release of this boot is nothing short of odd. Not getting a standard release to the world or launching via a limited number, you actually have to be invited into a group of players that have been given specific codes. Find the codes, become part of the group, and you can find yourself wearing the Glitch. Just know, for those of us located in the United States, that the initial foray into this boot is located in London, England…so we might have to wait a bit to see what's going on with this release.
We're very anxious to see how this release is received and if it becomes a boot that stands for a while in the adidas pantheon. Although, naming a boot after something that is considering a mistake in a system might not be the wisest first move. Here's hoping that this boot is more like the original Matrix than Matrix Revolutions…fingers crossed.