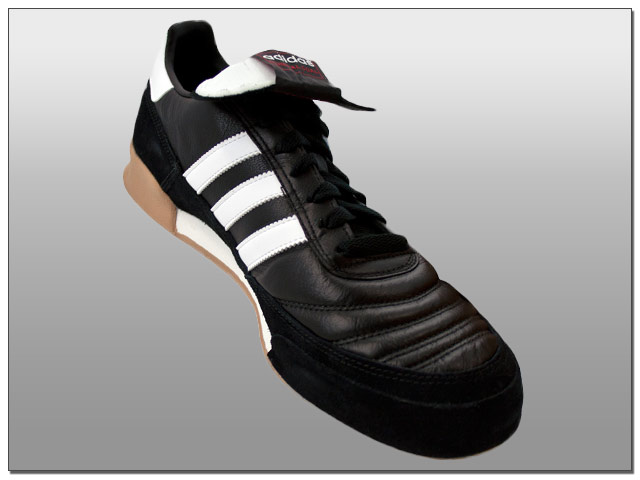 You can't beat the natural touch and feel of kangaroo leather on a pair of soccer shoes. Thankfully, the Adidas Mundial Goal brings the beauty of k-leather to the indoor game with classic style. Featuring a black leather base and white Adidas stripes its fair to say the Mundial Goal has the soul of the Copa and the feel of a SuperSala. It also fits true to size, which is a nice plus, and for $85 you won't get a higher quality pair of indoor soccer shoes. The nice thing about the real leather on these shoes is they will also break in nicely.
As I've already said, the upper on these soccer shoes matches that of the Copa Mundial, in that its made from real kangaroo leather. However, the true beauty of these shoes isn't in the classic style and materials, but the fit. Often times I find my eyes drawn to the brighter colored cleats you see in the shops, but you cannot beat the Mundial Goal in terms of a comfort and touch on the ball. As soon as you get these on your feet you'll notice the soft leather and the thicker insoles, which ensure the leather with snugly follow the lines of your feet as soon as you break them in. This should take one of two practices, but its mostly for the sake of getting the sole to be flexible as opposed to the upper. Durability is also assured with real leather uppers and the glue bonding it to the upper will not wear away either. One caveat, its not a good idea to get these shoes wet in the rain, or wear them on artificial grass as both will damage the glue and upper to the point wear they'll become unwearable.
The sole on these shoes is also worth mentioning as its rare you see gum rubber used on soccer shoes these days. Most soles on indoor soccer shoes are derived for a polyurethane(PU) composite that's injected into a mold. These materials are strong and flexible, but they lack the energy return and "stick to the floor" capabilities of gum rubber. It may not be environmentally responsible to use gum trees for rubber, but you can't argue with the quality of the product it produces. At any rate, it will break in within a few matches, and be just as flexible as any PU-based sole.
Overall, the Adidas Munidal Goal is a great pair of indoor soccer shoes for any player, offering great touch on the ball and decent durability. The price is also right, and they come with a one year warranty from Adidas so if you are looking to sport classic style on the court these shoes are well worth a look.