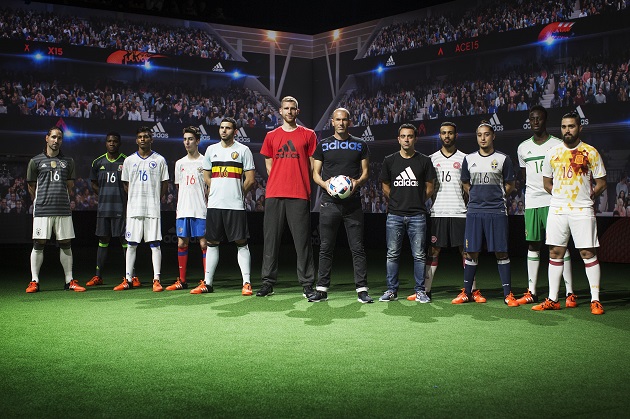 FUTURE ARENA in Paris opens as the ultimate stage for creators past and present
With a full-on revolution now firing on all cylinders, the three stripes has turned their focus to other areas within the football world where they can assert their presence. Instead of creating a new pair of boots or gear, adidas has created a digital stadium in Paris that they have labeled the FUTURE ARENA.
What is this "FUTURE ARENA", you ask?
Simply put, adidas has made a 360 degree 5-a-side arena that creates a digital crowd made to mimic crowds seen at the biggest soccer games in the world. Complete with reactions to every goal, every mis-hit, every miss, and all of the skill that your game can muster, this arena allows every player to have an incredible experience.
As the first FUTURE ARENA launched in Paris, adidas made sure that they rolled out the red carpet for some of their biggest (figuratively AND literally) players. Zinedine Zidane, Xavi, and Per Mertesacker were present, with all three talking about how impressive the arena was in terms of recreating their real-life experience. Zidane even said "I liked the idea of making young footballers feel the emotions I experienced playing in front of huge crowds during my career. It's a unique experience to play in Euro finals, the pressure before the match, the adrenaline in the tunnel, the sound of the crowd pushing you to play your best on the pitch… The FUTURE ARENA offers all these emotions, just like major football matches. I hope the next generation of players enjoy the atmosphere, who knows where the experience will inspire them to go on and play!"
The event doubled as a launch for the new adidas ball, the Beau Jeu, with the ball being used while players were playing in the arena. Not only was the ball getting its full reveal, but all of the players at the event were wearing some of the kits for the major countries and what they will be wearing at the Euros.
Not ever one to let a launch occur without some serious storytelling, each country's kit has an interesting story behind its creation. For the German kit, adidas say that they drew their inspiration from street soccer within the country. As if to solidify the story, the kit is actually reversible in order to fit "the needs of all players." The Spanish kit is directly inspired by the Fernando Torres goal that began Spain's era of dominance, Russia's kit draws its look from the Russian Eagle, Sweden's kit is supposed to celebrate the country's youth, the Danish kit is supposed to celebrate the "vibrancy of Denmark's youth culture," and the Belgian kit is meant to be a connection to Belgium's incredibly successful history in the sport of cycling. Some good looking kits, to be sure, but…well…for some of the stories…it sort of feels like we have the mentality of, "sure…whatever you say adidas…whatever you say."