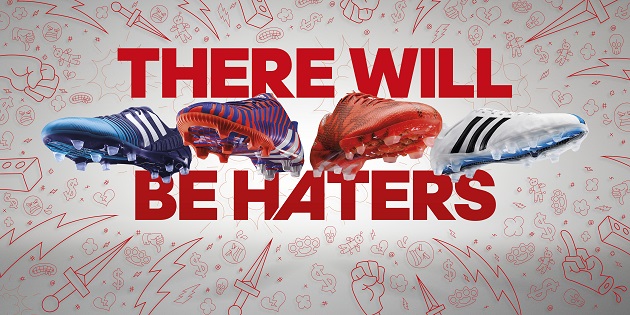 This is not your father's adidas. The German company has ushered in their 2015 with one of the more in-your-face marketing campaigns in recent memory. It's called There Will Be Haters (directed by Paul Thomas Anderson?) and adidas has the boots to combat those aforementioned haters. In a similar stroke to Puma's "Calling All Troublemakers" TV spot, adidas is embracing the polarizing nature of some of their athletes, namely Luis Suarez. The "Haters Pack" features all four silos updated with a new colorway, with the F50 getting an exciting new redesign. So let's start there.
F50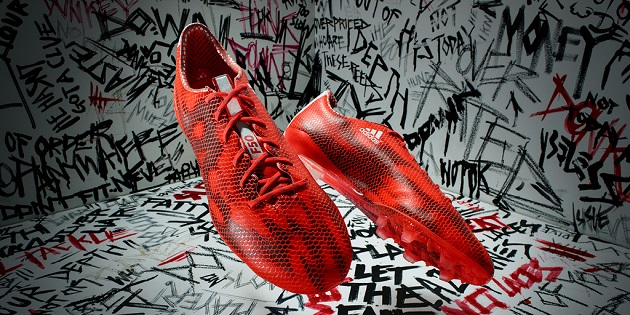 Overdue for a makeover, the F50 adiZero line has now gotten one – and then some. With impressively unique visuals, it is unlike almost anything out there at the moment. Those Three Stripes you are so used to have been pushed to the heel of the boot, running vertically among an aggressively modern upgrade. Absent the typical three stripes on either side, the F50 catches your eye instantly. The upper's design displays a Rorschach-esque "ghost graphic" throughout, which gives this F50 more of an abstract, avant-garde look than we are accustomed to on an adidas boot.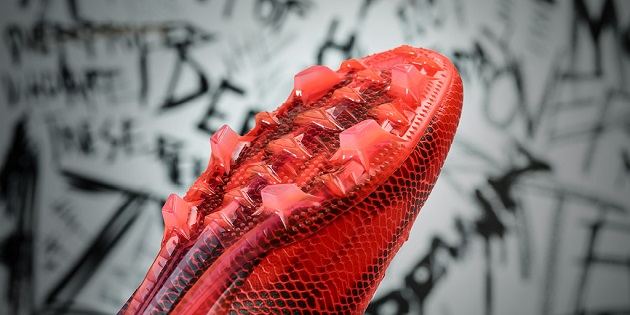 Of course, Mr. Suarez will step into these, along with fellow hater-defying stars such as adidas' stable of Real Madrid studs: Gareth Bale, James Rodriguez, and Karim Benzema. Not only is the Solar Red color vibrant and bright, but the black, spectral "ghost" touches lend subtle mystery as well. As far as tech advances, this F50 has a 3D Dribbletex layer on the upper that will enhance dribbling in less-than-desirable conditions. The equally invigorating update is the outsole redesign, which uses sprint track spikes as inspiration for a second level of traction on the forefoot base. Basically, your grip and stability is as good as ever.
11Pro
Pretty much the opposite of the F50's aesthetic is the new 11Pro color scheme. After the release of the redesigned 11Pro, adidas has been experimenting with different colorways (such as orange/white, black/orange, and green/black on the SL). Now they bring those white leather boot fans something special with a black and blue line separating each white half. Simple, clean, and striking, this is not a release that will blow you away, but for those looking for something a little classier among the crazy, outlandish designs around them, it's a certainly a winner. You should see winners like Toni Kroos and Philip Lahm strap these on soon.
Nitro
Charging through dressed in Amazon Purple, the Nitrocharge looks excellent with this calm color combo. With a Solar Blue toebox, purple back half, and alternating colors among the Energysling, this Nitro colorway shouldn't be overlooked by the louder options in the Haters Pack. The Hybridtouch and mesh on the upper stand out spectacularly here, as does the dual-colored Sprintframe bottom.
Predator
Well, folks will have opinions on this one. On the heels of a classy black leather Predator, this new Solar Red and Night Flash zebra-look may indeed inspire some "haters". One thing you can't call it is safe and, for better or worse, this will easily stand out next to other Predator releases. Now, how will the player uptake go for such a wild boot design?