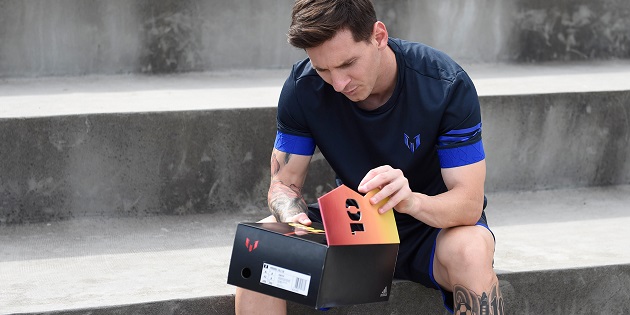 After adidas released a couple fairly limited versions of the ACE and X, there was a feeling that a truly rare release was coming. Adidas have unveiled the extremely limited edition Messi 10/10 boot. The cleats will be available on October 10th (10/10), but there is a catch. You will only be able to purchase the cleat at the adidas store…in Barcelona. Another catch? You can only purchase the Messi 15.1 10/10 in Messi's size, 8.5 US. If you were looking to wear this pair and his size, it's your lucky day. For most, this will be a collector's item, and a special one at that.
Only 89 Pairs will be sold at one location and will no doubt be sold out within the first few minutes of the door swinging open. But what about the other 11 cleats? Well, the main man himself will, of course, wear one pair. The other 10 will be given to the 1o players who were chosen by Leo himself to wear his Messi 15.1 at the professional ranks.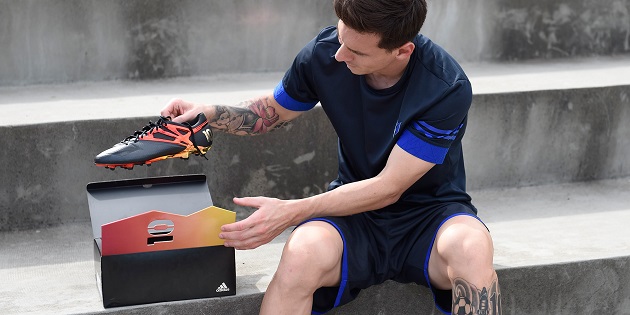 So if you are dying to have a pair, pack your bags, buy a plane ticket, and head to Barcelona before Saturday. If you are not one of the lucky 89, there will be another Messi limited release next year on 10/10, as adidas have decided to make this an annual thing. Each pair will come with an embossed premium leather tag that has the boot number out of 100 with Messi's own identifying mark.
The 10/10 boot has a premium black color with a black "M" Team Messi logo on the toe box. The number "10" is found on the heel for the Argentine who has redefined how we look at the 10 role. The MessiFrame and GameTrax soleplate are a shiny mix of deep red and gold, giving off a unique visual that looks great with the black. The design on this limited edition is a home run in my opinion and is easily the best Messi colorway to date.
Adidas have been releasing some stunning colors so far this year and the Messi 10/10 adds to the impressive list. For me, this is number one at the moment and I love the idea of making the 10/10 an annual release. Great idea from the Three Stripes.