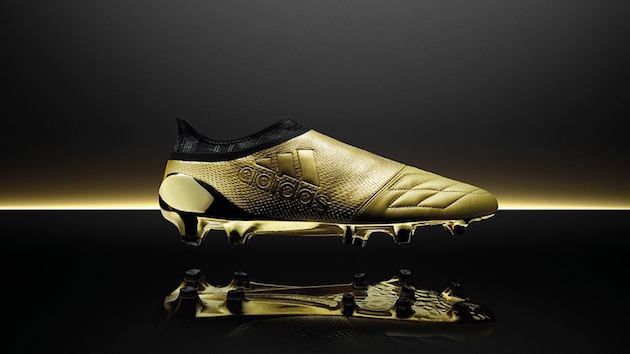 Holy gold boots, Batman! Adidas has decided that the K-leather versions of their biggest silos, the adidas X Purechaos and ACE Purecontrol, have a construction worthy of getting doused in gold. A pair of boots that would bring back memories of everyone's favorite Bond villain (or Austin Powers villain, whichever style you prefer), these boots will require a certain type of player to be able to stroll onto the pitch while wearing these. Adidas has gotten to the point where they rarely do anything on a small scale…and these boots certainly back-up that persona.
The Purechaos version of the Space Craft Pack still has laces and a lace cover, but the forefoot has been crafted with a K-leather to take this boot's chaos and turn it into silky smooth comfort. We're big fans of the synthetic used on the Purechaos, but adidas has been very handy in recent years with their use of K-leather. Considering our only complaint while we were testing these was of a bit too much squeeze in the forefoot, some kangaroo leather and a short break-in should be a quick and effective remedy. If you step out in these boots, there's no room to settle for silver or bronze.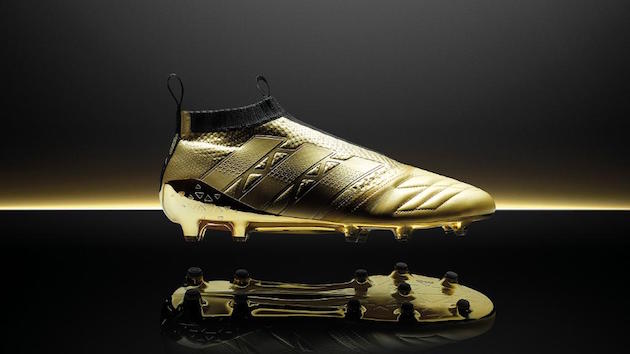 The Purecontrol version is still laceless and still takes advantage of the adidas PrimeKnit to offer a great fit, but the forefoot has been changed from a synthetic covered Primeknit to the kangaroo leather that this pack brings to the table. With how much attention these boots are going to bring upon themselves, it's not necessarily the size of the balls you'll be kicking that will determine if you can pull these babies off. Our only worry with these is a possible overstretch of the leather after break-in not working well with the lack of laces, but we're sure adidas has thought of that. We love the black swath of Primeknit where the tongue would be as it does cut up the gold enough to make it not look like you just took these in the backyard and spray painted them, but we aren't quite brave enough to get a pair of our own.
First they went Dark Space, and then they return with Space Craft. You won't find two sets of boots that could be more different, and we're anxious to see if any of our friends or any players on the biggest European stages are brave enough to wear these. It's rare to see boots that you feel will guarantee you a studs up challenge, but the Space Craft pair would probably be about 100% guarantee that somebody is going to try and destroy you. These boots will be limited, so if it's time for you to go for the gold, you'll have to be fast.