Premier League being back on our screens, how sweet it is! Now that our dearest football is back, it kinda makes me wonder how I got through the off season…but that does not matter now. But of course, the best way to review the weekend of football that was is with a good old boot spotting courtesy of the Instep. And you know what? The gods have given us some cracking boot spots this week. Unreleased boots, custom boots, boot switches and even a suspected cheeky prototype boot being tested, check it all out first below.
Juan Mata (Manchester United) – adidas prototype
We will kick things off with the most puzzling boot spot of the week. Juan Mata has been paraded by adidas in the past few weeks as one of the headline athletes for not only the adidas ACE 15.1, but also the new adidas Manchester United kit. Which is why Mata's blackout boots caught our eye during the week. We are fairly sure we are looking at a pair of adidas boots, and his boots are shaped like the ACE 15.1. But Mata's boots do not feature the X-Cage synonymous with the ACE in the midfoot or any logo branding. We cannot see Mata making the switch to another brand, so we have a feeling Mata could be trialling a prototype boot for adidas, potentially the next generation ACE 16.1. However, anyone's guess is as good as mine!
Isco (Real Madrid) – Nike Hypervenom Phantom II (Custom)
When the Magista and Superfly IV first came out, there were a number of athletes who were playing with the Dynamic Fit Collar to suit their tastes. The most famous case would certainly be Ronaldo, who drastically cut down the collar on his SF IVs. Now that the Hypervenom has it's own collar, Isco has become the first player we have seen to fiddle with the collar on the new Phantom. He has done a DIY job on his Phantoms, so much so that the collar is very similar to that of the collar on the adidas X 15.1. An interesting little customisation from the Real Madrid man.
Memphis Depay (Manchester United) – Under Armour Speedform Dream Chaser
Another week, another pair of boots for Memphis Depay. He may have only signed on with Under Armour in June, but the Dutchman has been rewarded with his second customised pair of boots. This time around, we have the Speedform Dream Chaser, a boot that honours Depay's desire to achieving dreams. The laces also have 'score my first EPL goal' on them, but he sadly did not have much in the way of clear cut chances against Tottenham to open his EPL goal scoring account. One thing is for sure, Memphis is getting some cracking boots made for him by the folks at Under Armour.
Alexis Sanchez (Arsenal) – Nike Mercurial Vapor Superfly IV Leather
Thanks Alexis, you have just given us a cheeky sneak peek at the trump card Nike has up it's sleeve. Nike will be releasing leather versions of all their top tier boots, and the Chilean has given us a look at the Superfly IV redone with a top quality K-Leather upper. Set to be introduced in the coming weeks, we have a feeling the leather versions of the Nike boots will be a massive hit for fans looking for a boot with all the modern technologies but a no-nonsense leather upper. It will also be interesting to see how many stars go for the leather boots, we think there will actually be a number of players who will make the switch to leather.
Gabriel Agbonlahor (Aston Villa) – Nike Hypervenom Phantom II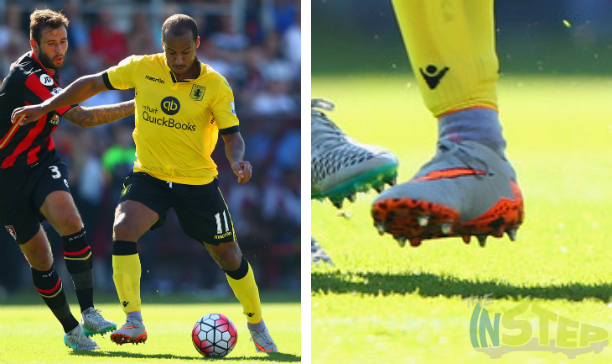 The new season always means a boot switch or two, and Gabriel Agbonlahor has made the surprising switch to the Hypervenom Phantom II. The Aston Villa speedster has always been linked with the Mercurial range, and we still remember when Agbonlahor featured in Vapor IV videos alongside Aaron Lennon and Cristiano Ronaldo to find the ultimate speedster (Ronaldo was still playing for United, that is how long ago it was). I also would not mind adding how awesome Villa's semi-retro kit looks, I think it is the minimal Villa badge absolutely nails the whole look.
Romelu Lukaku (Everton) – Nike Hypervenom Phantom I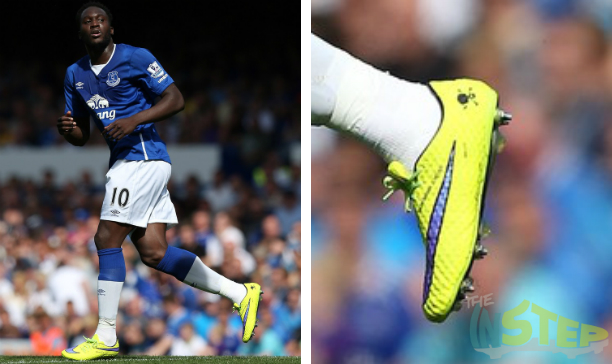 From one player making the switch to the new Hypervenom to one going in the other direction. Even though he has been wearing the Hypervenom Phantom II, Romelu Lukaku made the unexpected switch into the first generation Phantom on the weekend. It could just simply be a case of Lukaku settling for something a little more comfortable for his side's opening game, so we do not think this will be a permanent move from the big fella.
Arturo Vidal (Bayern Munich) – Nike Mercurial Vapor Superfly IV (Custom)
Isco is not the only player we snapped up this week wearing a Nike boot that has seen some work done to the Dynamic Fit Collar. However, it seems that Arturo Vidal cannot quite work out whether he is willing to go all the way with cutting off the collar like Isco has. While the collar on his right boot has been cut, the left boot has been left untouched. It would allow Vidal to work out whether it is worth cutting the collar off all the way, but it would be interesting to see how it feels having the collar cut off like some of the pros have…
Sofiane Feghouli (Valencia) – adidas ACE 15.1 Leather Womens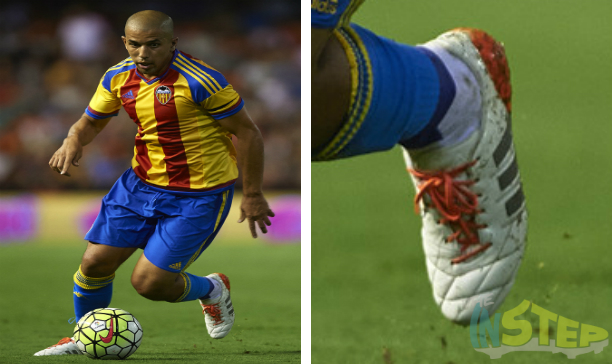 In the past three months or so, there have been some cracking womens colourways released, especially the White/Silver Metallic/Orange ACE 15.1. And if I was sure that my feet would be able to fit into a pair of womens boots, I would definitely be game to do what Sofiane Feghouli has done and pick up a pair of the brilliant womens boots. Womens boots only run up to a US 11, but hey I would totally pick up either this colourway or one of the boots from the Nike WWC pack, those boots were so awesome.
That is it for our boot spotting today, what was your favourite spot this week? Share your thoughts in the comments section below.