We know Mondays can hit you pretty hard. You are either back at work, school, university, or just want the weekend to last longer. Is there anything good about Mondays? But of course, the Instep boot spotting! We start your week in the best way possible, as we flick through all the photos from the football week just past to show you this week's biggest boot spots. From boot switches, custom boots and something a touch retro, check out all the week's best boot spots with us, the first boot spotting on the web every week.
Gareth Bale (Real Madrid) – adidas F50 adiZero TRX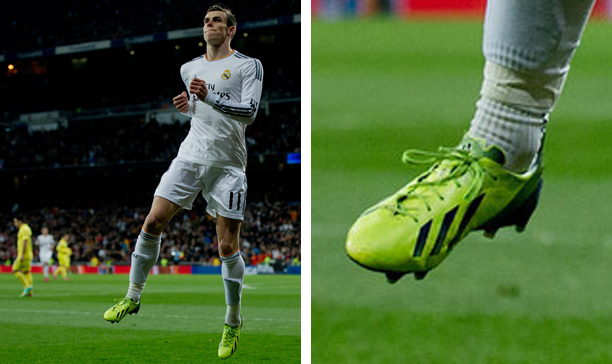 We saw him testing out an unreleased pair of boots mid last week, now Gareth Bale is back in a regular release boot…except it is not the latest boot adidas have up and about at the moment. After his training session in the rumored adidas F50 adiZero Crazylight, Bale brought out the 3rd generation Electricity/Hero Ink/Silver F50 adiZero for Madrid's game against Villareal, where Bale made a return from injury with a goal. With Ronaldo serving a suspension, Real fans will be relying on their mega-money signing in the Portuguese superstar's absence.
Paul Konchesky (Leicester City) – Nike CTR360 Trequartista III (Custom)
Paul Konchesky does not seem to mind a customised Nike CTR360, the ex-Liverpool player seems to hit up NikeiD on a regular basis for a customised creation. It seems Konchesky's latest boot is a White/Green Trequartista III, a classy boot that may have been inspired by the White/Green/Yellow CTR360 Maestri released back in 2012. It does not feel like the CTR360 III has been around for 2 years, perhaps it is time for an update to the boot…
Joseph Yobo (Norwich City) – adidas Predator Incurza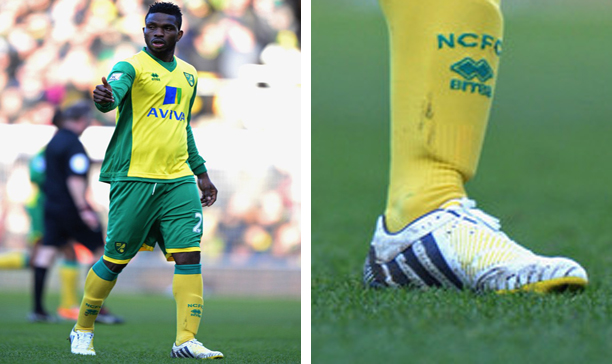 From Everton to Fenerbaçhe, and now back in the Premier League with Norwich City. Nigerian defender Joseph Yobo completed a loan move to Norwich in the tail-end of the transfer window, and he made his debut in Norwich's surprising draw against Manchester City. Yobo added defensive solidarity to Norwich's defence in his Predator Incurza, a surprising choice considering the Incurza is a rugby boot. While this could mean the boot offers more protection with it's bulky build, we wonder if it affects Yobo's touch at all…
Benjamin Liftin (Brisbane Roar) – adidas Copa Mundial
You can never knock a classic making it onto the pitch. And in a day where kids normally try go for the brightest and sharpest boots available, it is good to see a young player go for arguably the granddaddy of all football boots. Benjamin Liftin was one of the lucky players to get their hands on the limited edition adidas Copa Mundial, and he brought the boots out in Brisbane Roar's U21 National Youth League fixture against Sydney FC. There is another rarely seen boot in the photo, with Sydney FC's Anthony Tomelic wearing the Black/Black/Red adiPure 11Pro SL.
Ruben Botta (Inter Milan) – adidas Predator LZ (Custom)
You know how they have those shows on TV, where they talk about 'surgery gone wrong'? We think Ruben Botta's boots should appear on those types of shows. It seems Ruben Botta's boots started life as the pink Predator LZ DB, but Ruben Botta got the black permanent marker out and well…created that. It is certainly a little bit messy, but there is no denying how unique Botta's boots look and the shades of pink coming through the black does look pretty cool! Could be worth it if you have boots that you want to try something a little bit different with!
Daniela Di Bartolo (Adelaide United) – Nike Mercurial Victory II
While we have seen many CR7 Mercurial releases ever since the arrival of the original Safari Superfly II, we think the CR7 Superfly III is arguably the most eye-catching release. Featuring two very bold patterns on the instep and outstep of the boot, the contrast provides for a boot that you know looks different from the first time you lay your eyes on it. Daniela Di Bartolo has not gone for the top of the range Superfly, but rather the low tier Victory II, which was at about a fifth of the price of the Superfly. By the way, Di Bartolo is getting a boot to the stomach, ouch….
Heather O'Riely (USA) – adidas F50 adiZero TRX
It has been about 3 months since the new F50 adiZero has been launched, and it is kind of strange that we are yet to see a proper colourway update from adidas. While we expect to see some new colourways soon, adidas also rolled out a women's colourway alongside the men's colourways released as a part of the Samba pack. USA's Heather O'Riely showed off the women's colourway in the national side's clash against Russia, and with the boot using blue as a base colourway with the orange three stripes, we think it is halfway to the two Samba pack adiZeros!
Vangelis Moras (Hellas Verona) – adidas Predator LZ (Custom)
Colour co-ordinating your kit with a customised pair of boots? That is a big plus in our eyes! While they are not the most recent boot on the market, Vangelis Moras has decided to hit up miadidas to create a customised Yellow/Navy Blue Predator LZ that matches up with the Hellas Verona kit. It seems Moras has also finished off his boots with the Argentina flag on his boots, truly showing off how unique Moras' boots are. Nice one!
That is it for our boot spotting today, what was your favourite spot this week? Share your thoughts in the comments section below.