FA Cup weekend, and while we did not see too many displays of giant killing by football clubs (bar Oxford getting up over Swansea), it was still a magical weekend of domestic football. But enough of all that, let us get to what we are all really here for: boot spots. And we had a bit of everything this weekend, from boot switches to retro boots and custom boots, this week had it all. Check out all the spots that caught our eye this week!
Thiago (Bayern Munich) – Nike Hypervenom Phantom II and Tiempo Legend VI
Some players spend the winter break to get themselves ready to tackle the second half of the season, but others often use it to consider their choice of footwear for the rest of the season. It seems Thiago has done just that over the German winter break, the midfielder has been spotted training in both the Hypervenom Phantom II and the new Tiempo Legend VI. What will the Brazilian wear once he hits the pitch for Bayern Munich? It seems we are as unsure about that as he is.
Arda Turan (Barcelona) – Nike Magista Opus (Custom)
It took a little while, but Arda Turan has finally hit the pitch for Barcelona. It seems he does not mind the place either, as he helped Messi score another hat trick in Barcelona colours. But check out Turan's boots, which is a prime example of the benefits of being a sponsored player. It seems Turan's boots have been customised with the soleplate from the discontinued T90 Laser IV, which features bladed studs over the conical studs found on the general release Magista Opus.
Fabio Aurelio (Liverpool Legends) – adidas F50 adiZero TRX (Custom)
We might see a few spots from this same game, but the Liverpool Legends vs Australia Legends game last week gave us plenty of quality boot spots, as retro stars from days gone past pulled on the boots once again. Well, I would not say all the players counted as Liverpool Legends, but Fabio Aurelio did somehow make the cut for Liverpool. His boots are pretty cool though, it seems the full back has grabbed the alternative launch colourway leather 2nd generation F50 adiZero and blacked out the yellow parts to make it a complete blackout boot. A classy looking boot, even if Aurelio's kinda amateurish attempt at a blackout could have been a little better…
Mustafa Carayol (Leeds United) – Concave Volt+
Remember Concave? The boot company that came out with their Classic PT+ boot that had that massive sweet spot to try and enhance kicking, and was worn by the likes of John O'Shea and Wes Brown? Yeah, it turns out they are still around, although they have seemingly ditched the original idea of the Classic PT+. The Volt+ is Concave's answer to the speed boot, and Mustafa Carayol is the first player we have seen in the boot. While we do not know too much about the boot, the boot appears to be made from a one piece synthetic upper like most speed boots, but it would be interesting to see how good it is.
Robbie Fowler (Liverpool Legends) – Nike Tiempo V (Custom)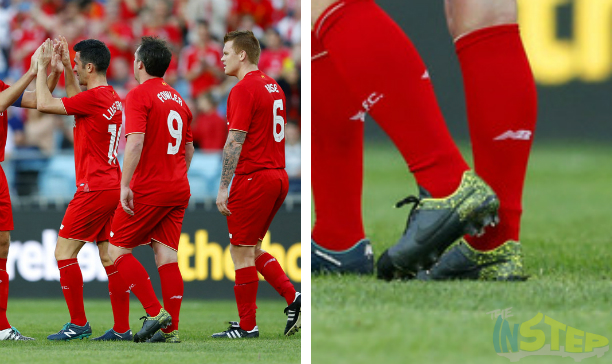 So these are a customised pair of boots. Robbie Fowler has gone one further when it comes to going DIY on your boots. Not only has the Liverpool striker taken the black permanent marker to his Anthracite/Black/Volt Tiempo Vs, but he has also taped up the toes of his boots with black masking tape. Why? We have no idea, we are sure Fowler is not in a dire financial situation to have to resort to taping his boots, but we could not imagine the tape giving the striker a performance enhancement. I mean, surely not…
Craig Woodman (Exeter City) – Nike T90 Laser IV KL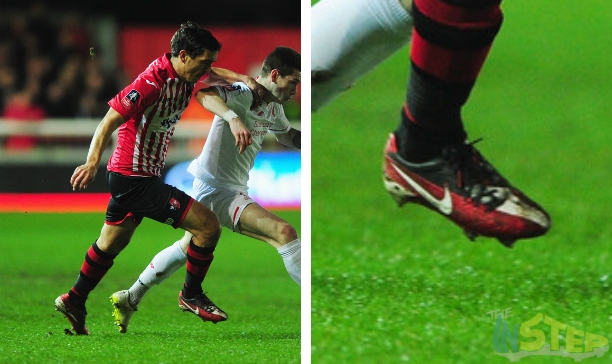 We are going to go a little retro for these next two boot spots, and this one is a little beauty. The T90 Laser range has a special place in the heart of many boot fans, as it signaled the end of Nike producing boots for attackers made specifically to aid kicking (with the Hypervenom aimed for agility). So it is nice to see Woodman bust out the T90 Laser IV KL, which is also a nice little match with the Exeter City home kit. I loved the T90 Laser IV though, that was such a nice boot…
Dietmar Hamman (Liverpool Legends) – Nike Tiempo Premier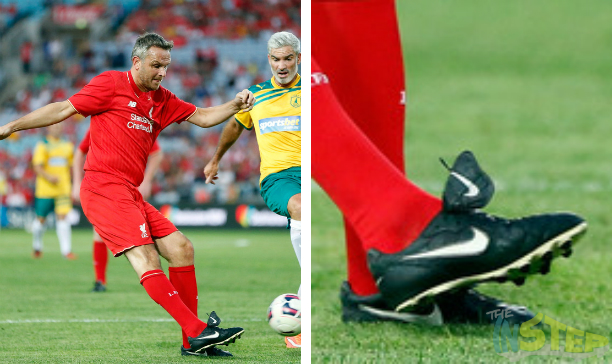 But Craig Woodman's boots are not as retro as what Dieter Hamman wore for Liverpool Legends in Sydney. No no, these boots are so old I was still in nappies when these first came out: the original Nike Tiempo Premier (a.k.a the grandaddy of many Nike boots). We do not know how long Hamman has kept these boots in the back of his wardrobe, but there is something about that gorgeous fold-over tongue that will set the tongues of boot fans wagging. Man, as much as I love today's football boots, there is something about these that sets it apart from everything else…
That is it for our boot spotting today, what was your favourite spot this week? Share your thoughts in the comments section below.