One week to go! It has felt like a really, really long off-season (even with the Confederations Cup running through the middle), but we are only a handful of days away from the start of the 2013/14 EPL season. But we do not source our boot spots exclusively from the EPL, and we have spots from Japan, Thailand, Australia and beyond for the most comprehensive wrap of the boot spotting world. From customised boots to boot switches, take a look at what made the cut this week.
Nicolas Anelka (West Brom) – Nike Mercurial Vapor IX and Hypervenom Phantom
Is it just me or has West Brom signing Nicolas Anelka really flown under the radar? Even though Lukaku has returned to Chelsea, West Brom have signed the equally impressive Nicolas Anelka to bolster their forward line. While Nicolas Anelka has never been a player to stick to one football boot (he wore adiZeros and Vapor IXs while at Shanghai Shenhua), Anelka is seemingly going through a boot conundrum before the start of the EPL season. The striker has appeared in both Nike Mercurial Vapor IXs and Hypervenom Phantoms in the past week and a bit during West Brom's friendly games, and it will be interesting to see what he sticks with come the start of the season.
Victor Valdes (Barcelona) – adidas World Cup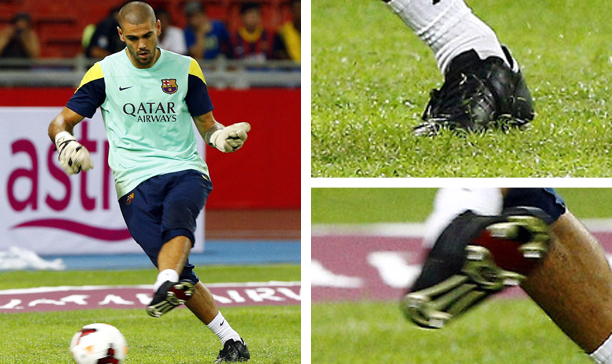 Normally, we would not even bother to show a boot spot with a player wearing the adidas World Cup (or the Copa Mundial for that matter). But we have to make an exception here. Victor Valdes was the first endorser of Penalty football boots, with the South American brand looking to impress by signing the Barcelona keeper. But even though Valdes was wearing the Penalty S11 Pro when Barcelona played against a Thailand XI early last week, he has been seen training in a blacked out adidas World Cup just a few days later, and we know that with the recognisable outsole of the adidas World Cup. Could it be a sign of contractual issues between Penalty and Valdes? It looks like it could be…
Girogio Chiellini (Juventus) – Puma King
Boot switches within the same brand may not be the most uncommon thing during the off-season, but one boot switch we did not expect coming is Giorgio Chiellini trading in the Puma PowerCat 1.12 for the Puma King. Players ditching the PowerCat for the King is becoming a rather common occurrence amongst Puma endorsers, with Nemanja Vidic and Gigi Buffon being two such players who have made the same switch. Perhaps it could be a case of Puma putting all their eggs in the Puma King and evoSPEED baskets, it is hard to say for sure really…
Narubadin Weerswatnodom (Thailand XI) – adidas Predator LZ II
The boot was only unveiled last week, but Narubadin Weerswatnodom (that's a name and a half) has somehow managed to get a hold of the US-exclusive Vivid Red/Black/Electricity Predator LZ II colourway. The boot, released alongside an Electricity/Black/Vivid Red colourway, pay tribute to the legendary limited edition electricity Accelerator released way back in 1998. It is good to see the throwback from adidas, and we expect to see a few players sporting the colourway in the MLS over the coming weeks.
Angelo Henriquez (Manchester United) – Nike Hypervenom Phantom
Just a few weeks ago, we were lamenting the lack of footballers who were willing to stray away from the launch colourway of the Nike Hypervenom Phantom. We saw Lee Tomlin wearing the Flash Lime/Black/White colourway last week, now we have finally found someone wearing the gorgeous blackout colourway (well, it's close to a blackout anyway). Angelo Henriquez made a rare appearance for United this weekend in Rio Ferdinand's testimonial, and he also showed off the Charcoal/Crimson/Black Hypervenom Phantom. The boots match up nicely with his United kit, and it is a wonder to us as to why we have not seen more footballers wearing the boots.
Yasushi Endo (Kawashima Antlers) – Umbro Geometra Pro II
It is often hard to spot significant details for blackout boots, but whiteout boots are not any easier. We even see the odd boot company testing out whiteout prototypes of their boots, and it took a little while to work out what Endo is wearing. In the end, the very hard to detect Umbro logo at the back of End's boots and the 'A-Frame' design led us to work out that Endo is wearing the Umbro Geometra Pro II. The whiteout Geometra Pro II was released late last season by Umbro, but we have seen only a handful of players wearing the classy whiteout range.
Danny Bath (Wolves) – Nike CTR360 Maestri III (Custom)
We have seen some horror customised boot jobs in the past. The humble black permanent marker often leaves boots looking worse when than before the job was started, but we think Danny Bath has gone a bit beyond the permanent marker with his customised CTR360 Maestri IIIs. It looks like his boots started life as the Citrus/White/Black CTR360 Maestri III, and Bath has left the white Nike tick untouched. The end result? One of the best customised boots we have ever seen!
Aziz Behich (Melbourne Heart) – Nike Mercurial Vapor XV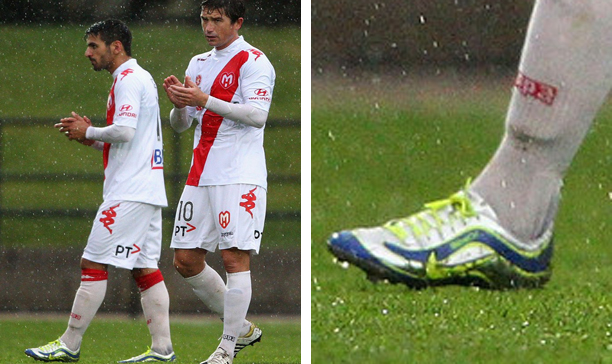 While Harry Kewell was the centre of attention during Melbourne Heart's fixture against La Trobe University (I could have officiated that game, damn), we are more interested in Aziz Behich lurking in the background in the limited edition Mercurial Vapor XV. A nod to commemorate 15 years of the Mercurial series and the (original) Ronaldo, Behich is perhaps the envy of every boot fan in the world by getting his hands on the boot, but we think he is crazy to wear the boots in a game. Then again, this is coming from the guy who wears his Nike GS while he referees, so I probably do not have a right to voice my opinion on the matter…
That is it for our boot spotting article today, what was your favourite spot this week? Share your thoughts in the comments section below.