Well…that's it. The 2013/14 season (pretty much) came to a close this weekend, with the Bundesliga and EPL bringing an end to their season. Manchester City and Bayern Munich celebrated, others consolidated European places, while some were heartbroken with the gong of relegation (man, I'm devastated Norwich went down…). So in our final regular boot spotting for the 2013/14, we want to top off this brilliant season in the most fitting way possible. New boots, rare boots and custom boots take their order in this week's boot spotting, check it all out below!
Vincent Kompany (Manchester City) – Warrior Sports Skreamer II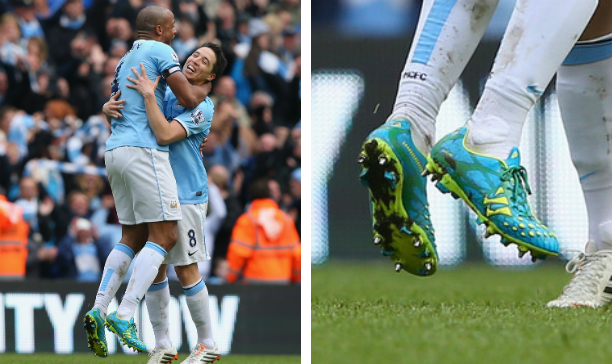 Featuring the captain of the Champions of England is a fitting way to start our boot spotting, and it is coincidentally the same match that saw a cracking debut for the new Warrior Sports Skreamer II. In a boot that matches up with his Manchester City kit rather nicely, Vincent Kompany scored what was the goal that assured City fans of the 2013/14 title in the updated Skreamer II. With more of the spotlight shone on the S-Lite upper and a lower profile Arrowhead vamp, we have big hopes for the Skreamer II.
Ganso (Sao Paulo) – Nike CTR360 Maestri III "Lights Out"
Just to think, 12 months ago, Ganso was Neymar's partner in crime as they teared apart defences in the Brazil Serie A. Things have changed a bit after Neymar's big money move to Barca hey? Ganso now plies his trade at Sao Paulo, but we are pretty impressed with Ganso's boots! The midfielder has managed to get his hands on one of the limited edition "Lights Out" CTR360 III, the final CTR360 ever to be released. You can never knock a nice blackout…
Saori Ariyoshi (Japan) – adidas adiPure 11Pro II (Custom)
It is always worth checking out games from women's football, it can sometimes come up with some rather pleasant boot spots. Take Saori Ariyoshi's adiPure 11Pro IIs as an example, which have been customised in a very minimalistic White/Black/Red colourway. Sure, it might not be much on the creative side, but you know the saying 'less is more'? That sums up Arioyoshi's boots…very nice.
Conca (Fluminese) – Mizuno Morelia (Custom)
Well…now that I look at it, Conca's boots probably take minimalistic to the next level! Providing a perfect flow through Conca's white Fluminese kit, his whiteout Mizuno Morelia is certainly a boot that just oozes class all the way. While the Morelia Neo is arguably the funky younger brother that gets all the bright colourways, the regular Morelia shows there is still a place for heritage boots in the boot world.
Freddy Eastwood (Southend) – Nike Mercurial Vapor IX CR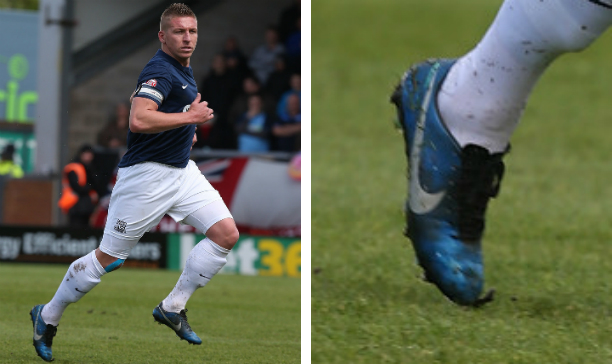 When we look back at the course of the whole season, what was the craziest, most original colourway of the year? For me, it is a split between the kaleidoscope of colour brought into the world by the latest Messi F50 and the Galaxy CR Vapor IX. The Galaxy Vapor somehow brought a wild and crazy design to a football boot, yet whilst still making it relatively low profile and rather dashing. It seems Freddy Eastwood knows what we are going on about, but the Galaxy Vapor certainly has class written all over it.
Tom Ince (Crystal Palace) – Warrior Sports Superheat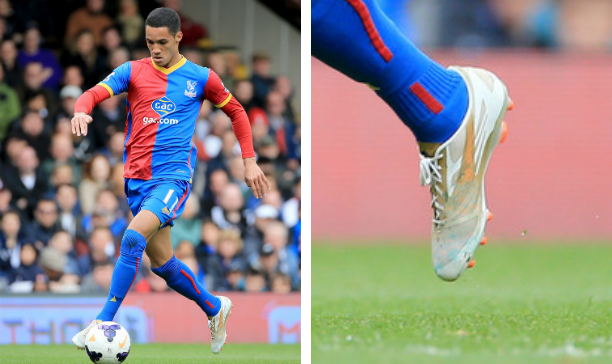 So the Warrior Sports Gambler II did not make an appearance on the pitch this weekend…but Tom Ince ensured us that the Skreamer II was not the only new Warrior boot to hit the pitch this weekend. The Superheat has been home to some very outlandish colourways, but then out of nowhere comes the new White/Gold Superheat, a boot that is certainly easy on the eyes. While the Skreamer and Gambler has some big players endorsing the boot, the Superheat does lag behind the other two a little. Which is a pity if they roll out colourways like this in the future…
Referee – adidas Predator adiPower
You know, you should not always look just at the players on the pitch when it comes to a boot spotting. While most referees settle for Tiempos, Copas or adiPures, the referee from the FC Spartak Moscow v FC Amkar Perm match on the weekend went for the rather unusual choice of the blackout Predator adiPower. It is pretty different for a referee to go with something a little different, but I still plan on being the only ref wearing the blackout Superfly IV when they get released. That will be so cool…
Martin Jiranek (FC Tom Tomsk) – adidas Predator LZ II (Custom)
I think if there is anything we have learnt from Saori Ariyoshi's boot spot earlier, it is that the simple colours sometimes work the best on a pair of boots. Need more proof? Check out Martin Jiranek's customised Predator LZ IIs. Finished off in a simple white and black colourway, it is two colours always look classy. Well, actually, I guess the adidas 'Battle' pack does kinda prove that black and white can be used to make a pretty bold boot…
That is it for our boot spotting today, what was your favourite spot this week? Share your thoughts in the comments section below.