One more week down, and that means the European football season gets one week closer! We are within a month of the start of the season now, and that means pre-season games. And that means we have boot spots. From boot switches to custom boots to boots that just a little bit retro, we have everything with this week's boot spotting. Check out our round up of the week's hottest boot spots.
Steven Gerrard (LA Galaxy) – adidas ACE 15.1
I won't lie, I did type Liverpool as the club before I corrected my mistake. It will take a while to get used to the sight of Gerrard not wearing a Liverpool shirt, what was less surprising was Gerrard's choice of boots for his first game in LA Galaxy colours. The midfielder has made the logical switch to the adidas ACE, which makes sense given Gerrard fitting bill as the controlling player the ACE is marketing. Over the coming weeks, we will see more players wearing the ACE as the pre-season starts up, and we will keep track of all the boot swaps.
Jose Contreras (Trinidad & Tobago) – adidas X 15.1
Adidas have said you are either in the ACE or the X, and while 95% of players have gone for the standard launch colourways of either boot, it is the players who have gone for something a little different that makes for more interesting boot spots. Trinidad & Tobago's Jose Contreras has picked up the all-black version of the X, and admittedly the X being in all black does have a mysterious feel about it that looks absolutely brilliant.
Pablo Punyed (El Salvador) – Under Armour Clutchfit Force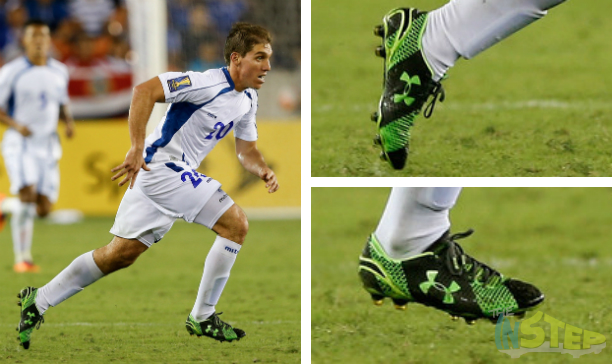 Mainstream success is a tough goal for football boot companies, but Under Armour, the company that started up in Baltimore, is slowly but surely gaining acceptance. It does help that Under Armour boots are being worn on the feet of arguably the hottest EPL signing so far in the form of some lad named Memphis. Pablo Punyed has been seen in the CONCAF Cup wearing a slightly different UA boot, the Clutchfit Force. The futuristic looking upper does make the boot stand out on the pitch, but it would be great to see UA boots gain a greater representation on the pitch.
Troy Deeney (Watford) – Nike T90 Laser IV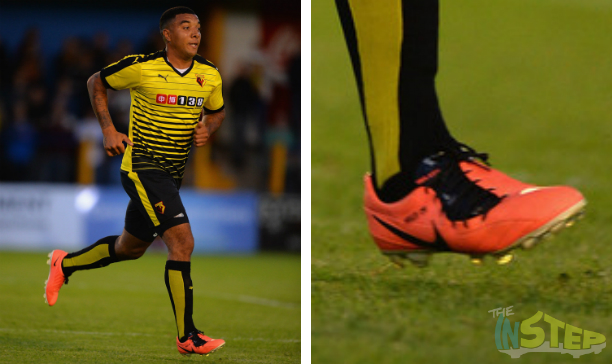 Now for something a little different and out of the blue. While he ended the season in the Nike Mercurial Vapor Superfly IV when he led Watford to a second place finish, Troy Deeney brought out something a little different for Watford's pre-season friendly against AFC Wimbledon. The big fella took us back in time by rocking the T90 Laser IV, the boot that was succeeded by the hugely successful Hypervenom Phantom. Given that Deeney is going to be one of the faces of Watford this season in their first season in the EPL, it would be in Nike's best interests to ensure he wears more up to date boots. We would say this is a one off and will be changed come the start of the season.
Derrick Williams (Bristol City) – adidas ACE 15.1 Leather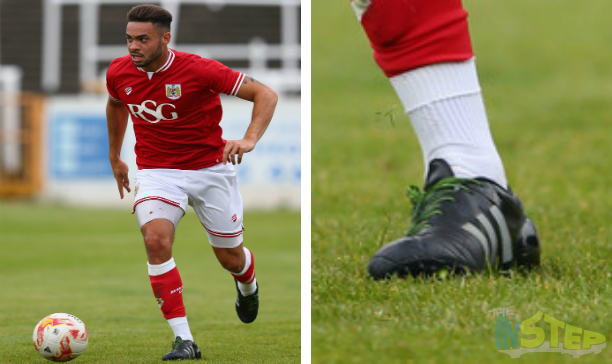 Because adidas got rid of the adiPure range, it meant those seeking a quality pair of leather boots have been left with either picking up the Gloro or jumping to ship to the Nike Tiempo, Puma King etc.. Which is why adidas came up with leather versions of both the X and ACE, with a leather option surprisingly made available on the mid-tier versions of the two boots as well. Derrick Williams is one player who has opted for the blackout version of the ACE, which is crafted with a K-Leather upper and features the same outsole and soleplate as the normal ACE boot.
Mark Noble (West Ham) – adidas ACE 15.1 (Custom)
While adidas have made black versions of the ACE and X 15.1 available (as modeled by Derrick Williams and Pablo Punyed above), they are not really blackout boots in the purest sense of the word. The ACE features silver adidas stripes, while the X has a coloured adidas logo on the back so you do not completely forget which brand of boot you are looking at. Mark Noble is not having any of that, the combative midfielder has had his boots completely blacked out, it is as if Noble is wearing a prototype version of the ACE. The textured upper and instantly recognisable stud configuration gives away Noble's boots as being a pair of adidas ACE boots.
Scott Boyd (Ross County) – adidas Predator Instinct
Yes, while the ACE is here, there will be one or two players who will not be able to let go of the older adidas Predator boots. But Scott Boyd has been snapped up in a pair of the adidas Predator Instinct that we did not see hit pitch too often when they were released. Which is a pity, because the White/Infared Predator Instinct was a relatively simple looking boot, but its simplicity made it one fine looking boot. There are a few more ACE colourways that are a little bit on the bright side to come, but it will only be a matter of time until we see some simple yet classy colourways pumped out by adidas.
That is it for our boot spotting today. What was your favourite spot this week? Share your thoughts in the comments section below.