So maybe it was an international break with the domestic teams taking a week off, with a few players jetting around the world and a few others taking a week off, but The Instep does not stop for an international break. Oh no, we keep on marching as long as there is football on! We have sourced our spots from around the globe this weekend, from boot switches to a few custom boots and your odd limited edition spot, check out what caught our eye this week!
Besart Berisha (Melbourne Victory) – adidas F50 adiZero Crazylight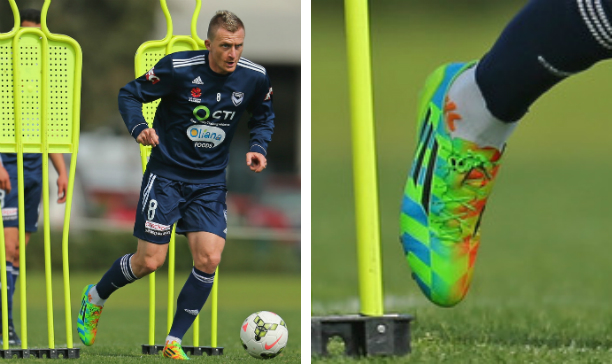 After the flurry of releases we had from about March to August, we have hit a slight calming period when it comes to boot releases. Yeah maybe it is kinda slow, but everything is going start ramping up very soon once again, and it is all going to kick off with the new adidas Crazylight series of releases. Melbourne Victory striker Besart Berisha gave us a sneak peak of what to expect with the new series of boots, which will see all of adidas' boots redesigned with Sprintframe outsoles. While Berisha is the first player we have seen in the boots, he did not wear them for Victory's A-League season opener against Western Sydney Wanderers, opting for the Messi signature F50 from the Battle pack instead.
Thomas Ince (England U21) – Nike Mercurial Vapor X
Warrior have been a little on the quiet side lately hey? After securing so many big names in the early days of their inception, things have cooled for the brand, and seemingly that has translated to losing a few of their star signings too. Youngster Thomas Ince was the headline athlete for the Warrior Sports Superheat when it was launched last season, but it seems the midfielder has moved on and instead opted for the Vapor X. While it may not be the most ambitious jump from Ince (with the Vapor being a 'speed' boot like the Superheat), it means that the Superheat is now dangerously under-represented in the top tiers of European football.
Aldo Simoncini (San Marino) – adidas adiPure 11Pro (Custom)
Blackouts, whiteouts, we always love how they look when we see a footballer opting for something a little different when it comes to their boots. San Marino' Also Simoncini (who is an accountant when he is not attempting to block out the shots for San Marino) seems to have the same eye for suave boots as us, as he rocked his whiteout adiPures in England's demolition job at Wembley against the 207th ranked football nation, joint last with Bhutan and the Turks & Caicos Islands.
Mix Diskerud (USA) – Umbro Geometra Pro II
After losing the major backing of the Nike brand, we think Umbro is still going strong as one of the middle guys in a very strong football boot market. Okay maybe they have lost a few players along the way, but it is refreshing to see a player rocking a clean boot from Umbro. Mix Diskerud (that is a pretty awesome name) scored for the USA in Landon Donovan's final game for the Stars and Stripes in their draw against Ecuador, and he did it all in the whiteout Umbro Geometra Pro II.
Juan Carlos Paredes (Ecuador) – adidas F50 adiZero Yamamoto
Soooo Paredes has to be counting his lucky stars considering he has somehow got his hands onto these babies hey? The Ecuadorian is one of the lucky few who have managed to get a hold of the limited edition Yamamoto F50 adiZero, one of the most recognisable football boots released in the past few years. With the likes of Gareth Bale and Karim Benzema already moving on from the Yamamoto F50 (they wore them for a one off period last week), we wonder how much pitch time Paredes will be giving his boots before he puts it on the mantle at home to lovingly gaze at every so often.
Luke Brattan (Brisbane Roar) – Nike Tiempo Legend V (Custom)
Nike have stuck by a two-block colourway design for the Tiempo Legend V since it was first brought onto the market 12 months ago, but what do you do if you bought the White/Black Tiempo Legend V last season in fear that Nike will not release anything close to a pure black Tiempo? Well you can just do what Luke Brattan started doing…the Brisbane Roar man went for the permanent marker over the white parts of his Tiempos to try create an all-black Tiempo. But it seems he gave up three quarters of a way through the job, leaving his boots with an albino spot on the instep of the right boot. I guess it could look worse though…
Toni Duggan (Manchester City Women) – Umbro Geoflare Pro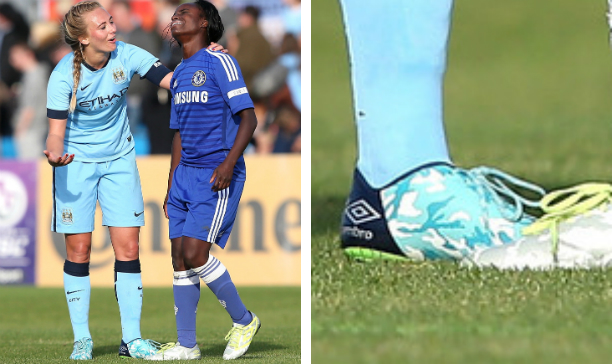 Umbro is loving their camouflage-inspired boots at the moment, and who can blame them, especially with adidas following a similar vein with the Battle Pack range of boots. While camouflage boots is certainly an acquired taste, Toni Duggan's Geoflares is our pick for the best camouflage boots that we have seen on the Umbro Geometra so far. The boot stands out, it matches up with Duggan's Manchester City kit like a dream, what more is there to say>
Robbie Weir (Burton Albion) – Nike T90 Laser I
Remember the days when 'power' boots were power boots, and they used to weigh more than 220 grams? The Nike T90 Laser I comes from the golden age of power boots before the modern game demanded power boots to be stripped back to match the fast paced rigours of the modern game. Robbie Weir has kept his T90 Laser Is in immaculate shape, with Weir rocking the headline colourway for the range. The Laser range is also home to (what I think) were the best football ads of all time. Remember the 'Put It Where You Want It' commercials with Rooney and Gattuso, and the 'Take It To The Next Level' T90 Laser II ad? Man those were the days…
That is it for our boot spotting today, what was your favourite spot this week? Share your thoughts in the comments section below.