It is getting colder outside (or hotter if you are in the southern hemisphere), there is plenty of football on our TV screens, and Christmas is 11 days away, how good is that? It is not a bad time to be alive at the moment, but we are at the start of our last (proper) working week, so kick it off with you standard Instep boot spotting. We have a bit of everything this week: unreleased prototypes, boot switches, retro boots, we have it all! Check it all out below.
Emre Can (Liverpool) – Nike Mercurial Superfly IV (Custom)
It looks like a boot switch is on the horizon for Emre Can. The ex-adidas man made the switch to a blackout version of the Nike Mercurial Superfly IV, which despite having the Nike tick blacked out is instantly recognisable thanks to the red band at the top of the Dynamic Fit Collar. Can, who used to wear the X15.1 prior to the switch, is making a like-for-like switch by opting for Nike's entry into the speed boot market for adidas' current speed boot, so it is a relatively logical switch for the midfielder.
Antoine Griezmann (Atletico Madrid) – Puma evoSPEED SL II (Custom)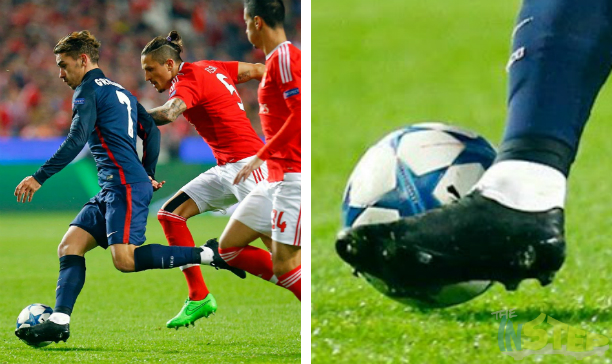 This took a little bit of deciphering on our end, but it seems Antoine Griezmann has given us a sneak peek at the next generation Puma evoSPEED SL II. We see only a slight difference between Griezmann's boots and the current evoSPEED SL, it seems the major difference between the boots is that the next generation boot loses the honeycomb-like support structure in the upper in favour of a one piece synthetic upper. What gives the boot support? We are not too sure, looks like we will have to wait until the boots get officially unveiled…
Phillip Lahm (Bayern Munich) – adidas ACE15.1 Leather
While most footballers have opted for the new technologies given by the standard ACE15.1, some players just cannot let go of the classic leather upper. Take Phillip Lahm for example, the evergreen midfielder has picked up the new Core Black/Matte/Silver ACE15.1 in the K-Leather incarnation of the boot. To us, the classy, minimal colour paired with the leather upper seems to give the boot a heritage-boot like look to it, something someone like Lahm would surely appreciate.
Robinho (Guangzhou Evergrande) – Nike Hypervenom Phantom (Custom)
Yep, it turns out Robinho is STILL playing, and he would probably be on one hell of a paycheque at Guangzhou Evergrande, considering I heard rumours during the week of Rooney being offered mega-bucks to re-settle in China…but it is Robinho's boots that we are here for today. While he used to be one of the faces for the Mercurial range, Robinho has opted for a blackout version of the past generation Hypervenom. Given that the Hypervenom Phantom I was a pretty comfortable boot, we think we can see why Robinho has opted for a blackout version of the boot.
Mehmet Kara (Preussen Muenster) – Puma PowerCat 1.12
Now this boot takes us back a bit, and it takes me back to what I think is one of the more underrated boots released in the past 5 years. The Puma PowerCat 1.12 was launched back in 2011, and it saw Puma pull of a shock signing by somehow snagging Cesc Fabregas from Nike to the Big Cat. A ballsy move it was, and it paid off handsomely for Puma. It is surprising to see Memet Kara still going in the PowerCat 1.12, considering how old the boot is. Perhaps it is a testament to the durability of the boot…
Zheng Zhi (Guangzhou Evergrande) – Anta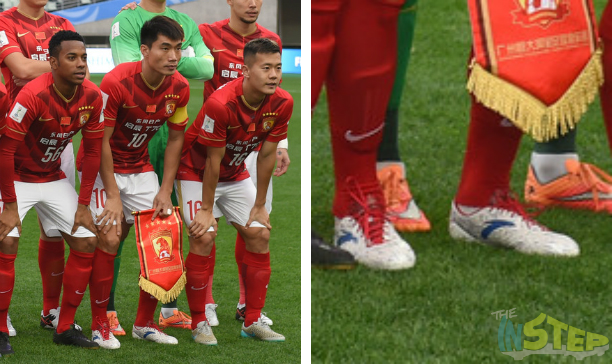 We have a first here on this week's boot spotting. Anta is a brand that has never made it on to our boot spotting, partially because hardly anyone knows of the brand and even fewer professionals wear the boot. Anta is a sportswear company based in China, and they have signed up Chinese and Guangzhou captain Zheng Zhi to rock their boots at the FIFA Club World Cup. We do not know too much about Anta boots, do you know anything about them?
Dan Bailey (Dallas Cowboys) – Nike Mercurial Vapor VI
We are jumping sports here, and come on, when we are talking about the White/Blue Nike Mercurial Vapor VI (one of my favourite colourways of all time), you cannot blame me right? Dan Bailey of the Dallas Cowboys revived a classic of a boot last week, there is something about a nice simple white boot with a blue tick that looks absolutely brilliant. Nike revived a similar template once with the Vapor VIII, but it is hard to beat a classic like this Vapor VI.
That is it for our boot spotting today, what was your favourite spot this week? Share your thoughts in the comments section below.