Europe's top leagues may have taken a week off, but that does not mean the Instep boot spotting takes a break! Take a few minutes off to get up to date with boot spots that caught our eye, as we go through the biggest boot switches, retro and customised boot spots from this week's football action. Every Monday, the Instep has the first boot spotting article on the net to make sure you get up to date with the goings of the boot spotting world. Check it all out now…
Aaron Ramsey (Wales) – adidas Predator LZ
Aaron Ramsey has enjoyed a rich vein of form wearing the Predator LZ II this season. But the Arsenal midfielder changed things up this week for Wales fixture against Macedonia on the weekend, bringing out the original Predator LZ. It is the first time Ramsey has worn the outdated LZ this season, and while EPL players such as Dimitar Berbatov refuse to move on to the new LZ, we think this is more likely to be a temporary switch from Ramsey.
Oribe Peralta (Mexico) – Puma evoSPEED 1.2
It takes a certain kind of man to wear pink boots, but it is even more admirable when Peralta's boots are in support of breast cancer awareness. Puma release pink evoSPEED boots yearly to shine a light on breast cancer, but most of the boots, sadly, do not make it out onto the pitch. Oribe Peralta definitely gets a big shout out from us for being the first player we have seen wearing the boots. Peralta scored one of the two goals in Mexico's win over Panama, but blimey, you should check out the winning goal by teammate Raul Jimenez…
Shinji Ono (Western Sydney Wanderers) – Asics
He may be in his late 30s, but Shinji Ono is still going strong in the Australian A-League. The Western Sydney Wanderers playmaker has been dazzling Australian crowds since his arrival last season, and he has been doing it all in an unidentified pair of Asics boots. We are almost certain they are from the Japanese arm of Asics, but we are not too sure about the details surrounding his boots, except they do seem to have a leather upper. Anyone willing to give us a hand?
Edgar Davids (Barnet) – adidas adiPure 11Pro
It is always strange when you see a player who is an iconic player for one company start wearing the boots of their rival, so you can imagine our surprise when Edgar Davis was spotted in the adidas adiPure 11Pro this weekend for Barnet. The longtime Nike endorser featured in that iconic 'hell vs Earth' commercial, and has been wearing Mercurials throughout his stint as player manager at Barnet. Perhaps Davis has decided to settle for something a little more comfortable for his later years, but after elbowing an opposition player this weekend, it might be a few weeks until we see Davis on the pitch again…
Darlington Nagbe (Portland Timbers) – adidas F50 adiZero TRX
We hardly ever see the companies release a boot just to commemorate a fan funded cup, which is perhaps a testament to the prestige the Cascadia Cup carries. For those of us outside of America, the Cascadia Cup is awarded to one of the Portland Timbers, Seattle Sounders or Vancouver Whitecaps based on whoever has the best season overall. The boot was released this week, and Portland Timbers' Dalington Nagbe showing off the limited edition colourway during Sunday's game. Considering the boot is not your run-of-the-mill general release colourway, we do not think we will see too many more players wearing the special boots this season…
Henrique (Brisbane Roar) – Pele Sports 1970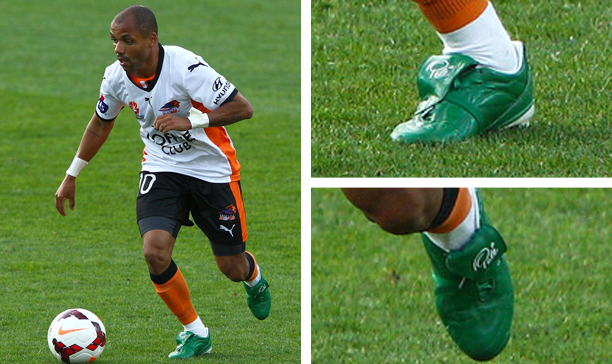 Hands up if you have not heard about Pele Sports in the past 12 months? After the launch of the artsy Trinity 3E Sheone, things have certainly been on the quiet side from Pele Sports. The A-League actually has one or two Pele Sports endorsers, one of those being Brisbane Roar's Henrique. Nicknamed the 'Slippery Fish', Enrique seems to be wearing an adjusted version of the 1970, as his boots do not seem to feature the same stitching pattern present on the regular 1970 model. Pele Sports are not known to make customized boots, so we are not too sure why Henrique's boots are different.
Tom Pope (Port Vale) – adidas Predator LZ SL II
Is the Predator LZ SL II the 'in' boot at Port Vale FC? Tom Pope is the second player in two weeks spotted in the adidas Predator LZ SL II, a boot rarely seen on the feet of professional footballers. The boot weighs in at an impressive 200 grams, with the reduction in weight mostly being down to the use of a Sprintskin upper instead of the stock standard Hybrid Touch upper found on the normal LZ II. In layman's terms, I guess you could say the Predator LZ SL II is virtually the half way point between the F50 adiZero and the Predator LZ II.
Alberto Di Chiara (Stelle Crociate) – adidas Predator Pulse
You have got to love a retro boot spot, especially when it is a vintage adidas Predator spot! Parma celebrated their 100 year anniversary with a fixture against Stelle Crociate, and it saw some legends have one last kick-about for their club, with Gianfranco Zola, Hernan Crespo and Fabio Cannavaro amongst the stars playing on Sunday. Di Chiara played 142 games for Parma during the 90s, and while he retired in 1997, he has somehow got his hands on the adidas Predator Pulse, which was the pick of the boot spots on display in the anniversary game.
Prince William (England) – Nike T90 Laser IV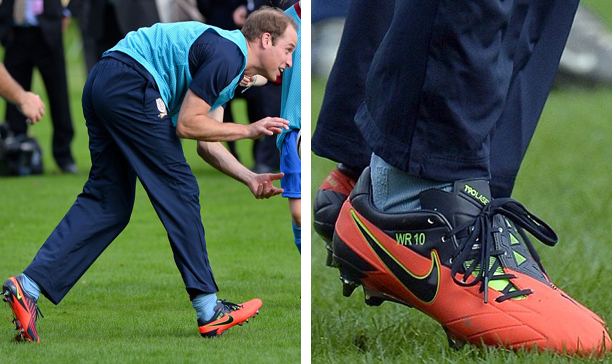 While I would single out the adidas Copa Mundial or Puma King as being the boots fit for royalty, good old Prince William perhaps showed he is not too much about heritage boots when he wore the Crimson/Black T90 Laser IV during a training session prior to the first ever game of football being hosted at Buckingham Palace. The boots were rumored to be handed to the second heir to the English throne by Wayne Rooney, and a close look at the boots clearly shows the boots has Rooney's initials and number on the side of the boots. The boots look to be in great condition, so perhaps it could be an unused pair of boots from Rooney's excess supply of T90 Laser IVs.
That is it for our boot spotting today, what was your favourite spot this week? Share your thoughts in the comments section below.