Football's back! And that was an up and down weekend of football. Cracking goals, surprise results, and Leicester up to 2nd on the EPL table after making a come back from 2-0 down with 20 minutes to go against Aston Villa? It's fair to say football is pretty interesting right now. As usual, The Instep is here with our weekly round up of this week's boot spots. We have our mix of boot spots that are as mixed as Chelsea's results as of late, check out what caught our eye this week.
Lionel Messi (Barcelona) – adidas Messi 15.1
It seems the courier did not quite get to Camp Nou in time to give Messi his new boots. Despite the new Messi 15.1 being unveiled on Friday (which, might we add, are a swish pair of boots decked out in the colours of the Argentina flag), he stuck with the Metallic Ice Messi 15.1 for Barcelona's weekend game against Atletico Madrid. Given that it did not happen this weekend, expect to see Messi wearing the new boots during Barcelona's midweek UCL clash against Roma.
Romelu Lukaku (Everton) – Nike Mercurial Vapor X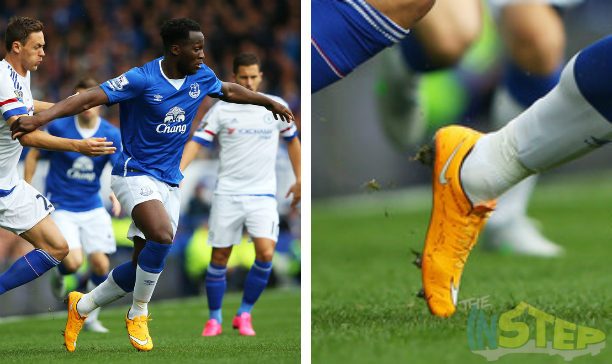 A few weeks ago, we noted that Lukaku had made the odd switch from the new Hypervenom to the old Hypervenom. Now the big Belgian has made the even more unexpected switch to the Laser Orange Vapor X, a boot that was released in September last year. The silo switch perhaps shows that Lukaku cannot quite work out what boots he wants to wear, and while Nike will certainly be shifting uncomfortably as Lukaku, a player they would think represents the Hypervenom, experiments with a boot they try and advertise to wingers and quicker forwards. Still though, we like Lukaku bringing out one of the finer Vapor X colourways that has been released in more recent times.
Muhamed Besic (Everton) – Nike Magista Obra (Custom)
Romelu was not the only Everton player to give us an interesting boot spot this weekend. Muhamed Besic joined the crowd of players rocking custom Magista Obras, but Besic has gone a long way to customise his boots. Not only has he had his boots blacked out, but the whole Dynamic Fit Collar has been cut off, effectively leaving Besic a Magista Opus made of a Flyknit upper. His boots even seem to be cut a little lower than the Opus at the ankle, so we wonder what his boots would be like in the fit department. Besic only played a small role in Everton's win against Chelsea on the weekend as he went off injured early in the game, but his substitute was Naismith and, well, we know how that ended…
Alexandru Gațcan (FC Rostov) – Nike Mercurial Vapor IX CR
There may be one noticeable theme running through our boot spots today, it seems this was the kind of weekend where we say quite a few players wearing classic Mercurial Vapor colourways of days past. But seeing Alexandru Gațcan in the Nike Mercurial Vapor IX CR had to be included in this week's spotting. The CR Galaxy colourway is arguably one of the finest Vapor CR boots ever released by Nike, even though the idea behind it of Ronaldo being 'out of this world' is definitely cringe-worthy. The boot pushes the boundaries with it's looks, but Nike somehow made it look somewhat elegant. Brilliant.
Dani Alves (Barcelona) – adidas F50 adiZero TRX Yamamoto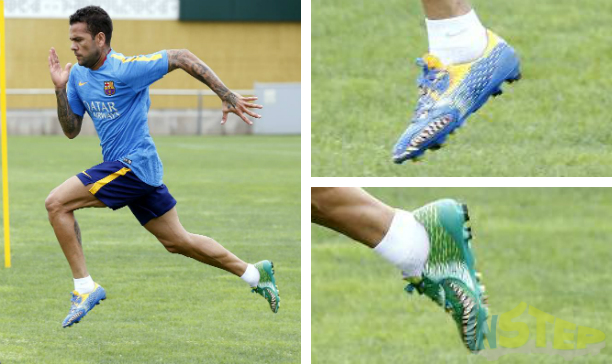 I have been writing in the boot industry for around 6 years or so now, and I have seen a lot of crazy boots during that time. From some of Puma's weird yet somehow cool limited edition releases (like the X-Ray evoSPEED) to the wild concept behind the Nike GS, those did not rank as crazy as the boots being worn by Dani Alves. Alves brought the F50 adiZero TRX Yamamoto back to life in a training session last week for Barcelona, which was adidas' collaboration with Japanese designer Yohji Yamamoto. 'Wild' is an apt word to describe the boots, and with the sharpened teeth on the forefoot, the boots suit Luis Suarez to the tee.
Wilfried Zaha (Crystal Palace) – Nike Mercurial Superfly IV (Custom)
Well, it looks like we have found out what Wilfried Zaha spent his international break doing. While Zaha wore your stock standard Superfly IVs two weeks ago, the winger has returned for Crystal Palace in a customised pair of Superflys which feature a noticeable cut in the Dynamic Fit Collar. Zaha's boots feature a similar short Dynamic Fit Collar to those worn by players like Cristiano Ronaldo and Graziano Pellè. It is an interesting pattern being followed here by those players, and it kinda makes us want to know how it feels to have boots with the shorter collar.
Cahrly Musonda (Chelsea U21) – Nike Mercurial Vapor VII
Who said young kids only wear flash new boots these days? Going a little deeper into the Mercurial vault is Cahrly Masonda with his Granite/Purple/Red Vapor VII, which were released back in 2011. The Mercurial has come quite a long way from the Vapor VII, as the Vapor VII featured a Teijin synthetic upper and a striking heel pattern designed to catch the attention of teammates to create a faster pass rate for players wearing the Vapor VII (can't believe Nike thought people would take that…).
Jack Riewoldt (Richmond) – Nike Tiempo Legend V (Custom)
Okay, so maybe the bloke is wearing a singlet and not a proper jersey. And maybe the ball is shaped a little weird. But hey if an AFL player offers a nice boot spot, we'll throw it in anyway! Jack Riewoldt has done quite a bit of work on his Tiempo Legend Vs, and we are guessing his Black/Navy/White Tiempo Vs are a product of a fair bit of work on NikeiD. While we cannot see it making any resemblance with his Richmond kit, they still look half decent!
That is it for our boot spotting today, what was your favourite spot this week? Share your thoughts in the comments section below.