Did you guys catch the Liverpool vs Man City game on Sunday? Blimey, that was a cracker hey? But that was not all the football we were given this weekend, and just like how it has been with every other week, it was just another massive week of football. And yet again in true Instep style, we have collated only the best boot spots from the week of football just past. From custom boot spots to boot switches to retro spots, we have got it all in this week's boot spotting!
Gary Cahill (Chelsea) – adidas Predator LZ II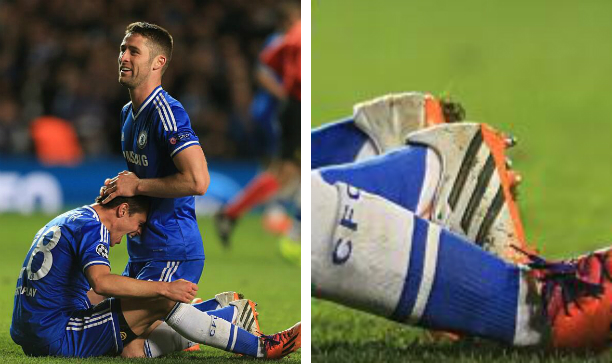 From the Predator LZ II to the F50 adiZero….and back to the Predator LZ II again, it seems Gary Cahill cannot quite work out what boots he really likes. The release of the Earth Pack by adidas has seen the defender switch back into the Predator LZ II after a brief stint in the F50 adiZero. Considering the F50 does not offer a huge amount in the way of protection, the Predator should be a better choice for the tough Cahill in theory. In saying that, with some of the quick forwards in the Premier League, perhaps Cahill needs to consider whether shaving those grams off his boots could be the difference in putting in that vital tackle…
Chisamba Lungu (FC Ural Sverdlovsk Oblast) – Nike Mercurial Vapor IX
If you ask me, Nike have been flogging a partially dead horse when it comes to the Nike Vapor IX and CTR360 III. I mean, they could probably take a leaf out of Frozen's book and they should just "let it go". Oh well, but the second to last swan song for the Vapor IX has seen Nike release the Tropical Pack, a series of blue, orange and green limited edition boots in what is another nod to the upcoming World Cup. Surprisingly, it seems Chisamba Lungu snap up his own pair of the orange Vapor IX. The boots certainly have a distinctive look about them on the pitch, something which is what we have come to expect from Nike in all fairness!
Andrew Farrell (New England Revolution) – adidas Predator LZ II (Custom)
You have always got to love a customised boot job, especially when you can see a footballer has put in the effort to make sure it matches up with his team's kit. Andrew Farrell certainly had the New England Revolution home kit in mind when he went about putting together his customised miadidas pair of Predator LZ IIs. We wonder whether Andrew Farrell perhaps fancies himself to make the US team in time for the World Cup, because his boots also rather conveniently match up with the recently released USA away kit (which is an absolute beauty if you ask me, wish Australia were more adventurous with their kit designs…
Luis Caballero (FC Krylya) – Nike Mercurial Vapor IX
In case you guys have not worked it out yet, I love my boots that provide little flashbacks to the great boots of the past. So of course, the '10 Fast Forward Vapor IX was a massive winner in my books. With so many players opting for the '06 model instead, it is refreshing to see a player opting for the classic two tone Vapor IX. Luis Caballero joins Guelor Kanga as the only players besides Cristiano Ronaldo in the '10 Vapor, who will soon be moving over the the special Vapor IX made for the man who has had a phenomenal season at Real Madrid.
Ian Black (Rangers) – Puma evoSPEED 1.2
So Puma released these boots rather quietly did they not? While the vast majority of Puma evoSPEED endorsers have been playing in the Sharks Blue/Fluro Peach colourway, Puma also pushed out a rather classy White/Peach/Blue colourway which has seen no support from the pros. Except for Ian Black, who is the first player we have spotted in the colourway. With Sergio Aguero and Santi Carzola rocking what appeared to be prototypes of the next update to the evoSPEED range, it definitely is a signal of intent from Puma that they are not going to let Nike and adidas hog up all the spot light at the World Cup.
David Wotherspoon (St Johnstone) – adidas F50 adiZero TRX
While some players like boots to blend in with the rest of team, there is always those one or two players who want to be that little bit different. Those are the players that provide fantastic boot spotting fodder, and David Wotherspoon in the Lionel Messi F50 adiZero is an example of that. There is no hiding on the pitch when you wear a boot with patches of blue, green, pink and orange, but Wotherspoon helped his side to a big one that allowed St Johnstone to proceed into the Scottish Cup final.
Camille Surdez (Switzerland) – Nike Hypervenom Phantom (Custom)
You know, just to think that 12 months ago, there was quite a lot of apprehension surrounding the release of the Hypervenom Phantom once people realized that the much loved Nike T90 Laser range would be making way for the Phantom. But now that we look at it, we think Nike can give themselves a pat on the back with the Phantom. But it seems Camille Surdez is not quite satisfied with the Hypervenom Phantom colourways on the market, instead opting for her own NikeiD creation, which get a massive thumbs up from us.
Terry Antonis (Sydney FC) – adidas 7406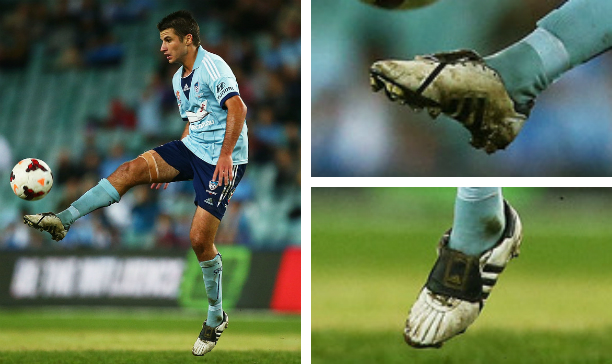 Well….we do not see this on the pitch too often do we? The adidas 7406 released back in 2006 was a throwback to the classic boots of 1974 (put '74 with '06 and bam that's where you get 7406). Crafted from calf leather, the 7406 looks like it has just come out of a time machine from the 70s, with a gorgeous retro look about it and, my favourite part, that massive fold over tongue! Kudos for Terry Antonis wearing such a classic boot, a welcome break from the players wearing the similar Copa Mundial.
That is it for our boot spotting today, what was your favourite spot this week? Share your thoughts in the comments section below.