We are edging closer and closer to the start of the new season, and I know personally that I am counting down the days until we have our European club football back! But for now, with more and more clubs returning to pre-season training and the cheeky friendly here and there, our boot spotting is loaded with the hottest boot spots from the week of football. With spots from Asia, America and everywhere in between, check out the spots that caught our eye this week!
Rio Ferdinand (Manchester United) – Nike T90 Laser IV
While this week's boot spotting may have a distinct Manchester United flavour about it, the returning United players have given us some very interesting discussion points for today's boot spotting. The death of the T90 Laser IV did provide a conundrum for defenders who have relied on the tough and hardy boot since the inception of the boot range. We were always interested about what these players will be switching into, but it seems Rio Ferdinand is not interested in anything else, as he has stuck with the final Mango/Black/Crimson colourway of the boot. Perhaps Ferdinand saw the end of the T90 coming, so he may have stockpiled a few pairs of the boots so he will not have to switch into anything else.
Phil Jones (Manchester United) – adidas Nitrocharge 1.0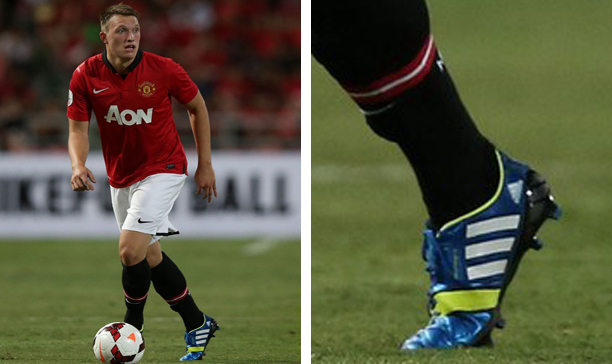 Boot switches are always expected during the pre-season, but the release of the Nitrocharge 1.0 and Nike HyperVenom have offered professionals a wider choice than ever when it comes to what boots they want to wear. Interestingly, Phil Jones has made the switch to the new Nitrocharge 1.0, which does make sense when you consider who adidas are trying to market the Nitrocharge towards and Jones' role within the United set-up. Jones flirted with both the Puma Powercat 1.12 and the new Puma King last season, so it is note-worthy that Jones has abandoned the 'big cat' altogether by going after the newly released Nitrocharge 1.0.
Nile Fischer (Sweden) – Puma evoSPEED 1.2
There is something a little bit different about Nile Fischer's Puma evoSPEEDs. While the Puma evoSPEED has been formally released in the Black/Yellow/Blue and the White/Silver/Red colour ways, Fischer is wearing a colourway that we have not seen released by Puma. While it is being sold on several online retailers (SoccerPro has the colourway for the evoSPEED 2.2), we have not heard too much about this colourway from Puma. It does match up with her Sweden home kit quite nicely. Perhaps we will get more news about the boot over the coming weeks.
Alberto Quintero (Panama) – Nike Mercurial Vapor IX
It was just last week in our boot spotting article that we were wondering why there has been a severe lack of footballers going for the gorgeous 'stealth pack' of Nike football boots, and it seems Panama's Alberto Quintero has answered our call! We spotted Quintero in the Black/White colourway of the Nike Mercurial Vapor IX, and with all the bright and outlandish colourways Nike have released for the Vapor IX (we have seen pink, bright blue, yellow, they all stand out!), it is nice to see Nike break things up by going back to black. We wonder how many stars we will see over the coming season wearing the new 'stealth' range of boots.
Steve Cook (Bournemouth) – adidas Predator LZ
The Predator LZ II is another boot where we have noticed that footballers have been rather unimaginative when it comes to the colourway they have chosen. Many players have opted for the Ray Green/Black/Electricity launch colourway, and Steve Cook is the first player we have seen in the alternative Running White/Black/Hi-vis Red colourway. Adidas have certainly stuck with reliable colours when they put together the running white colourway, so it is definitely for those who think that the launch colourway of the boot is a bit to garish for their tastes!
Rafael (Manchester United) – Nike CTR360 Maestri III
We asked earlier in the boot spotting about what ex-T90 Laser IV players would be wearing now the T90 has been discontinued, and Manchester United's Rafael has perhaps gone for the most versatile Nike boot on the market! The Nike CTR360 Maestri III seems to be a popular choice amongst defenders these days, with Rafael joining company such as Joleon Lescott and Thomas Vermaelen being two EPL defenders who have opted for the CTR360 Maestri III. We will definitely be keeping an eye out on the footwear of other ex-T90 Laser IV wearers as the start to bring out their new boots for the coming season.
Carlos Peña (Mexico) – Concord
Anyone else think we may have seen a boot like this before? We do not know a huge amount about Concord, the Mexican football boot maker that tailors their products to the budget-concious amongst us. A quick browse through the footwear of the Mexican footballers does show that a few of the players favour either Concord or Pirma boots, two Mexican football boot makers producing boots on a budget. But we think Concord has definitely taken a lot of inspiration from the CR7 Vapor IX with this latest colourway! I guess it is the performance that counts…
Francesco De Rose (Reggina Calcio) – Nike CTR360 Maestri III
We go a long way to protect boots we love (I was devastated the day I had to throw away my White/Blue adiPure IIs, I loved those boots so much), but I somehow think Francesco De Rose's CTR360 Maestri IIIs are definitely on their last legs! The tape on the upper would almost certainly affect De Rose's feel for the ball, and it probably diminishes the purpose of the ACC embedded into the boot too! With the wages of professional footballers, it is surely time for De Rose to part from his seemingly beloved pair of CTRs for some new kickers!
That is it for our boot spotting article today, what was your favourite spot this week? Share your thoughts in the comments section below!