Yes, I know, we are a day late people. But a Tuesday boot spotting article is just like Monday night football, it is the same thing that we definitely know and love, but it has the exoticness of being on a different day! We do the usual, we have rounded up the best boot spots from the week of football just past, from boot switches to custom boots and everything in between, check out what caught our eye this week.
Carlos Tevez (Juventus) – Nike Tiempo Legend V
There are so many players chopping and changing out of boots at the moment, but we try keep an eye on all of them at the same time. It seems like a resolution has been reached with Carlos Tevez's boots though, the Argentine has been wearing blackout Tiempo Vs as of late (boots that he badly blacked out himself might I add), but he has now updated his boots to the new Shine Through Legend V. A player going for blackouts normally leads to a change in boots, but this is one of the rarer scenarios where nothing happens after all.
Vincent Kompany (Manchester City) – Warrior Sports Skreamer II Pro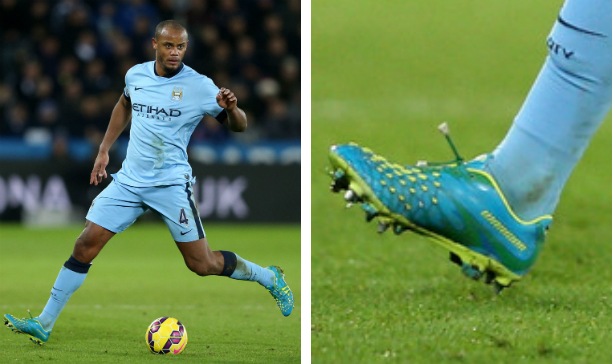 While New Balance have been gearing up for the launch of their new boots, there is still the odd player that is wearing the boots that New Balance are meant to be replacing. Strangely, Vincent Kompany wore the Warrior Sports Skreamer II Pro on the weekend, despite wearing the New Balance prototypes last week. You would think that Kompany would wear the NB boots to get used to them for when they get properly launched, but taking the step back to the old Warrior Sports Skreamer is certainly unexpected. It could be a one-off from Kompany, we will have to wait and see.
Alex Song (West Ham) – Nike Magista Obra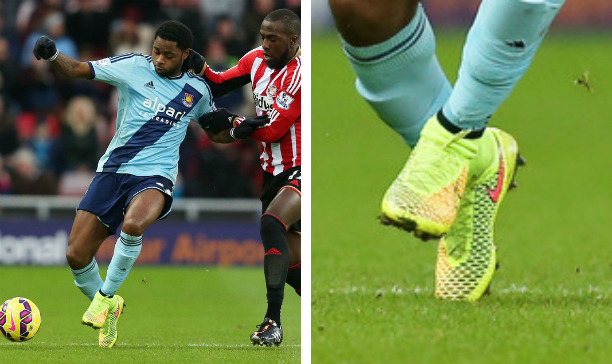 In one of the most retro Puma Kings you could get in one week to arguably one of the most technologically advanced boots on the market the next week, Alex Song will probably need to take a bit of time to adjusting to his new Magista Obras after spending last week in the Puma King. It seems Song is at a crossroad when it comes to his boots of choice, he has been wearing the evoSPEED for much of this season but the change in the past two weeks suggests the midfielder is weighing up his options at the moment when it comes to his boots.
Kittsanaprom Bunsarn (Thailand) – adidas F50 adiZero TRX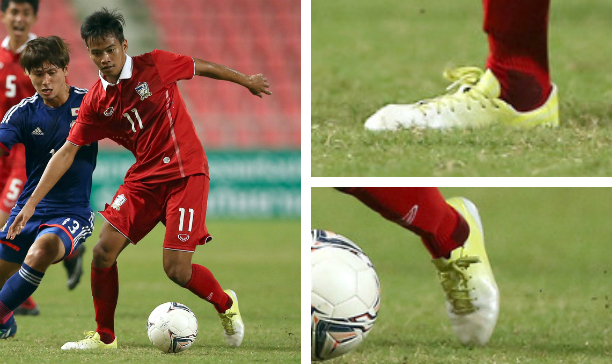 We spotted Dax McCarty showing off his Hunt Pack Predator Instinct the other week over in the MLS, now Kittsanaprom Bunsarn is only the second player we have seen representing the adidas Hunt Pack, this time in the F50 adiZero release. We have seen adidas release so many colourway packs this year that it has been difficult to keep a track of them all, and the Hunt Pack seems to fall to that weakness as the player uptake for the range has been dismal. However, it seems the uniqueness of the boot has caught Kittsanaprom's eye, and credit to him for repping a boot we wish we could see more often.
Graziano Pelle (Southampton) – Nike Mercuial Vapor Superfly IV (Custom)
The list of players wearing modified Nike Mercurial Superfly IVs seems to grow by the week. Graziano Pelle has continued on with his alteration to the Dynamic Fit Collar on his new Shine Through Superfly IVs, cutting off a few centimeters from the collar in the same vein as a certain C.Ronaldo. Pelle did the same thing to his Laser Orange Superfly IVs that he had been wearing for the past few months. We are not quite sure of the benefit of cutting the collar ourselves, as while we would imagine it would make the collar feel less restrictive, that is not a problem that Andrew and I have encountered through our use of the boot.
Kieran Gibbs (Arsenal) – adidas F50 adiZero TRX
Boot switches are always pretty common half way through the season, and Kieran Gibbs is the latest player we have spotted making the jump from one rival company to another. The defender has been sticking by the Nike Tiempo Legend V this season, but he was snapped up in the adidas F50 adiZero TRX this weekend in Arsenal's game against Newcastle. With full backs like Azpilicueta (I just call him Dave) and Jordi Alba rocking the F50, Kieran Gibbs is certainly in good company.
Reuben Reid (Plymouth Argyle) – adidas Predator Instinct
We saw so, so many Predator Instinct colourways launched this year, and while there were one or two questionable colourways, hitting the boot up in a blackout and a whiteout colourway was certainly a good choice by the folks at adidas. Reuben Reid is the first player we have seen rocking the whiteout edition of the Predator Instinct, and while it is normally tough to decipher black or whiteout boots, the distinctive SL rubber zones that run across the upper of the boot gave it away to us that Reid has got himself a pair of the Predator Instinct.
Brett Pitman (Bournemouth) – adidas F50 adiZero TRX
We always love a boot customisation job where a player matches his boots with his kit, and Brett Pitman has done just that with his Red and Black F50 adiZeros that coordinates with the Bournemouth home kit perfectly. We have not seen a huge number of players hitting up miadidas to make their own customised F50 adiZero, so it is nice to see Pitman put in the extra effort with his boots.
That is it for our boot spotting today, what was your favourite spot this week? Share your thoughts in the comments section below.