Well, that is it. The EPL season is finally over (well, pretty much anyway, bar United's last game being postponed), Barcelona finished off the job in Spain and all we have left is a tasty Madrid derby in the Champions League final. Oh and there is that little thing called the EUROs starting in just under a month too. Until then, a recap of the week's big boot spots is necessary, and we are all over that here at The Instep. Boot swaps, custom boots, retro boots, we have it all this week. Check out the spots that caught our eye below in the final boot spotting of the 15/16 season.
Jamie Vardy and Riyad Mahrez (Leicester City) – Nike Hypervenom Phantom II 'Vahrez'
These two blokes more or less turned the EPL on its head this season, and while they have had plenty of accolades come their way (the Player's Player of the season going for Mahrez, the EPL player of the season for Vardy), Nike have thrown their hat into the ring by making a special pair of boots for the two stars that symbolises the partnership between them. Both players wore their respective boots during Leicester's last game of the season at Chelsea, and while both boots look similar, the big difference between the two is that the right boot of Vardy's pair is white, while Mahrez's is black (and vice versa).
Paulo Dybala (Juventus) – Nike Mercurial Superfly IV (Custom)
These are seriously off the scale awesome. Nike announced a few days ago that NikeiD-ers now have the choice to customise their Mercurials in a number of prints inspired by some of Nike's most iconic Mercurial colourways. Paulo Dybala has jumped on arguably the most stunning print of all; the Silver/Yellow/Blue Vapor worn by Ronaldo at the '98 World Cup, and he wore them to cap off a strong season where he put away 17 league goals for the Old Lady.
Artur Yusupov (Zenit St. Petersburg) – Nike Mercurial Vapor X (Custom)
These boots definitely look a little different compared to what we are used to seeing. Artur Yusupov has made an interesting little customisation to his White/Black/Total Orange/Volt Vapor X. The standard tongue on the recently released Vapor X is all white, but Yusupov has seemingly had the tongue on his boots made orange. It looks a little too good to be a DIY paint job, so maybe it was something he requested through Nike, but it is a rather strange addition as it is not like the orange matches the rest of the boot…
Torsten Mattuschka (FC Energie Cottbus) – adidas adiPure 11Pro SL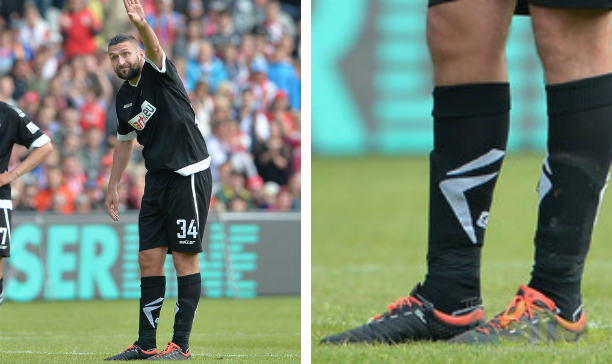 So these are a pair of boots many of us probably have not seen in quite a while. The adiPure 11Pro SL in the Black/Pop colourway, released 4 years ago, was the 3rd adiPure boot to receive the SL treatment. And rather surprisingly, it featured a K-Leather upper for durability, while the standard adiPure 11Pro came with a Taurus leather upper. Torsten Mattuschka has done well to keep his boots in the pretty good condition that they are in, and for those of you who do not know who FC Energie Cottbus, they play in Germany's third football tier. Yeah, I had not heard of them before until today either…
Ezekiel Henty (FC Lokomotiv Moscow) – Nike Mercurial Superfly IV SE
For the Camo series from Nike, bar Jamie Vardy who wore the Hypervenom Phantom II for a friendly in England, the professional uptake of the boot has been disappointing from Nike's point of view. Which is why it was rather surprising to snap up Ezekiel Henty in the boot, who is the first player we have spotted in the Camo version of the Mercurial Superfly SE. The boots definitely look good from the distance, and it is a smart colour from Nike that plays on the traditional all black boot with a twist.
Zafer Yelen (Berliner AK) – adidas F50 adiZero TRX (Custom)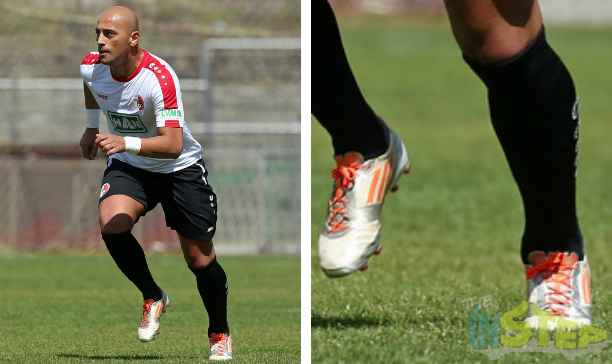 While I am going to put down that this is a custom boot that Zafer Yelen is wearing, I do have a feeling that Yelen may be wearing a women's colourway that I couldn't quite track down…anyways, Yelen is wearing the 2nd generation of the famed F50 adiZero. The 2nd generation boot brought plenty of changes, a different upper structure to keep the boot together and micoach technology in the sole of the boot, these were certainly a good pair of boots for whoever was fortunate enough to wear them.
Luis Figo (FIFA Legends) – Nike Tiempo Legend IV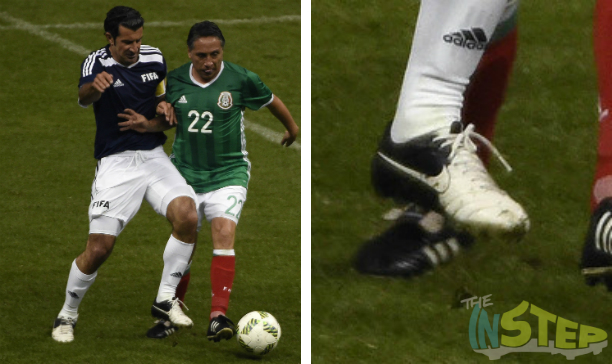 Ah, what a fitting way to end our spotting this week. Considering that Nike and adidas are probably weeks away from showing off their boots that will grace the pitch during the EUROs, it was nice to see Luis Figo bust out the Tiempo Legend IV from the Clash pack of the 2012 EUROs. And what a stunning boot this was, but in all honesty, all the boots in the Clash pack were absolutely brilliant. We wonder what Nike will have in store for us this time around…
That is it for our boot spotting this week (and also for this season). We may be scaling back on the boot spots over the next few weeks (since there are fewer games around), but still stick around for those articles! What was your favourite spot this week? Share your thoughts in the comments section below.