It was not quite the action packed week of football we have been getting in the past few weeks, but there is one golden rule when it comes to putting together a boot spotting article. The more random games with lesser known names, the better a boot spotting article can be put together. And I reckon that hypothesis stands true when it comes to this week's spotting. We have a cracking assortment of boot spots this week. From new boots to retro boots to boot we do not see too often, we have it all today! Check out what caught our eye this week.
Gigi Buffon (Italy) – Puma evoPOWER 1.2 Graphic Pop
While Nike unveiled the second Tech Craft Pack this week, Puma also had a new boot up their sleeve that they showed off to the world. Puma are the kings of crafting boots that are a little on the…eccentric side, and they have done it all again with the new Graphic Pop evoPOWER 1.2. The boot, which is inspired by pop art, just screams fun, and a whole host of Puma athletes wore the new boots this weekend. Gigi Buffon was one of those players, who also wore the matching 'keeper gloves launched alongside the boot.
Stefan Johansen (Norway) – adidas ACE 15.1 (Custom)
It was not a great week for Norway, as they fell at the final hurdle to make it into next year's EUROs after their 3-1 aggregate defeat to Hungary (who, coincidentally, made it through to their first EUROs since 1972). Johansen does give us a reason to take a look at his boots though, as he is one of the few players we have seen in customised versions of the ACE 15.1. His Purple/Orange boots are a little bit on the different side, and the clash of the two colours actually looks half decent. We do not think there is any significance behind the colours picked though, as they do not match with the colours of his domestic club Celtic.
Jermaine Jones (USA) – Under Armour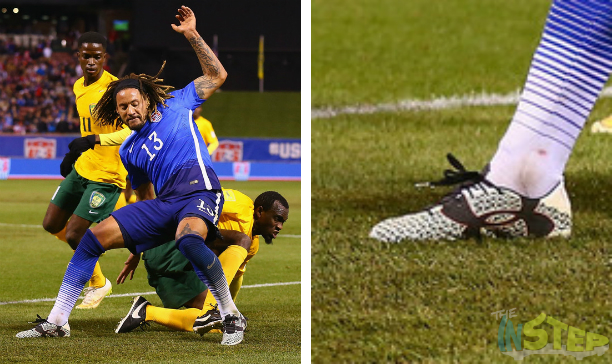 Well, it is pretty easy for me to tell you what brand boots Jones is wearing, but besides that, we do not know too much about the specifics of Jones' boots. Under Armour have been relatively busy this year, and it looks like they might be gearing themselves up for a new release. Jones' boots, which feature a bold UA logo on the instep and outstep of the boot, look kind of like the Clutchfit with the scaly upper, so if we had to guess, we would think this could be the next generation UA Clutchfit.
Rene Krhin (Slovenia) – adidas F50 adiZero TRX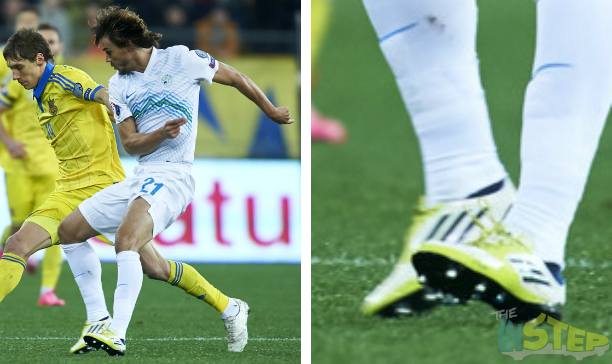 Having the newest boots on the market is not exactly for everyone, which is why it is kind of nice to see Rene Krhin play in something a different for Slovenia this week. He wore the third generation F50 adiZero, which was the first F50 adiZero to come with the micoach cavity in the sole (man, that technology feels like it was from ages ago). While the F50 has developed a reputation of bringing out some bright colourways, Krhin's boots are an example of adidas being able to launch an awesome subdued colourway.
Keisuke Honda (Japan) – Mizuno Wave Ignitus IV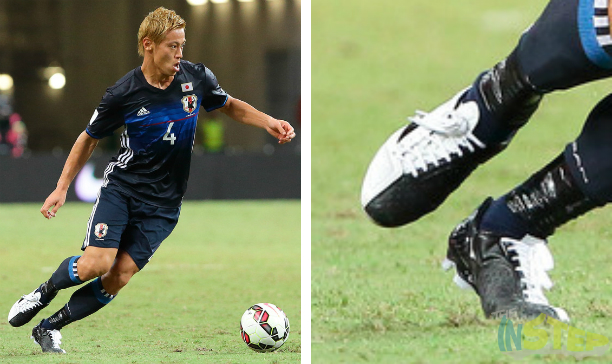 It seems Puma and Nike are not the only companies who have their hands full with new boot colourways. Mizuno appear to be lining up a new Mizuno Wave Ignitus colourway alongside the Morelia Neo colourway worn by Hulk last week. But there is one big thing to point out with this colourway, it is an absolute beauty…the split between the black and white is a refreshing way to go for something bold and reminds me a little of the Tiempo IV released for the 2012 EUROs, cracking boot Mizuno!
David Beckham (Great Britain and Ireland) – adidas ACE 15.1
It may be international break, but the break has meant many retired stars pulled on their boots in the name of charity. David Beckham and friends threw an exhibition at Old Trafford on behalf of UNICEF, and while the man was a big Predator fan in his heyday, this is the first time we have seen Beckham wearing something other than that iconic boot range. He pulled out the White/Silver Metallic ACE 15.1, arguably the closest regular release ACE we have seen to a full whiteout. Considering the ACE is meant to be the successor to the Predator, it was a logical choice from Beckham. Plus the boots are 100% synthetic, which will keep Posh happy.
Bjørn Tore Kvarme (Liverpool Masters) – adidas Predator Absolute
Golden Balls' game in Manchester was not the only charity game on this weekend, a group of Manchester United and Liverpool 'Masters' took on each other in Singapore, which saw the likes of Rush, Saha and Garcia come back for one more game. Kvarme, who played for Liverpool just prior to the turn of the millennium, brought out the most interesting boot spot of the night with his adidas Predator Absolute's. The boot was launched in time for the German World Cup, and while we know the Predator range is long gone, there is something about that fold-over tongue that makes us miss the Predator a little…
Brooklyn Beckham (Great Britain and Ireland) – adidas Samba Primeknit
I can honestly say that in my 5-6 years of writing boot spotting articles, I have never had two family members in the same boot spotting. But it is a special little spot that Brooklyn Beckham has given us. The youngster stole the attention of boot aficionados when he brought out the extremely limited edition Samba Primeknit for his dad's charity football game. Limited to just 150 pairs, we have an inkling that Brooklyn knows someone with the right connections to have let him get the boots…
That is it for our boot spotting today, what was your favourite spot this week? Share your thoughts in the comments section below.