Man, we really did not need that international break. But with that out the way, it is full steam ahead for a few solid weeks of European football! And with the UCL and Europa League starting up this week, the season really does start now. While we will not be seeing the newly released Hi-Viz collection of Nike boots until the next instalment of the Instep boot spotting, there was still a lot to keep us more than occupied until the new Nike boots hit the pitch later this week. From boot switches to custom boots, take a look at what caught our eye this week…
Samuel Eto'o (Chelsea) – Puma evoSPEED 1.2
A two year stint in Russia means we have not seen Samuel Eto'o in the major European leagues for a while, but the striker's move to Chelsea is probably something Puma will not be complaining about, as they have another big name player representing the 'big cat'. Samuel Eto'o has been a faithful Puma endorser since his Barcelona days, and the Cameroonian joins Sergio Aguero as arguably the two big profile evoSPEED 1.12 wearers in the Premier League. It could see the Eto'o make a return to Puma football commercials, which might help recoup some of the £12 million in wages Eto'o allegedly lost to sign for Chelsea.
Dani Alves (Barcelona) – adidas Nitrocharge 1.0 (Custom)
While we unveiled the new Nike Hi-Viz collection on Sunday, adidas are in the process of rolling out their new boots as part of their late summer colourway update. As a headliner for the Nitrocharge range, Dani Alves has been given special access to a Nitrocharge customized with what appears to have a Sprintskin upper. It could be because of the ties Alves used to have with the adiZero, but we believe Alves is the only player who has favored Sprintskin as opposed to the regular Hybridtouch upper.
Sam Parkin (Exeter City) – adidas adiPure 11Pro SL
We do not see too many players wearing boots from the adidas SL range, but Sam Parkin is the first player we have seen in the White/Lime/Silver adiPure 11Pro SL. Considering that there was a bit of negativity towards the lack of a K-Leather upper on the normal adiPure 11Pro that makes an unexpected appearance on the SL model, we thought the SL model would be more popular than it has been. With adidas expected to release the next installment to the adiPure range by the end of the year, all eyes will be on how the adiPure will stack up to the Tiempo that is getting released around the same time.
Lazar Markovic (Serbia) – Mizuno Morelia Neo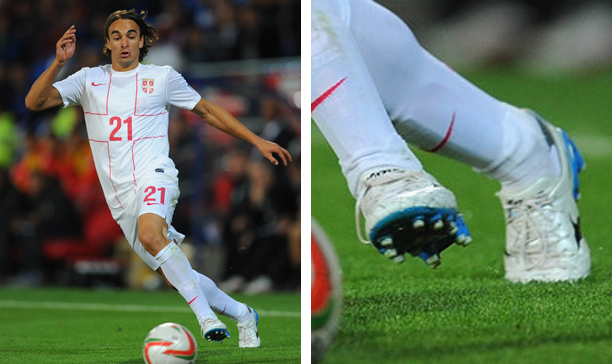 Sticking on the topic of lightweight K-Leather boots, they do not come much better than the Mizuno Morelia Neo (and that is coming from personal experience). The Morelia Neo is undoubtedly one of my favorite boots in my growing collection, yet the uptake from the professionals is not what you would call strong. Mizuno has been pretty quiet this season, and Markovic is the first player we have seen sporting the summer-inspired White/Blue/Black colourway.
Joey Barton (QPR) – adidas Nitrocharge 1.0
It may look like Joey Barton is wearing some random laces on his pair of adidas Nitrocharge 1.0s, but Joey Barton is the first player to pledge his support for the 'Right Behind Gay Footballers' campaign. Rainbow coloured laces have been sent to every EPL and SPL club, with the hope that every footballer wears the rainbow laces on their boots next weekend which gay rights charity Stonewell intending it to be a "visible stand against homophobia" in the game. It does bring back memories of EPL players wearing red laces in support of the (RED) Aids charity, and we hope to see similar numbers representing Stonewell by wearing their rainbow laces next weekend.
Jordan Clarke (Coventry City) – Nike CTR360 Trequartista III (Custom)
Some players go for customized boot colourways just to be that little bit different from the rest of the crowd, and we think that could be the rationale behind Jordan Clarke's thinking with his Red/White/Green NikeiD creation. Nike does not offer the CTR360 Maestri as a part of their customization, but rather the second tier Trequartista, which features a slightly inferior type of Kanga-Lite, as well as a lack of the ACC treatment. It is strange that Nike does not offer the Maestri up for customization, especially when it is considered the 3 other silos offer their top of the range boots for the NoikeiD service…
Albert Adomah (Ghana) – Puma V1.06
It is not too often that we see players wearing retro Puma boots, but by awesome luck, Albert Adomah is the second person we have seen in the Puma V1.06 after we spotted Artur Ionita was seen sporting the boots for Serbia last week. It seems Albert Adomah has his own secret stash of Puma football boots, we have seen Adomah wearing a number of limited edition Puma boots including the Puma evoSPEED 1 Ducati SL and the V1.815 Ferrari in the past 12 months. We wonder what rare Puma boots we will see from Adomah between now and the end of the season…
Miguel Ibarra (Minnesota United) – Nike Mercurial Vapor IX (Custom)
Customised boots? Check. Boots matching your kit? Check. Something we have not seen before? Check. Miguel Ibarra has certainly gone out of his way with his customised Blue/Silver/Black pair of Nike Mercurial Vapor IXs that is a pretty sweet match with his Minnesota United kit. We think that Miguel Ibarra's Mercurials could almost pass as a women's colourway, but it is good to see Ibarra making a pair of boots that are a bit different to your mainstream boot choices.
That is it for our boot spotting today, what was your favourite spot this week? Share your thoughts in the comments section below.