Anyone else feeling like this season is just that little bit more exciting than normal? There are four teams in strong contention to take out the Premier League title, Real Madrid and Barcelona are facing a new threat in the form of Athletico Madrid and the UCL is more exciting than ever. How awesome is it?! But of course, we are only here for one reason today, and that is for our traditional start to your Monday: the Instep boot spotting article. With new boots, boot switches and customised boots, we have scoured the four corners of the globe for only the best boot spots. Check out the best the boot world had to offer this week.
Luis Suarez (Liverpool) – adidas Samba Primeknit
We saw it for the first time weeks ago, but it seems Adidas wanted Luis Suarez to wait for one of the biggest fixtures on the EPL calendar to bring out the adidas Primeknit, the world's first knitted football boot (anyone else feel adidas may have rushed out the release just to say to Nike 'anything you can do, I can do better?'). While Nike will be using a lot more Flyknit when it comes to future boot releases, it is not yet known whether Adidas will be implementing the same strategy when it comes to their Primeknit material. It is something certainly worth keeping an eye out for.
Alex Oxlade-Chamberlain (Arsenal) – Nike Hypervenom Phantom
A fortnight ago, the boot world was abuzz with the Nike Magista launch, but just in case we forgot Nike does actually carry a few more boot silos, Nike launched the Spring colourway updates to all four of their boot silos, including the soon to be retired CTR360 Maestri. The Nike Hypervenom Phantom has received a very Brazil inspired touch up, which Alex Oxlade-Chamberlain showed off in Arsenal's derby win over Tottenham. Nike started off with two block colourway designs when the Hypervenom was first released, but we think this colourway (plus the all-green colourway that it follows) are the best colourways yet for the range!
Andreas Iniesta (Barcelona) – Nike CTR360 Maestri III
If the grandeur of a funeral symbolizes how important a person is when they are laid to rest, we think the Nike CTR360 range deserves the football boot world equivalent of a state funeral with a 21 gun salute. The launch of the new Spring Nike colourways has seen the boot brand launch the final CTR360 Maestri, a final boot for a silo that we think has revolutionized the boot world ever since it's launch back in 2009. Nike have gone for an all red CTR360, and we think the range is definitely going out on a massive high with the gorgeous all red look.
Diego Forlan (Curezo Osaka) – adidas Nitrocharge 1.0
Remember when Diego Forlan had a cracking World Cup campaign and guided Uruguay to a remarkable, if not surprising, 4th place finish? Hard to believe that was just four years ago, and Diego Forlan did it all in the F50 adiZero. What has happened to Forlan since then? Well, a few failed transfers has seen Forlan wash up in the J-League, and it seems he also rocked up with a new pair of boots too. Forlan has made the change to the adidas Nitrocharge 1.0, a boot made for the midfielder according to adidas, but is certainly a versatile boot if you ask us.
Maruoane Fellaini (Manchester United) – Warrior Sports Gambler'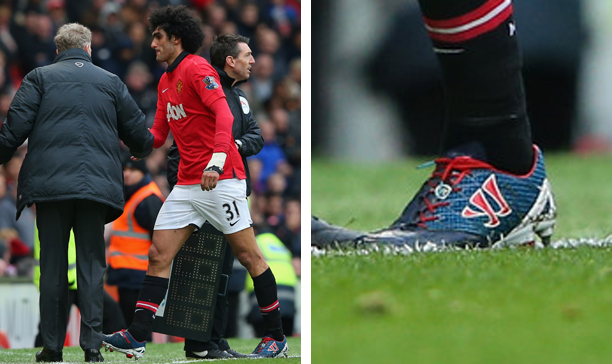 You know, considering Warrior Sports hit the ground running when they first arrived into the football gear world, they have been a touch disappointing as of late with how quiet they have been, especially coming up to the World Cup. Which is why it is rather nice that we are starting to see a bit more life from the American sportswear brand with their new Blue/Red Gambler Pro colourway. Warrior Sports are not anticipated to launch any new boots or announce anything major in the lead in to the World Cup, but Warrior are experts at pulling off massive surprises, so it would be dangerous to discount them!
Raheem Sterling (Liverpool) – Nike Mercurial Vapor IX
My colleague Andrew made a good point in an article he posted last week. While the '98 Vapor IX has been relatively successful, the '02 Vapor really did not get anywhere near the same reception? And why? Well, we feel boot fans are slightly disappointed that both boots are not really a true tribute to what they are meant to portray because they are not close enough to the real thing. Which is why we love the '06 Vapor IX, because it looks a lot like the boot it is meant to be a throwback to. Raheem Sterling debuted the boots in Liverpool's win over Manchester United, but has anyone noticed how the Hypervenom and the Vapor are both primarily yellow and the CTR and Tiempo are red? It is a part of Nike's little campaign to separate 'attacking' boots with 'defending' boots, and we can definitely see it happening with these colourway releases.
Yannick Bolasie (Crystal Palace) – adidas F50 adiZero TRX (Double)
There always has to be one…there always has to be one player who decides to be a little eccentric and decide to wear two different pairs of boots on his feet. Benoit Assou-Ekotto started off the craze, now Yannick Bolasie is the latest player to do it himself, deciding to go with the orange F50 adiZero on one foot and the blue F50 on the other (a bit like Hernane of Flamengo late last year…). Bolasie seems to be a fan of his boots, having worn the 'Reflective' pack Mercurial and the Vapor CR7 Galaxy recently.
Kenyu Sugitomo (Curezo Osaka) – Nike Mercurial Vapor IX (Custom)
A footballer wearing a customised soleplate? Ehh, that is nothing new. But when you dive in a little further and look at Kenyu Sugitomo's soleplate, that is when you know his boots are a little bit on the unique side of life. Despite having all the looks of a regular Vapor IX, Sugitomo's boots are strangely sporting a Hypervenom soleplate, completing with the split toe addition at the top of the plate. Why is that? Well, Japanese players are said to have access to a special boot service which accommodates for the slightly wider foot the Japanese have, with Ryo Miyaichi and Yuto Nagatomo being two players who make the most of the service (indentifiable by the black laces on their Vapors). The Hypervenom does have a wider last than the Vapor, so we think Sugitomo's boots have been custom made to make his Vapors that bit more comfy.
That is it for our boot spotting today, what was your favourite spot this week? Share your thoughts in the comments section below!