You know they say that the 18th of January is the most depressing day of the year? Apparently because the weather is pretty bad (maybe if you are in the northern hemisphere anyway), we are probably all back at work and the festive buzz we had is all but gone? So I reckon it is a good thing we have the boot spotting to get us through this Monday hey? We have some cracking spots this week, from boot switches to custom boots and another cheeky NFL spot, check out the hot spots that caught our eye this week.
Lionel Messi (Barcelona) – adidas Messi 15.1 Platinum
The least we could do for the bloke who won his 5th Ballon D'Or is to put him first in our boot spotting this week. And the least adidas could do is commend the super human effort by rewarding Messi with a brand new Messi 15.1 colourway. Dubbed the 'Platinum' release, and they look pretty damn impressive if you ask me. The whiteout boot, a first for the Messi range to feature a complete whiteout, is a fitting boot for the Argentine who presented the Balon D'Or to his adoring fans at the Nou Camp this weekend.
Antony Martial (Manchester United) – Nike Mercurial Superfly IV
So this is a strange little spot. Martial changed into something a little different this weekend, opting out of the standard Urban Lilac Mercurial colourway that he has been wearing in the past few weeks in favour of the Squadron Blue SF IV that was released a few months ago. Did the United kit man forget to pack the Urban Lilac SF IV on the way to Liverpool? Or is Martial superstitious and want to slip into something else for United's big game against Liverpool? Who knows.
Daniele De Rossi (Roma) – adidas ACE 16.1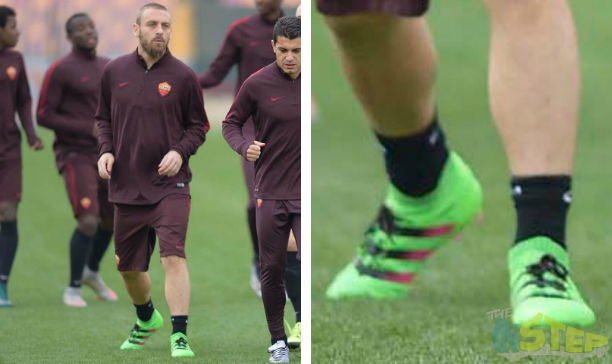 Oops, it looks like De Rossi has given us a sneaky peek at the upcoming adidas ACE 16.1 colourway…the Solar Green ACE 16.1 (man they stand out on the pitch) was given an early unveiling by the midfielder, which is expected to be officially shown off this week. While adidas will be releasing a laceless ACE+ PureControl, De Rossi has opted for the traditional 16.1. How many players will be adventurous and go for the PureControl? We will find out soon!
Craig Goodwin (Adelaide United) – Nike Hypervenom Phantom II (Custom)
De Rossi was not the only player showing off unreleased boots this week (okay, technically this spot is a little older than that, but it is too good a spot to not put on here). Adelaide United's Craig Goodwin (that's an A-League team guys) somehow got his hands on the yet to be released Green Glow Hypervenom Phantom, which is expected to be officially released in the coming weeks. Goodwin also went as far as cutting off the Dynamic Fit Collar off his boots, but we would imagine Nike would not have been too impressed with the youngster showing off their wares this prematurely.
Kevin Prince-Boateng (AC Milan) – Nike Mercurial Superfly IV (Custom)
So most of the big players are seen parading the standard release colourways and are not given the opportunity to create their own boots (okay, sit down Paul Pogba), which makes it impressive that Kevin Prince-Boateng has come up with his own Superfly IV. The boot heavily features red and black, which is of course a nod to the colours of AC Milan, while some spotted laces and a yellow Nike tick differentiate the boot a little more. A nifty little creation by Prince-Boateng!
Wataru Endo (Japan U23) – Nike Tiempo VI (Custom)
The AFC U23 Championships are on in Qatar at the moment, which act as the qualifiers to the Olympics later this year (and is it just me or does it not quite feel like an Olympic year yet?). Wataru Endo took the opportunity to come up with his own unique Tiempo VI, which he dubbed as his #RoadToRio boots. The boots strongly feature yellow (for Brazil) and dark blue (for Japan), and the 22 year old defender proudly showed off his boots as he stared for Japan.
Logan Ryan (New England Patriots) – Nike Tiempo Legacy II (Custom)
The NFL throws up some fascinating boot spots for us, and Logan Ryan has certainly summed that up with what he wore as he stepped out onto the field for New England's play off game. So we will run through the details, Ryan is wearing the second tier Legacy model (evidenced by the lack of Flywire running through the upper) and he completely blacked out the Nike tick and orange detailing of his boots. A very strangely customised boot, but well worth the space on this week's spot!
That is it for our boot spotting today, what was your favourite spot this week? Share your thoughts in the comments section below.