I will be the first to say it, that weekend did not quite have the same feel about it as your regular weekend hey? But either way, the Instep boot spotting is a great way to rev up a mediocre week of football! With a few boot launches, eyebrow raising boot switches and some customised boots on display, the Instep only gets the best boot spots for our Monday boot spotting article. Take a look at what made the cut this week.
Karim Benzema (France) – adidas F50 adiZero TRX
Whenever a new boot gets launched, there is always one or two players who defer from the new boot in favour of the past release. Last week it was Robin Van Persie, this week it is Karim Benzema. Despite wearing the orange colourway of the new F50 last week, the striker this week snuck back into the old Electricity/Hero Ink/Silver 3rd generation F50. It could be a sizing issue, or it could just be that Benzema does not like the new adiZero. After becoming ridiculously excited about the new F50 just by writing about it, I would happily take Benzema's F50s if he does not like them!
Yaya Toure (Ivory Coast) – Puma King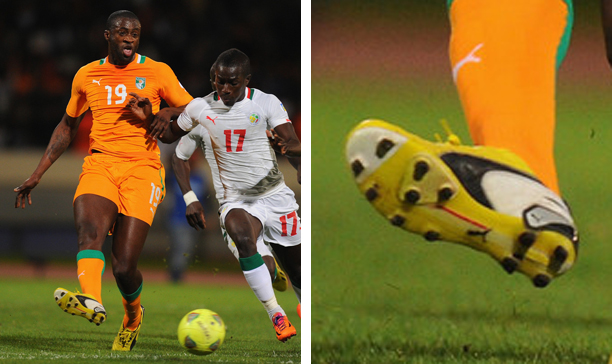 Has anyone seen a player wearing the Peacoat/White/Blue Puma King? Nope, neither have we. Not a single Puma King endorser has gone for the recently released colourway, something Puma definitely did not want to see happening. But in a strange move, Yaya Toure did not wear the popular White/Red/Black colourway in favour for the Yellow/Black/White launch colourway this weekend. We will keep an eye out for what Toure wears next week for Manchester City, but like Benzema, it is strange to see a star take a step back with their boots.
Tom Ince (England U21) – Warrior Sports Superheat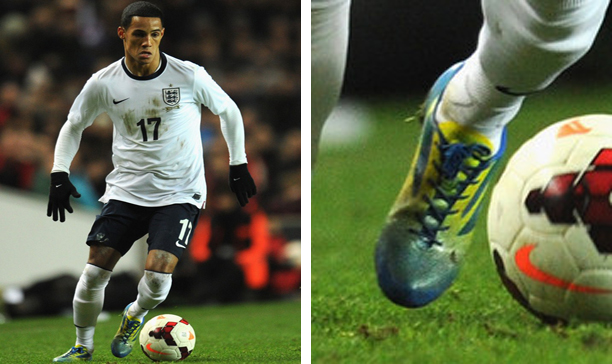 While all the major boot releases happened a few weeks ago, Warrior Sports have been fashionably late to the party, releasing their new Superheat boot just last week. Despite being the headline promoter of the Gambler Pro a few months ago, Ince is now the main athlete for Warrior Sports' new speed boot. Warrior from the get go have been all about 'in your face' designs that stand out on the pitch, and they have definitely done that again with the 180 gram Warrior Sports Superheat. After the F50 was launched last week, we would love to see the Superheat stand up for itself against the big boys in the speed boot market.
Rhayner (Fluminese) – Nike GS
The boot may have been released over a year ago, but the fastest selling shoe of all time in the UK still makes an occasional appearance on the pitch. This time, Fluminese's Rhayner brought the limited edition boot out, and perhaps breaking the hearts of a few boot collectors in the process. We have started to see a rising number of limited release boots from Nike, adidas and Puma, and within the 6 months or so leading into the World Cup, we are going to have some special releases coming our way!
William Gallas (Perth Glory) – Nike Tiempo Legend IV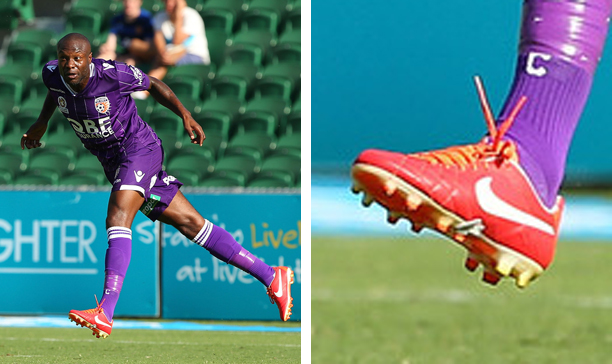 Hands up if you have not heard too much about William Gallas lately. The centreback has certainly been quiet since being released by Tottenham Hotspur at the end of last season, but the 36 year old signed a contract this week with A-League outfit Perth Glory. Gallas was one of very few defenders to wear Mercurials in the EPL, a rare choice for a defensive player. But he has now switched to the Tiempo Legend IV, but he better not get too comfortable with them, with Nike releasing the next update to the Tiempo very soon.
Udai Alsaify (Jordan) – Nike Mercurial Vapor IX CR
Uruguay obliterated Jordan last week in the first leg of the World Cup playoff fixture, and Jordan perhaps need an extraterrestrial intervention to get up over the 5-1 aggregate scoreline against their South American opponents. Sadly, Usai Alsaify's Galaxy colourway CR7 Vapors did not quite do the trick in the first leg of the qualifier, but it does give us a nice little boot spot along the way! Much like Yannick Bolasie last week, Usai has customised his boots with the alternative bright green laces that come with the CR7 Vapor. Personally, I am a fan of the black and white speckled laces, but that is just me!
Romaric (Ivory Coast) – Unknown
The boot world is not all about Nike, adidas and Puma. While the big brands almost always tend to dominate the headlines, there are a lot of little boot brands that do not get too much exposure on the world stage. We have a feeling that Romaric is wearing one of those boots, and we have certainly never seen anything like his boots. While the construction of his boots does suggest Romaric is wearing a power boot of sorts, we still do not have much clue about the boots. Anyone willing to help us out?
Michel Morganella (Reggina) – Nike Hypervenom Phantom (Custom)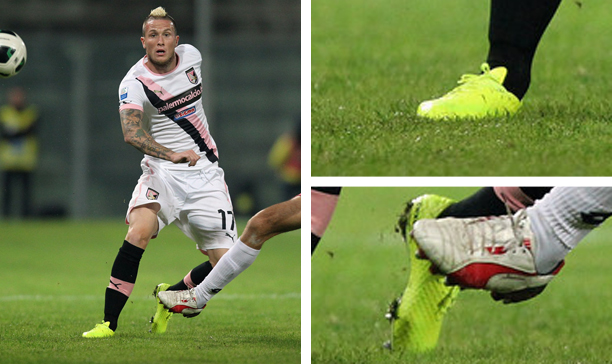 We love our custom Hypervenom Phantoms, and whether it be the designs from Yannick Bolasie or Bakary Sako, the custom Hypervenoms we have seen so far have been very easy on the eye. Michel Morganella, however, has gone in the opposite direction of Sako and Bolasie's predominantly white Hypervenoms to a sharp all volt creation. It certainly reminds us of the Volt/Black/Citron T90 Laser IV, but it certainly not a colourway for the faint hearted!
That is it for our boot spotting this week, what was your favourite spot today? Share your thoughts in the comments section below.