We may be a day late this week (sorry in advance guys) but never the less, we can never go through a weekend of football with your essential low down on the week's hottest boot spots. We have a bit of everything this week, some awesome custom boot spots, some boot switches and a cheeky unreleased boot spot. Check out the spots that caught our eye this week!
Antoine Griezmann (Atletico Madrid) – Puma evoSPEED 1.5 Tricks
Naughty naughty Griezmann, the Frenchman has certainly jumped the gun here by wearing the yet-to-be-released Puma evoSPEED 1.5 during Atletico's weekend game against Granada. The 1.5 Tricks is Puma's boot for the EUROs, and in true Puma style, the boots are bright as anything. With the right boot in yellow and the left in pink (with both boots fading to black towards the heel), they are certainly a pair of boots that will polarise the boot community…
Mario Goetze (Bayern Munich) – Nike Magista Obra (Custom)
Gold boots? They are normally not for the faint of heart (and only a handful of players have been given the privilege of wearing gold boots) but there seems to be a secondary reason behind Goetze's boot of choice this weekend. Clearly written on the side of his boots is 'Mamba', which is almost certainly Goetze's tribute to the now retired Kobe Bryant. We will probably see Goetze in a different pair of boots next week, but it is surprising that out of all the players that could have been chosen by Nike to lead the tributes to Kobe that Goetze was picked…
Vincent Kompany (Manchester City) – adidas ACE 16.1 (Custom)
Hello hello….is this a boot switch that we see here? Vincent Kompany, one of the headline players for Warrior Sports New Balance, has returned to training this week in an ACE 16.1. The three stripes of the boot have also been 'blued-out', creating an awesome all blue boot. Wearing an unbranded boot is a sure fire sign of a boot switch on the horizon, and we wonder whether adidas are trying to snag Kompany prior to the EUROs to complement his Belgium adidas kit.
Yuri Zhirkov (Zenit St. Petersburg) – Nike Tiempo VI (Custom)
I do not get access to photos from the Russian league too often, but if the Russian league starts giving me more quality spots like two of the ones that have made their way into my spotting this week, then maybe I should try hunt them down! Yuri Zhirkov (remember him?) is one of two Zenit players who was snapped up this week in custom boots. Zhirkov has gone for a white and light blue affair with his Tiempo VI boots, a cool combination that matches up nicely with the light blue Zenit kit.
Vito Mannone (Sunderland) – adidas ACE 16.1 (Custom)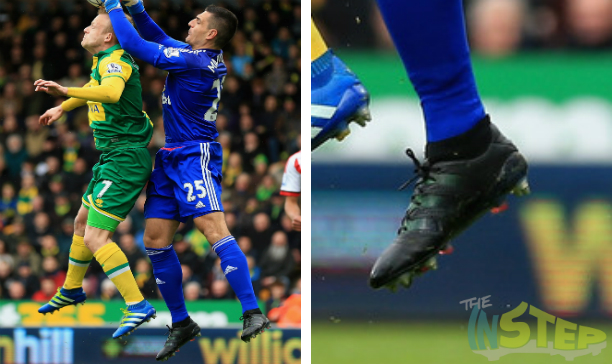 Adidas have released blackout versions of the ACE 16.1, but either no one told Vito Mannone or he likes making his own unique pair of boots. The keeper was spotted in a blackout pair of ACE 16.1s between the sticks for Sunderland this weekend, and upon closer inspection, we can just about make out underneath the black paint that Mannone's boots started life as the green launch colourway of ACE 16.1. In all honesty, Mannone has done a pretty sharp job on his boots, they look neat!
Robinho (Atletico MG) – Nike Hypervenom Phinish (Custom)
Now here is another player who is a bit of a blast from the past. Robinho has not quite hit retirement, and he is still kicking it about in Brazil. While he used to be one of Nike's bigger names, Robinho is sticking the very low key blackout Hypervenom Phinish these days. Robinho is believed to have signed a deal to represent a Brazilian boot company who is yet to have released their first boot, so considering he is between companies right now, it could explain why he is wearing blackouts.
Artem Dzyuba (Zenit St. Petersburg) – Nike Mercurial Vapor X (Custom)
You guys know me by now. If there is a clean, minimal white boot around, chances are that I have already fallen in love with it. Artem Dzyuba's are no exception; these things are gorgeous. A simple white Vapor X with the Nike ticks on the toe and towards the back of the boot in blue, the boot is literally a 2016 interpretation of that brilliant White/Blue Vapor VIII (or the Vapor V that was released before that). We wish Nike will bring back this colourway on a boot again…
That is it for today's boot spotting, what was your favourite spot this week? Share your thoughts in the comments section below.