Tell you what, things are REALLY starting to heat up in the football boot world. Massive releases bookmark the next few weeks starting from this week, with one of the most highly anticipated company launches in recent memory kicking off in a few weeks. Is it football boot overload? Nah of course not. But until then, a boot spotting is your way to get through the week, and with everything from boot switches to new boots and a cheeky unreleased spot or two, what more could you want?
Cristiano Ronaldo (Real Madrid) – Nike Mercurial Superfly IV CR
Won a Ballon D'Or? Here, have a custom-made pair of boots! Ronaldo has been rewarded with a bespoke pair of boots as the Portuguese winger was crowned the world's best player last week, and you definitely have to be pretty damn good to be allowed to wear the gold boots that Nike have made for Ronaldo. Complete with the slightly shorter Dynamic Fit collar, Ronnie wore the boots for the first time in Real's surprising loss to Atletico Madrid (partially surprising due to Torres finding the back of the net twice).
Gareth Bale (Real Madrid) – adidas F50 adiZero TRX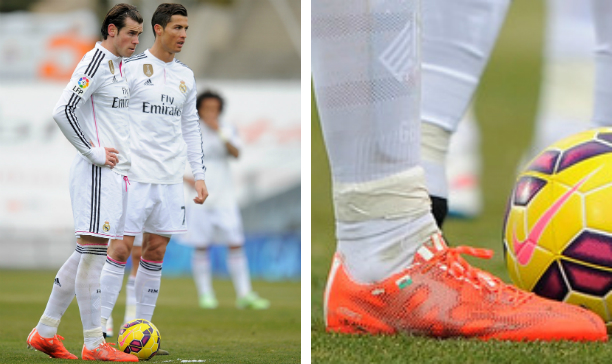 A little bit sneaky by Mr. Bale here, but he is not the first player to have brought out the brand new F50 adiZero before they are officially unveiled. The Welsh wizard, along with Karim Benzema and, of all players, Victor Moses, brought out their new F50 adiZeros this weekend, with the boot getting it's full unveiling later today. The boot forms part of the "haters" pack, a pack that sees adidas take on a rather aggressive and arrogant marketing strategy in promoting the new F50 and a few new colourways on adidas' other silos.
Sergio Aguero (Manchester City) – Puma evoSPEED 1.3 Kun
Let's take a quick moment to look back at the players who have been given a signature colourway in the past 12 months. You have Ronaldo, Messi, James Rodriguez, Neymar, Fabregas, Balotelli. Okay, so maybe that last bloke probably did not deserve his own colourway, but we think Aguero certainly fits the bill as a player who can be rocking a pair of boots made just for him. El Kun rather ironically debuted the boots that are suspiciously close to Arsenal's colours against that very team, and went down as shock 2-0 losers. Maybe having those boots were a bad omen for City…
Neymar (Barcelona) – Nike Hypervenom Phantom II (Custom)
While it is certainly worth getting excited for the releases we have coming up this month, it is worth keeping an eye on some of the stuff coming out in the not-too-distant future too. Nike have been a touch quiet on the new releases front ever since the World Cup, but they are aiming for big things with the upcoming launch of the next-generation Hypervenom Phantom. Neymar is amongst very few athletes been given special access to a prototype of the boot, and it is pretty easy to make out the two big changes to the boot: the Dynamic Fit Collar and a re-designed upper. What about the rest? Well, you will have to wait until the launch…
Bobby Zamora (Fulham) – Under Armour ClutchFit Leather
When we think about where boot leaks come, they normally come from some dodgy, attention-seeking website right? I think for the first time ever a boot leak has its origins from, of all places, FIFA 15. The sharp eyes of my buddy Andrew picked up on what appeared to be an unreleased leather Under Armour ClutchFit on FIFA 15, and this week Bobby Zamora was seen in those very boots this weekend while playing for QPR. A leather upper on a solid boot like the ClutchFit is certainly a mouth-watering prospect, so this is definitely a release that you should keep an eye out for.
Aaron Ramsey (Arsenal) – New Balance
New Balance have made the jump from monochrome to full technicolor! Well, kind of. Aaron Ramsey wore the same whiteout New Balance boots that he has been wearing in cognito for the past few months, but the boots now have the a little bit of added punch from an orange soleplate and laces. A lot of credit needs to go to New Balance, the way that they have given off tiny morsels of their new boot has been a genius way of creating a lot of hype around their upcoming release. Going from full black or whiteout to adding the logo and now adding colour to the soleplate and laces is genuinely brilliant, and I say it each week, but damn I want these boots to come out…
Alex Kenyon (Morcambe) – adidas Predator Instinct Mania
Yes the boots were a very rare release, but it actually seems like their are quite a few pro footballers who have developed quite the love affair with the throwback Predator Instinct releases from last year. Alex Kenyon is the latest player we have spotted in the special limited edition boots, and it is another example of a player wearing a pair of boots that were originally released when he was just a little kiddo (he was just 10 when the originals came out).
Alex Song (West Ham) – Pantafola D'Oro Lazzarini
Alex Song, Alex Song, he wears what he wants, he wears what he wants! Alex Song has arguably provided the most interesting boot switches in the EPL this season, from Magistas to retro Puma Kings and now a boot that probably took me about 10 minutes to work out what I was actually looking at. I have narrowed it down to Song rocking a blackout pair of the Pantafola D'Oro Lazarini, which are given away by those rather large shoelace holes. A look at Song's history of football boots in the past month does tend to suggest that the midfielder is falling for his soft leather boots these days, and you cannot go past Pantafola if you are looking for a no-nonsense leather boot.
That is it for our boot spotting today, what was your favourite spot this week? Share your thoughts in the comments section below.