Dare we say it, but this weekend actually saw some relatively normal results. The top teams triumphed, the regulars were on the score sheet, it's almost as if we are back to normal transition. But hey we are not here for that, we are here with your usual wrap up of this week's boot spots. There are some top notch boot spots this weekend, boot switches, custom boots, boots we do not see too often, check out what caught our eye this weekend.
Cristiano Ronaldo (Real Madrid) – Nike Mercurial Superfly IV CR7 324K Gold
When your main boy reaches 324 goals for his club and breaks records in the process, you would not mind doing a little something to commemorate the achievement right? The Superfly CR7 324K Gold does just that, and it is one of two Superflys released this week by Nike in light of CR's recent achievement. The classy white and gold boot is extremely easy on the eye, and is a nice throwback to the Vapor III colourway that inspired Ronaldo's new boots.
Neymar (Barcelona) – Nike Mercurial Vapor X (Custom)
So Neymar is back in the Hypervenom after a few weeks flirting with the Vapor X, so it is business as usual right? Well, not to the trained eye. A close look at Neymar's "Hypervenoms" reveals that the Brazilian is wearing a Vapor X that has been given a Hypervenom Phinish paint job to disguise the heavy customisation that has been done to his kicks. The boots feature the same upper material and soleplate as the Vapor X, and Nike have gone as far as painting on Flywire on the upper instead of actually integrating them into the upper. Neymar's four-goal performance on the weekend suggests that he is pretty happy with the boots, but it shows how far Nike are willing to go to cover up Neymar not being a fan of the new Hypervenom.
Robin Van Persie (Netherlands and Fenerbahce) – adidas X15.1 Leather and F50 adiZero TRX
It was an interesting old week for Robin Van Persie. His unfortunate own goal meant the Netherlands failed to qualify for the EUROs next summer, yet he popped up with a firecracker of a free kick for Fenerbahce after rumours of the striker being unsatisfied with life at the Turkish club. Van Persie finally wore the new X15.1 for the Netherlands, but that was a very short lived trial in the new boot, as he was back to his old tricks on the weekend as he popped on the Battle Pack F50 adiZero TRX from last year's World Cup. Will this be a permanent move, or will Van Persie move back to his customised blackout F50s? Who knows…
Grace Maher (Canberra United) – Nike Magista Opus Leather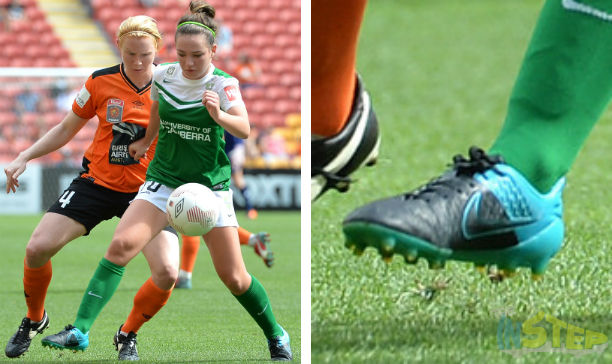 Has Nike's experiment with the Tech Craft Pack worked? While the boots are, in theory, fantastic, the relatively slow uptake amongst professional players probably means K-Leather on Nike boots might not be something Nike will bring out for a while. It's kinda disappointing, but regardless it is nice to see players picking up boots from the range. Grace Maher is one of those players, as she stepped out for Canberra United in the opening weekend of the Australian W-League in the Magista Opus version of the boot.
Kaka (Brazil) – adidas ACE 15.1 Leather
Life probably is not too bad for Kaka at the moment, he's being paid quite a bit to kick around a ball for Orlando City, and now he's been given a new lease in life for his home nation as he stepped out for Brazil's international last week against Venezuela. He did it in the leather version of the ACE 15.1, which is the first time this season that Kaka has worn a (kinda) recently released boot. The midfielder has been rocking blacked out Copa Mundials in recent weeks, and we are sure Kaka will notice the new tech in the ACE compared to the retro Copa.
Gabrielle Marzano (Brisbane Roar) – Nike Mercurial Superfly IV
Remember when, a few years ago, Nike would never release blackout boots? Thankfully, Nike have got themselves into a pattern of releasing blackout editions of their boots, with the latest being the classy Academy Pack released during the summer in a nod to the Nike Academy players that test blackout prototypes of their upcoming boots. Gabrielle Marzano is the first player we have seen wearing boots from the Academy Pack range, with her boots being the Superfly IV release from the pack.
Luke Berry (Cambridge United) – Nike T90 Laser III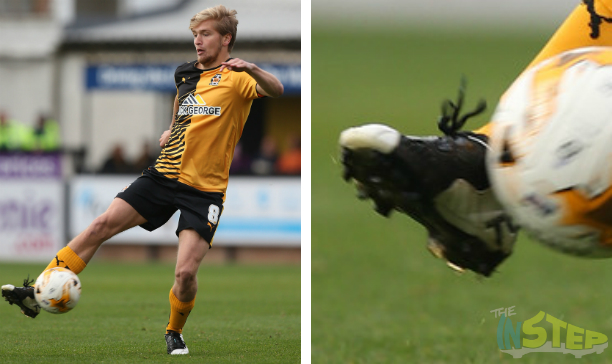 Man, these take me back a few years. While the Hypervenom range is tailored for the striker, it aims to help the striker by increasing his agility. The intention of the popular T90 Laser range that preceded it was vastly different, as Nike paraded it as a boot to help kicking accuracy when you are in front of goal. Maybe it is a bit of a pipe dream, but the T90 Laser is a range that sits firmly in the hearts of boot fans. It is nice to see Luke Berry wearing the T90 Laser III, which featured pods for kicking accuracy and fins on the instep to accentuate touch and feel for the ball.
That is it for our boot spotting today, what was your favourite spot this week? Share your thoughts in the comments section below.