It may have been FA Cup weekend in England, but that has not stopped us with our boot spotting! Here we are like we are every week with our weekly boot spotting round up, and we have the best spots the football world has to offer. Boot switches is perhaps the main call of this week's spotting, but we have a few casual boots and rare boots thrown in there too. Check it all out in the only boot spotting round up you need below!
Juan Mata (Manchester United) – adidas ACE PureControl 16+
Found the launch colourway of the ACE PureControl a bit bright? Never fear, adidas have released the black PureControl playing second fiddle to the positively retina-burning launch colourway, and it is pretty easy on the eye. Juan Mata was the first player to unveil the boot in a proper game United's FA Cup fixture against Derby County, and it was a happy debut for the new colourway too as Mata scored one of the three United goals on the night.
Neymar (Barcelona) – Nike Mercurial Vapor X (Custom)
There were two major boot releases at the start of last week, and while one was for your regular joes, there was a boot released for one special player in particular. The Ousadia Alegria is arguably the boldest Neymar special release boot so far, and the forward showed them off in Barcelona's game against Athletico Madrid. Except his boots are not really Hypervenoms like we are led to believe, as his boots are really a heavily customised Vapor X made to look like the Phinish.
Edin Dzeko (Roma) – adidas ACE 16.1 Primeknit
This has been a boot upgrade that has been a LONG time in the making. Dzeko has been extremely patient when it came to his boots, with the striker wearing the red launch colourway 6th generation F50 adiZero released early last year. He has now moved on to the ACE 16.1 Primeknit, easily identifiable by the small collar that rises a few centimeters higher than the traditional cut ACE 16.1. Over the coming weeks, we might see which boots out of the new ACE 16.1 silo are most popular amongst the professionals, which is something certainly worth keeping an eye out for.
Dani Alves (Barcelona) – Nike Mercurial Vapor X (Custom)
What about this for a boot customisation, I can safely say I have never featured a spot like this before in my 6-7 years of boot spotting articles. We know that over the past few months that Dani Alves has been fond of his unique way of tying the laces on his boots such that only the first four lace holes closest to the top of the foot have been tied. Now Nike have taken it one step further and made a boot for Alves that only has those four lace holes. We imagine the boot would be extremely tight across the top of the midfoot in lieu of the laces to help tighten down the foot, and it does create a larger midfoot for kicking as well. Very, very interesting…
Kaka (Orlando City) – Mizuno Morelia Neo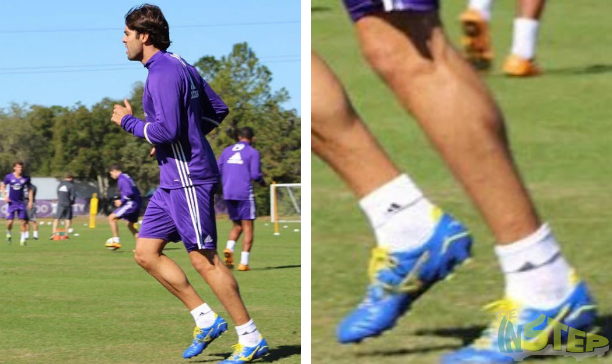 Please excuse the poor photo quality, but it is the spot that counts right? Kaka has been a mainstay of the adidas brand for quite a few years now, but it seems the Brazilian has decided to move on. Kaka has been spotted in the Blue/Yellow Morelia Neo, a colourway which was coincidentally inspired by Brazil. Kaka joins a long list of players who have worn the Morelia in one form or another, and it could be a part of a plan by Mizuno to perhaps infiltrate the USA football boot market a little more.
Luis Garcia (Central Coast Mariners) – New Balance Visaro
The Kop said he is the man who drinks sangria, but Garcia has come out of semi-retirement to sign on for a season long spell at Central Coast Mariners in the A-League. He is doing it all in the New Balance Visaro, albeit in a colourway that was released a few months ago. New Balance is looking to gain a stronger foothold in the Australian football market, and no doubt having the Liverpool legend in their boots would help. Plus it helps that he put in a monster shift for Central Coast to help them to their first away win in 22 games.
Pereyra (Juventus) – Nike Mercurial Superfly IV (Custom)
We love our customised boots, but it seems the Superfly IV is the most popular boot when it comes to customisations. Pereya returned from injury with his take on the Superfly IV in an eye-catching Beta Blue/Bright Mango colourway that has also been finished off with the liquid chrome effect and speckle laces. The boots catch the eye without being too over powering, which makes Pereyra's boots all the more impressive.
That is it for our boot spotting today, what was your favourite spot this week? Share your thoughts in the comments section below.