Transfers, Ballon D'Ors, football boot launches, coaches being sacked, that was a pretty big week in the football world hey? But in amongst all of that, there were some golden boot spots this week, and as we always do, the Instep is the first to present to you the biggest boot spots from the week of football just past. With the Puma evoPOWER hitting the pitch, a boot switch or two and a sneaky sighting of an unreleased colourway, a boot spotting article from the Instep is the only way to start your week off in the best way possible. Check out what we spotted this week…
Cristiano Ronaldo (Real Madrid) – Nike Mercurial Vapor IX
Just won the Ballon D'Or? Why not reward yourself with a new pair of boots? Cristiano Ronaldo broke Lionel Messi's run of Ballon D'Or victories this week as the Portuguese megastar won his second Ballon D'Or over Messi and Franck Ribery. While adidas made it a tradition of sorts to give Messi a customised pair of boots after a Ballon D'Or victory, the same special privilege was not offered to Ronaldo, but he has now switched into the 'Reflective' pack Vapor IX, a boot rarely seen in Europe's big leagues. He must not mind the boots, especially after his scorching goal on the weekend. That ball was probably about to break into light speed…
Diego Costa (Atletico Madrid) – adidas F50 adiZero TRX
With the man being the second highest scorer in the 2013/14 La Liga season with 19 goals, Diego Costa is a player that the boot companies would love to have wearing their boots. But hang on a second, the Athletico Madrid big-man has been wearing blackout Vapors all season, an indication of someone going through contract issues. However, has Diego Costa finally settled on a pair of boots? Costa brought out the F50 adiZero for the first time this weekend, which perhaps indicates the Brazilian is going to make the slide across to adidas' speed boots after wearing the Vapor up until now. We are pretty sure adidas are rubbing their hands in glee with this result…
Yaya Toure (Manchester City) – Puma evoPOWER 1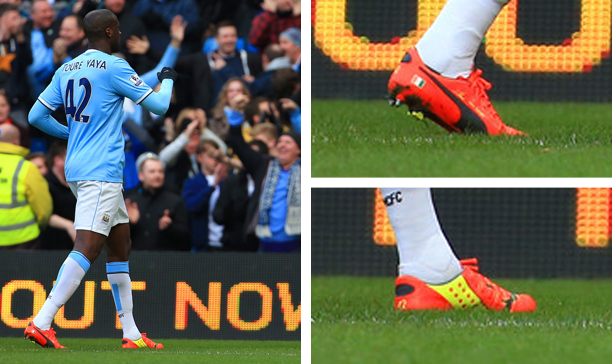 It was not all about the Ballon D'Or this week. After what us guys at the Instep consider to be one of the most successful pre-release advertising campaigns of all time, Puma finally officially launched the Puma evoPOWER this weekend, along with that cracking advertisement featuring Cesc Fabregas, Marco Reus, Thierry Henry and new poster boy Mario Balotelli. A host of stars rocked the new evoPOWER this weekend, and Yaya Toure has interestingly switched into the new boot. It is strange when it is considered that Toure was the head honcho of the King range. Oh well, I guess we should just trust Puma in what they are doing….
Wu Xingham (China) – adidas F50 adiZero TRX
Is that a sneaky unreleased colourway that you see there? Yup, it certainly is. I bet not too many of us are aware of the AFC U22 Championships currently underway in Oman, but the three spots we have gathered this week from the Championships tell me that we should probably start to keep an eye on it. Wu Xinghan has somehow got a hold of the Glow Earth/Earth Green/Solar Zest F50 adiZero that we have marked down for a March release. It will be released alongside the next Messi F50 adiZero, and it seems bright, funky colours will be the call of adidas' Spring releases.
Omar Alhhebaiter (Kuwait) – Nike Mercurial Vapor XV
You know us well enough by now that we always love a limited edition boot spot, and the Nike Mercurial Vapor XV was certainly one of the top limited edition releases of 2013. The boot was released to commemorate the original Ronaldo who inspired the range and 15 years of the Mercurial range. Despite 1,998 of the boots being launched, we have seen a number of players who have been showing off the rare boot (to the envy of those not lucky enough to get the boots themselves). Omar Alhhebaiter showed his taste in fine football boots, as he wore the boots during Kuwait's game at the AFC U22 Championships.
Harry Kewell (Melbourne Heart) – adidas adiPure 11Pro
Adidas have released 15 different colourways since late November, that is a mighty high number of releases hey? But it seems every pro is sticking to the 5 boots released in the Samba pack, with very few picking up the alternative releases from adidas. Melbourne Heart's Harry Kewell (remember him from his Liverpool and Leeds United days?) has strayed away from the masses and settled for the classy White/Light Blue/Black 11Pro colourway. A classic colourway, Kewell was instrumental in Melbourne Heart's 3-1 win over Newcastle Jets, their first win in 20 straight games.
Chris Lines (Port Vale) – adidas Predator LZ SL II
There are so, so many players who love their adidas Predator LZ boots. But how many stars do you see who favour the SL version of the boot? We featured Chris Lines in one of our boot spottings in 2013 for being one of very few players seen in the Black/Silver/Infared Predator LZ SL II, now the Port Vale man has moved onto the Infared/Black/White colourway. It seems that Lines might have a small stash of Predator LZ SL hidden away, and based on his favouritism of Predator LZ SLs, he might be the first player in our boot spotting in the recently released Predator LZ SLs with the multicolour Lethal Zones…
Jimmy Kebe (Leeds United) – adidas F50 adiZero TRX
Here is another one of adidas' releases that we do not see on the pitch too often. A simple predominantly black or white football boot is something we always have time for at the Instep, and the bold F50 adiZero colourways launched as a part of the Samba pack are very different compared to the simple Black/White F50 adiZero launched by adidas just a month later. Jimmy Kebe is the first player we have seen in the colourway, although we think Paul Konchesky was probably feeling sore in the next morning with a bicep full of SG studs from Kebe…that one had to hurt.
Shine Thuya (Myanmar) – ID
There are quite a few small boot companies that serve the Asian market that we do not see too much of in terms of exposure on the global stage, and it seems Myanmar's Shine Thuya is wearing one of the those boots right now. Thuya's boots seem to come with a synthetic upper, and do have a relatively bulky look about them, but that is all we can really pick up about them. Can anyone shed some light of some details about the boots?
That is it for our boot spotting today. What was your favourite spot this week? Share your thoughts in the comments section below.