8-0 drubbings, controversial red cards, superstar strikers netting a casual 4 goals (and making this writer very pleased that he made that player captain for Fantasy Premier League this week), we are glad you are back Premier League. But a monster weekend of Premier League deserves a boot spotting that matches up with it, and our boot spotting round up this week certainly does that. Unreleased boots, shock boot switches, custom boots, we aim to please at the Instep, and our boot spotting is your only weekly round up of the world's hottest boot spots. Check out what snapped up this week.
Aaron Ramsey (Arsenal) – Nike Tiempo Legend V (Custom)
Sooooo I did not see this coming. Aaron Ramsey took to the Emirates pitch on Saturday in a mysterious blackout boot, which after closer examination, is the Black Pack Tiempo Legend V with the Nike logo blacked out. With Ramsey being a loyal endorser of the adidas Predator, it is rather astonishing that the Welshman has made the sudden switch to the Tiempo Legend V. Blackouts almost certainly mean a boot switch, and it looks like Ramsey could be making the hop over to adidas' rival. Being such a high profile player, we would not be surprised if Nike preach the snaring of Ramsey from the rooftops.
James Rodriguez (Real Madrid) – adidas F50 adiZero Crazylight
James mate, adidas might not be too pleased with you at the moment. The Colombian superstar pulled on the F50 adiZero Crazylight for Madrid's run-of-the-mill 5-0 slaughter of Levante on Saturday afternoon, two days before the boot is getting officially unveiled by adidas. While James and his Real Madrid colleagues have been wearing the boot in training, the boots are not meant to hit the pitch until next weekend. Tipping the scales at 150 grams and a dramatic design, there is no denying that adidas wanted to ensure that their Crazylight F50s are visible from miles away!
Pepe (Real Madrid) – Umbro Speciali IV
Pepe has seemingly lost those curls on his head and his Tiempo Legend Vs too. The Real Madrid defender has traded in his Legends for the new Team Royal/White Speciali IV Pro, the new Speciali colourway that was unveiled by Umbro a few weeks ago. Considering the lack of professional representation that Umbro is going through these days, it is good to see a big name player in the form of Pepe deciding to rock Umbro boots. P.S. we do not mind the look of the new Umbro boots either!
Leighton Baines (England and Everton) – adidas Predator Instinct and Predator LZ II
Leighton Baines cannot quite seem to settle for a pair of boots at the moment. The full back has played musical chairs of the boot variety in the past fortnight. He started off in the blue Predator Instinct the last time he made an appearance for Everton against Manchester United, before he switched into the red Predator Instinct for England last week. Yet on Saturday, he switched into the White/Infared Predator LZ II. We guess Baines will settle into a boot sooner rather than later, but his step down to the LZ II this weekend is certainly interesting.
Blas Perez (FC Dallas) – adidas F50 adiZero TRX
James Rodriguez was not the only player who did not get the memo from adidas to not wear their shiny new boots until next weekend. Blas Perez of FC Dallas has given us a sneak peek at the White/Slime F50 adiZero that will be released alongside the Crazylight range of boots today, and it is clear that adidas are continuing with the Battle Pack design template once more with their new range of boots. Not to worry though, because I guess you could say adidas is on the hunt for a new design template for their next range of releases in 2 months time.
Bryan Harrison (Cheltenham Town) – Puma evoSPEED 1.3 Arsenal
So what if the boots were made for a team that is 3 leagues higher than you in English football, if they match up with your team's kit, that is what we respect the most! Bryan Harrison has sought arguably the most perfect match with his Cheltenham Town kit by going for the White/Red Puma evoSPEED 1.3, launched during the off-season to signify Puma signing on as Arsenal's official kit maker this season. There is a lesson here kids, colour coordination is a very awesome thing.
Charlie Adam (Stoke City) – Nike Magista Opus (Custom)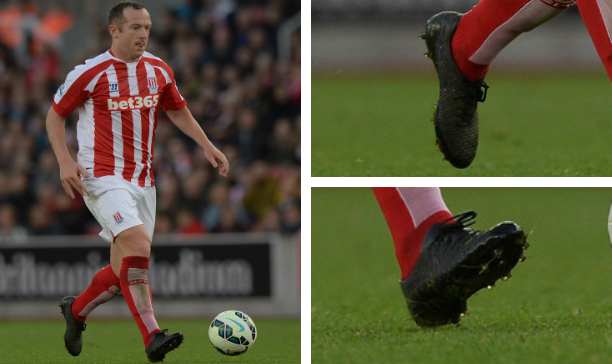 I will have to admit that this spot took me quite a while to decipher, just like how most blackouts are a little tricky to work out. However, we have put our finger on Charlie Adam rocking a customised full blackout Magista Opus, as we can just about make out the textured upper that has made the Magista look instantly recognisable. Charlie Adam likes to change things pretty often when it comes to his boots, the midfielder has worn the Instinct, LZ II, Copa Mundial and the odd Pantafola D'Oro in the last 12 months.
Paul Pogba (Juventus) – Nike Magista Obra (Custom)
Paul Pogba, we salute you. The Juventus man has quite an impressive palate when it comes to football boots, with the midfielder chopping and changing between the Predator Instinct Accelerator remake to blackout Magistas so far this season. He may have outdone himself with his offering this weekend, after unveiling an awesome White/Gold/Black Magista Obra that Pogba crafted for himself on NikeiD. His Magistas look very sharp in white, a colour we have not yet seen as a primary colour by Nike. All that is set to change in January though, just watch this space.