We are in the home stretch of the EPL season now, and while it looks like Leicester are just about going to make it, it is time to look back on a brilliant week of football with our usual Monday boot spotting round up. Our usual mixed bag of spots features a few boot switches, new boots and those random custom boots. With spots from England to Europe and beyond, check out the spots that caught our eye this week below.
Karim Benzema (Real Madrid) – adidas X15.1 Skeleton
Naughty naughty Karim Benzema, you have unveiled the lid off adidas' big new boot a bit early…Benzema unofficially debuted the all new X15.1 Skeleton in Real Madrid's weekend fixture, and he gave the boot a lovely debut as well by scoring Real's opening goal of the game. The Skeleton features a thinner microfibre upper and a different synthetic on the heel to reduce the weight of the boot down, and we do not expect to see the boot fully launched until either late this month or some time next month.
Christian Fuchs (Leicester City) – adidas X15.1 Primeknit (Custom)
We all know what a blackout boot means, it looks like Christian Fuchs might be the next player that is looking to change his boots. Fuchs has sported a blacked out X15.1 this week, and judging by the flashes of red still coming through, it looks like all that Fuchs has done is grab the Solar Red X15.1 Primeknit and black it out with a permanent marker. Maybe Fuchs' contract with adidas is expiring, which most likely explains why Fuchs has blacked out his boots.
Harry Novillo (Melbourne City) – Puma evoSPEED Fresh
While most boot companies launch their new boots with sheer bravado, Puma have gone pretty low key with the launch of the Puma evoSPEED Fresh. Designed to be an expansion of the Puma evoSPEED, the Fresh is designed such that air circulates through the boot to keep your feet cool, whilst a protective layer has been applied over the top of the boots to ensure water does not get in. Harry Novillo is the first player spotted in the new boots, which definitely come just in time as the weather starts warming up in the Northern Hemisphere.
Papy Djilobodji (Werder Bremen) – Nike Mercurial Vapor X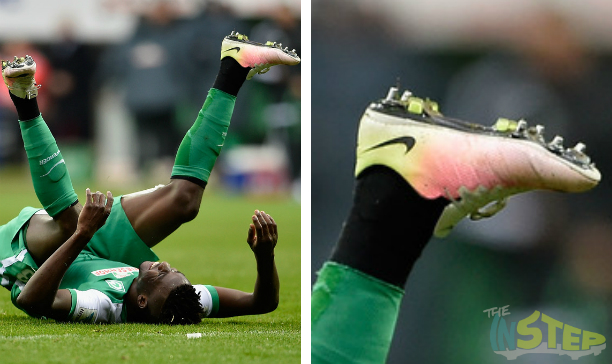 Nike released the all-new Radiant Reveal pack last week, but it looks like we will be waiting another week until the majority of Nike's players will be seen in the boots as most stuck to older release Nike boots. Papy Djilobodji is the only player we spotted in the boot, which also happens to be the final general release colourway for the Vapor X, as Nike also unveiled the next generation Superfly during the 2016 Nike Innovation Summit in New York last week. The boots, however, will not be released until the EUROs.
Shane Duffy (Blackburn) – Nike Tiempo Legend VI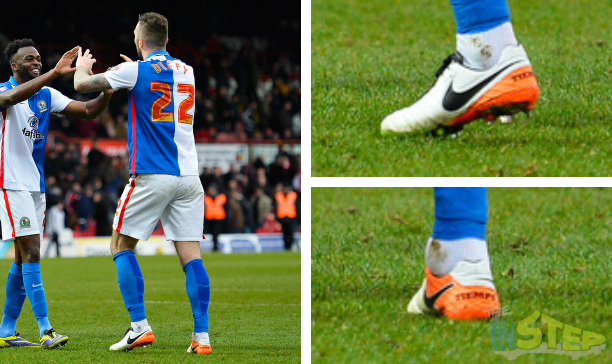 The Tiempo VI also received a fresh colourway thanks to the launch of the Radiant Reveal pack launched last week, and Nike have launched yet another white Tiempo VI. Except this is not one ordinary white boot, the boot features a cool transition from orange on the heel of the soleplate to green towards the front of the boot in a design we do not see from Nike too often. Shane Duffy is the first player we have spotted in the boot that brings a different dimension to white boots.
Dennis Erdmann (FC Hansa Rostock) – adidas ACE 16.1 (Custom)
We do not see it too often, but we sometimes see players who tape up their boots to try and avoid having to buy a new pair of boots, yet we have a feeling this could be a deliberate customisation from Erdmann that is unrelated to the condition of his boots. Erdmann has tape running around the top of his heel, before meeting with two other lines of tape that run up over the laces. Having the tape would help lock his heel down into the boot, so perhaps Erdmann is suffering from an injury in that area and the tape is there to reduce any potential friction, but this is a very interesting customisation indeed…
Andre Green (Aston Villa) – Nike Mercurial Vapor X (Custom)
Did Andre Green and Anthony Martial get their boots customised by the same company? The two youngsters, both of whom have been making a number of appearances in the senior set ups of their respective teams, have both made very similar customisations to their Bright Mango Vapor Xs. The Bright Mango sections of both of their boots have been blacked out, while the Nike tick and Mercurial branding on the heel of the boots have been left untouched. One thing is for sure though, both boots look brilliant!
That is it for our boot spotting today, what was your favourite spot this week? Share your thoughts in the comments section below.