What is the best thing about the international break? It means the Premier League is back the week afterwards! The world's best football league hit our TV screens again this week, and with it came a raft of cracking boot spots. But we do not stop at the Premier League, we have searched throughout Europe, America and Asia for our weekly boot spotting post. Take a look at the spots that made the strict Instep screening process this week…
Daniel Sturridge (Liverpool) – Nike Hypervenom Phantom
If you have the EPL's most in-form striker wearing your boots, you would want him to be keeping up to date with his boots. But sadly for Nike, Daniel Sturridge does not seem too keen about wearing the newly released Hi Vis Hypervenom Phantom. It has been hard enough to get Sturridge out of the Black/Bright Citrus Hypervenom, and made a rare appearance in the outdated Lime/White/Black secondary colourway this weekend. However, Sturridge left the field 30 minutes into the game to put the launch colourway Hypervenom back on. It could be comfort issues, or maybe the striker is superstitious when it comes to boots, but it is probably something we will never really know!
Mikel Arteta (Arsenal) – Puma evoSPEED 1.2
We have seen a large number of player making the switch to the Puma King from Puma's other boots (Buffon and Chiellini switching from the PowerCat to the King comes to mind), but we have not seen any players doing the reverse. A Puma King endorser since the boot was launched, Mikel Arteta has made a switch to the Puma evoSPEED 1.2, a boot he has worn on several occasions throughout his Arsenal career. While we are on the topic of Puma, it is interesting to point out all of the major Puma King wearers have snubbed the new Peacoat/White colourway, which is something Puma probably do not like to see…
Robert Soldado (Tottenham) – adidas F50 adiZero TRX
Last Friday, adidas launched a new, rather exciting, teaser video that they simply called "The Enlightened", which had a series of floodlights in the background lighting up a football pitch. It does not say an awful amount about what it could be, but Robert Soldado may have let the cat out of the bag after he wore a Black/White/Silver pair of F50 adiZeros this weekend. It is rumored that the boots adidas may be launching a boot where the white sections illuminate under floodlights or the flash of a camera, like the Lotto Solista. While we cannot say with 100% certainty whether Soldado is wearing the upcoming boot, we think we could be onto something here…
Chico Flores (Swansea) – Nike Mercurial Vapor IX (Custom)
While defenders normally settle for tough, hardy football boots, Chico Flores is a great testament to the idea that your position should not determine what boot you wear, but rather what you feel most comfortable in. Flores has always been a Nike Mercurial Vapor IX wearer (despite being a centreback), and he does seem to be fond of customised Vapor IXs. Chico Flores brought out his latest creation in the form of a Black/Volt/White colourway this weekend, and while it is a colour combination we do not normally see on boots, it has a nice bit of pop without being overly 'loud'.
Tim Cahill (New York Red Bulls) – Warrior Sports Skreamer S-Lite
Tim Cahill was announced late last week as Warrior Sports' new signing, and boy oh boy did he give the boots the best debut ever. Just 7 seconds into the game, Tim Cahill scored an amazing 25 yard volley with his first touch in the Warrior Sports Skreamer S-Lite. Maybe Warrior Sports will make a clever little advertising campaign from the goal, but it will certainly be something Warrior would have been delighted to see!
James Troisi (Melbourne Victory) – adidas Predator LZ SL II
I do not quite know how it has happened, but after no spots of players wearing the Predator LZ SL II for the whole season, we suddenly have our third boot spot of the LZ SL in three weeks. This time, we go to Australia where Melbourne Victory forward James Troisi was spotted in the new Infared/White colourway during Victory's Friday night fixture against Adelaide United. Troisi is the sort of player adidas are probably trying to target with the SL models. Being a pacey striker, the LZ would give the Aussie the best of the Predator and adiZero worlds with it's Sprintskin upper and Lethal Zones plastered across the upper.
Artur Yedigaryan (Armenia) – Nike Tiempo Legend IV (Custom)
The Tiempo IV is normally home to your traditional colour combinations, but the Hi Vis Tiempo IV certainly threw that theory out the window. Perhaps seeking something a little bit different, but not as extreme as the Volt/Black Tiempo IV, Artur Yedigaryan has come up with a bold Orange/White NikeiD Tiempo Legend IV. Coincidentally, the orange used on Yedigaryan's boots is very similar to the orange we will be seeing on the launch colourway of the Tiempo V, but we cannot say too much more about the future release besides that!
Lee Keun-Ho (South Korea) – Mizuno Morelia Neo Japan Edition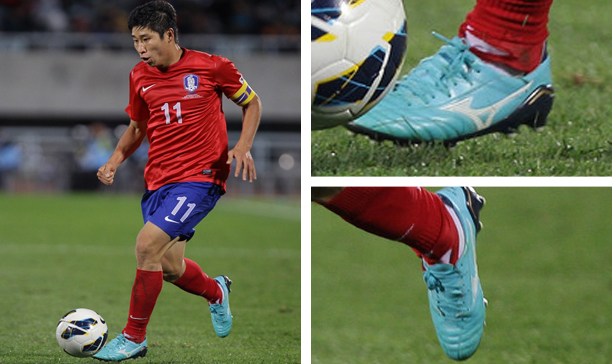 The Mizuno Morelia Neo is a very special boot, it is certainly one of my favourite boots of all time. But Mizuno have found a way to make the boot that little bit more special. Mizuno offer premium 'Made in Japan' models of the Morelia Neo, which have been manufactured such that it makes the boot that improves the fit and durability of the boot. While you are also paying a premium price for the service, the boot comes in an exclusive Light Blue/Dark Blue colourway, as shown off by Lee Keun-Ho. Considering how much I loved the regular Morelia Neo, I wonder how much better Mizuno can make the Morelia Neo with the 'Made in Japan' model…
That is it for our boot spotting today, what was your favourite spot this week? Share your thoughts in the comments section below.