Alright, so now we have the Champions League back on our screens, we are now well and truly back in the football season! But in a weekend filled with a teenager matching up to his multi-million dollar price tag, a Spaniard being rather dirty and Barca and Real cruising along like it's nobody's business, the only way it should be wrapped up is with a good old SoccerPro boot spotting. With boot switches, custom boots and boots we do not see too often in our spotting this week, check out the essential boot spots to kick start your week.
Lionel Messi (Barcelona) – adidas Messi 15.1
We thought it might have happened last week, but Lionel Messi officially unveiled the second Messi 15.1 boot, in the rather awesome White/Prime Blue/Core Black colourway. The boots were made with input from the man himself and it carries a rather obvious reference: the boots are decked out in the colours of the Argentina flag. The simple, clean boot will probably win over quite a few fans, so even though the boots are made for Messi himself, we would not be too surprised to see a few players picking up the boots over the coming weeks.
Memphis Depay (Manchester United) – Under Armour Speedform
Yep, it's that time again. Memphis was getting loads of boots in the first few weeks of the season (he has been seen in 4 different boots since the start of August), but UA gave him a little bit of time off new boots until now. This week, Memphis unveiled the latest in a line of UA boots made just for the star, this time in an eye-catching camouflage colourway. The boots, which feature a one piece synthetic upper, were involved in a successful debut for Memphis, as he scored for United in their midweek UCL loss.
Jefferson Montero (Swansea) – adidas X15.1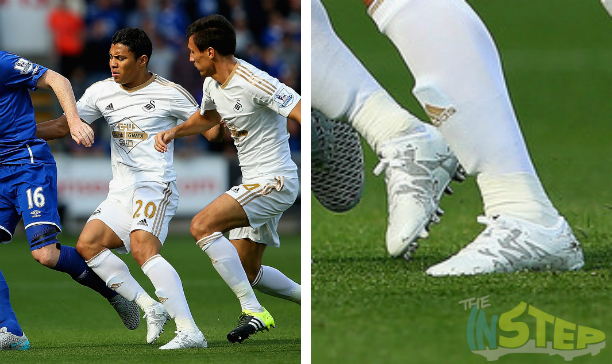 You know what I have noticed? When it comes to players wearing the adidas X15.1, the vast majority of players have stuck with the Solar Yellow/Core Black launch colourway, then you have like one or two players in the Solar Blue/Black colourway…and that is about it. The popularity of the launch colourway is massive, so it is refreshing to see a player who has strayed away from the main pack. A bit like Jefferson Montero here, who has gone for the gorgeous White/Core Black/Silver Metallic colourway. Plus there is the nice little match with the Swansea home kit, does not get much cleaner than that.
Mario Götze (Bayern Munich) – Nike Magista Obra
While the world tries its best to deal with the Syrian humanitarian crisis, the football world has popped up with a few acts of kindness that shows true class. While Ronaldo took to the field with the Syrian refugee kicked by a Hungarian camerawoman, Götze has gone for a different approach. Götze's boots have been customised with the message "#refugeeswelcome", and Götze will continue to wear the boots until the end of the month when they will be auctioned off, the proceeds of which will go towards the Syrian crisis. Stay classy Götze.
Aaron Ramsey (Arsenal) – New Balance Visaro
We have had the new season colourways for the boot companies for a little while now, so as they always do, now will be the time that we see a few more colourways being pushed out for Autumn. New Balance are the first to launch new colourways for all their boots, starting off with the Baltic/Serene Green Visaro. Aaron Ramsey was given the privilege of being the first player to wear the boots, and he showed them off during the mega-clash between Arsenal and Chelsea.
Renato Neto (KAA Gent) – adidas ACE 15.1
Much like the X, the ACE has been extremely popular in the Core Black/White/Solar Yellow launch colourway, but we have hardly see players in the other iterations of the boot. Enter Renato Neto, who stepped out for KAA Gent in the White/Silver Metallic colourway during Gent's midweek Champions League game against Lyon. The cool touch of Silver Metallic on the heel gives the boot a little bit more of a kick from an otherwise whiteout release, not bad adidas.
Badavi Huseynov (Qarabağ FK) – Nike Tiempo Legend V (Custom)
We have heard all about players blacking out boots close to their contracts coming up so they can test boots out discretely, but Badavi Huseynov has taken things in a different direction. The Qarabağ FK player has strangely removed the white Nike tick from his Tiempo Legend Vs, and of course those not in the know would not know any wiser as to what boots he is wearing. Why Huseynov has done it? Who knows, but it is not something you see too often!
Reynaldo (Qarabağ FK) – adidas X15.1 Womens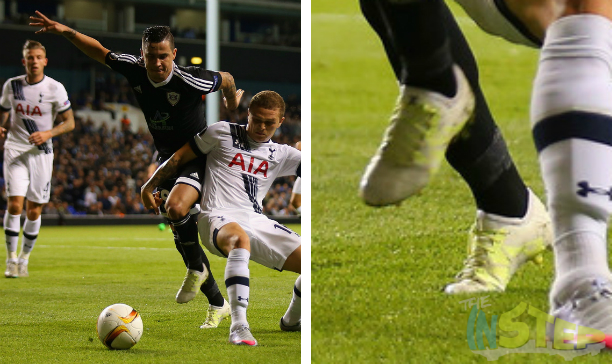 We say it pretty often, the girls get some pretty mint colourways these days, but there are a few amongst us who have small enough feet (and also to be brave enough) to wear womens boots. Reynaldo rocked the White/Frozen Yellow X15.1 during Qarabağ FK's Europa League game against Tottenham. The boots, which were released just before the Women's World Cup, are an awesome pair of boots that we wish would get more on-pitch support.
That is it for our boot spotting today, what was your favourite spot this week? Share your thoughts in the comments section below.