We are all knocking off work one by one for Christmas holidays, but the footballers sadly cannot say the same thing. Well, maybe it is sad for them, but for us it means we can sit down and enjoy back-to-back football marathons! And of course many games of football also means one more thing: boot spots! The Instep is here with our weekly round up of the week's biggest boot spots, from new boots to custom boots to a few, shall we say, odd boots. Check out what caught our eye this week.
David Silva (Manchester City) – adidas F50 adiZero TRX
No Sergio Aguero? No problem, David Silva filled the hole left by the diminutive Argentine this week as he hammered home two goals in Manchester City's rather one sided affair against Crystal Palace. But he did it all in the F50 adiZero TRX, a change from the 3rd generation 11Pro he has been wearing in the past few weeks. It was a rather unexpected move from Silva, even though he is a past F50 adiZero wearer, he has been in the 11Pro since the start of the season. With the brace he got on the weekend, we might not be seeing a boot change anytime soon from the Spaniard.
Alex Song (West Ham) – Puma King DI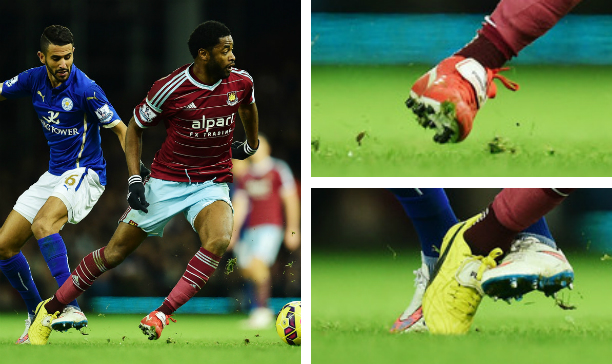 Oh Alex Song, considering it is the lead-in to Christmas, you are the gift that keeps on giving for me at the moment! So we will start from the top, Song wore a retro-tastic black pair of Puma King DIs two weeks ago, which he promptly followed up with the Nike Magista Obra last week. He is now back in the Puma King DI, but he has gone ahead and stuck a red King on one foot and a yellow one on the other (I call it doing an 'Assou-Ekotto'). Eccentric sure, but it is awesome to see! Lord knows what he will wear next week, probably the adidas Predator Mania for all I know…
Brandon O'Neil (Perth Glory) – adidas Predator Instinct
The most recent Predator Instinct colourway certainly takes things back to how they used to be with the Predator. The Black/Predator Red colourway has appeared on virtually every Predator release in one form or another and it has finally made it's way onto the Predator Instinct in the same glory as all of it's predecessors, making it a comfortable inclusion on my list of the best colourways of the year. Brandon O'Neil was snapped up in the boot on the weekend, as Perth Glory continue to charge ahead in the A-League. It is surprising how few players have been seen wearing the boots. I mean, can you just not imagine Stevie G in the boots over the Supernatural pack ones he is wearing right now? Just saying…
Sammy Ameobi (Newcastle United) – Nike Mercurial Vapor Superfly IV (Custom)
If you have a black and white kit (i.e. my referee kit), it is probably the easiest kit in the world to be able to be able to colour co-ordinate. Sammy Amoebi has done just that with his black and white Superfly IVs, but it seems that Ameobi has done a little bit of customisation work to his Superflys. Various angles of his boots shows that his boots do not have the Mercurial lettering on the heel that are surrounded by a strip of red or the red stripe around the top of the Dynamic Fit Collar. We have to give credit to Ameobi's commitment though, it means he has really stuck with his colour co-ordination mission…
Jonjo Shelvey (Swansea) – adidas Predator Instinct Pure Leather
Here is another bloke who seems to have quite a taste for the boots he pulls on each week. Shelvey has been seen in various Predator boots this season, from custom Instincts to the Predator Accelerator Instinct re-make. The midfielder played an instrumental game in the K-Leather Predator Instinct, a release where adidas say they are taking boots back to their traditional roots. Except, uh, a bit of research by my boot-buddy Andrew has found that the K-Leather Predator does not actually use kangaroo leather, but rather a high quality calf leather. Yeah, that's awkward…
Alexandre Pazos Geijo (Udinese) – adidas F50 adiZero TRX
We may be starting to lay down the foundations for what will be the launch of the 6th generation F50 adiZero early next year, but there is still one or two players here and there kicking about in the boot where it all began. Alexandre Geijo is one of those players wearing the original Messi F50 adiZero in the funky chameleon-inspired colourway, which was launched just in time for the South African World Cup about four and a half years ago. I still remember the first time I picked up the original F50 and being completely blown away by what was easily the lightest boot I have ever picked up. Nowadays it is just standard to pick up a sub-165 gram boot, things change hey?
Fabrizio Tavano (Auckland City) – Nike Mercurial Vapor VII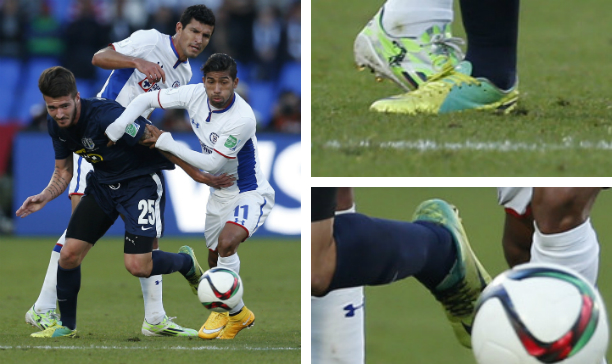 Another speed boot from the past, albeit not quite as old as the 1st generation F50. The volt Vapor VII still dates back to being released 3 years ago however, and the Vapor VII was certainly back in the days where Nike was fighting a losing battle on the speed boot front. Semi-pro Fabrizio Tavano of Auckland City brought out the boots as Auckland City put on a mighty fight in the Club World Cup. In case you guys have not heard about their exploits, the team made up of a bunch of retail workers and accountants (some of whom quit their jobs to go to the Club World Cup in Morocco) somehow managed to go on to finish 3rd in the Club World Cup. How cool is that hey?
Louis Reed (Sheffield United) – adidas F50 adiZero TRX (Custom)
With some of the wild colourways that we see hitting the market these days, it probably keeps NikeiD and miadidas in business as players look for colourways that are sharp and refined, yet unique to what everyone is wearing. Louis Reed brought out a sharp White/Blue custom pair of F50 adiZeros as Sheffield United pulled a 'cup-set' over Southampton in the midweek Capital One Cup games. By the way, that was Louis Reed's 8th start of the season for Sheffield. And he's 17 years old. Damn talented youngsters, it just isn't fair…
That is it for our boot spotting today, what was your favourite spot this week? Share your thoughts in the comments section below.