Monday means back to work, back to school, generally it is not a great thing right? Good thing that we have the boot spotting, and SoccerPro is here to brighten the start of your week with our weekly round up of the week's biggest boot spots. We have a bit of everything this week, boot switches, custom boots, a retro boot spot, what more could you ask for on a Monday? Check out the spots that caught our eye this week.
Cristiano Ronaldo (Real Madrid) – Nike Mercurial Superfly IV (Custom)
While Lionel Messi is always wearing his own signature colourways these days, Cristiano Ronaldo has made the switch from the Savage Beauty CR7 Superfly to the general release Bright Mango Superfly IV colourway. Ronaldo's fresh new boots make us think back to when Ronaldo was the headline athlete of the Vapor VIII when it came out in the very same Bright Mango colourway, so this little switch does have that nice throwback element to it. As always, Ronaldo's boots have been customised with the slightly lower Dynamic Fit Collar.
Blaise Matuidi (PSG) – Nike Magista Obra BHM
Would it not be nice to be given a pair of boots, knowing that you are the only professional athlete who has been given strict permission to wear that boot? Blaise Matuidi would know that very feeling, after the midfielder was given the special Black History Month Magista Obra. Matuidi being given the BHM Magista could be a sign that the Frenchman may now start to appear more regularly in Nike commercials. And given that France's national kit is made by Nike, maybe Matuidi will be given a major role in Nike's ads in the lead up to EURO 2016.
Granit Xhaka (Borussia Mochengladbach) – Under Armour Clutchfit 2.0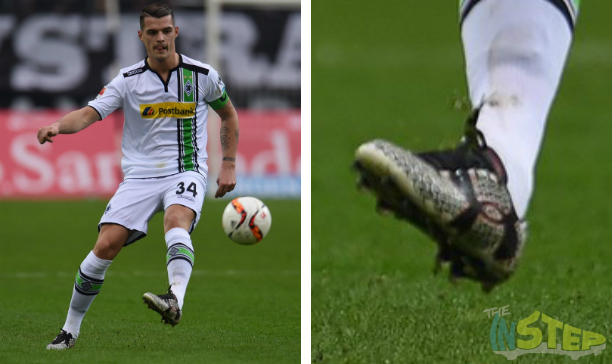 It is not often that we see someone wearing Under Armour boots in mainland Europe, but when we do, it is probably worth pointing out. UA officially signed on Granit Xhaka earlier this month, and the Swiss midfielder has already been made the headline athlete for the Clutchfit range. It does mean UA will have some more representation at the EUROs later this year, and with Depay in the Speedform, UA's two major boots are going to be on our screens come June this year.
Nigel Atangana (Leyton Orient) – adidas X15.1
I have to admit, most footballers in the X15.1 are not showing much imagination when it comes which colourway they wear. Nearly every X15.1 endorser has been spotted in the Solar Gold colourway, and it is refreshing to see Nigel Atanga in the rarely seen Black/Pink/Solar Gold colourway. Surprisingly, this is the 5th black X15.1 that has been released by adidas, and all of them seem to follow the same template of a black boot with a hit of colour on the X-Cage to give it a sharp kick.
Francesco Totti (Roma) – Nike Tiempo Legend VI (Custom)
Massive respect for Totti, the Italian will never, ever budge when it comes to how he wants his boot to look. The fold-over tongue that appeared on so many boots until about 2008 is now dead, as the boot companies sought to remove any excess weight off their boots to make them as slimmed down as possible. Totti does not like that, and the classy Italian still demands his Tiempos come with a fold-over tongue. Totti showed off the unique customisation during Roma's UCL game against Real Madrid. That black fold-over tongue on the Light Crimson Tiempo VI is pure class, and we kinda wish the real Tiempo VI came with the same tongue…
Stefano Okaka (Anderlecht) – adidas ACE 16.1 Primeknit (Custom)
So here is a customisation that we have not yet seen hit the ACE 16.1. While some athletes have cut the collar on their 16.1 PureControl or Primeknit boots, Stefano Okaka has taken the good old black permanent marker to his Solar Green ACE 16.1 Primeknit boots. The result is a $250 boot that now looks kinda shoddy…and chances are that you would not want your blackout boots to look like Okaka's. So if you want to do a blackout, check out the blackout boot guide I wrote last week to see how to have a proper blackout boot.
Joaozinho (FC Krasnodar) – Puma V1.06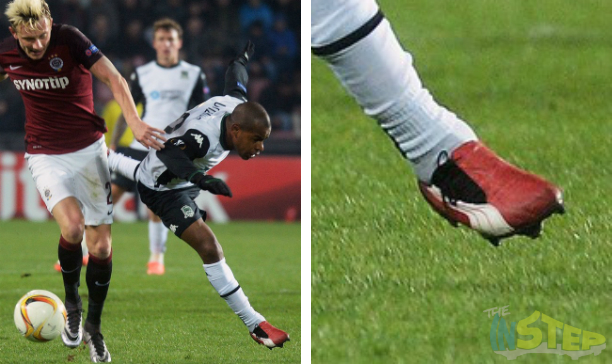 I always like ending a boot spotting on a retro boot spot, because it just feels right you know? And this boot definitely goes back pretty far back, the Puma V1.06 was originally launched way back in 2006 and was in fact Puma's first attempt at a speed boot. The very boot has recently been a subject of a throwback release from Puma, which makes it that little bit more extraordinary that Joaozinho has still held on to his pair of Puma V1.06 boots. The boot absolutely screams retro, and it is great to see such a classic boot still hitting the pitches of Europe.
That is it for our boot spotting today, what was your favourite spot this week? Share your thoughts in the comments section below.