Yes, we are back. After a two month interlude, The Instep is back with the boot spotting articles that we all know and love. And in good time too, as there were some fantastic boot spots to be found this week. We do not do the easy, obvious boot spots here. We only find the freshest boot spots for our weekly boot spotting articles. From custom boot spots to boot spots that are a little bit different, The Instep is here to give you your lowdown of this week's best boot spots. Check out what caught our eye this week.
Bastian Schweinsteiger (Germany) – adidas X15.1 (Custom)
Okay, so maybe Schweinsteiger did play for Germany over a week ago now, but there is quite a few things about Bastian's boots that mean that it is not your standard adidas X15.1. While a few websites have identified his boots being customised with a Sprintframe outsole, there is much more to his boots than just a different soleplate. Bastian's boots have been customised with a Goleo calf leather upper, which you may recall from the 4th generation F50 adiZero. The leather upper makes way for Speedfoil at the back of the boot as well, essentially making Bastian's boots a customised leather version of the 5th generation adiZero with a X15.1 paint job on top. Interesting custom job from the German, it seems he cannot quite let go of the old F50 boots yet…
Sergej Milinkovic (Serbia U20) – Nike Mercurial Vapor Superfly IV (Custom)
What about the result that the Serbian U20 boys got during the week hey? While getting one over the Brazilians in the U20 World Cup is nothing to sneeze at, the patriotic Australian in me would like to shout out to the Australian girls beating the Brazilians yesterday in the Women's World Cup…..right I got sidetracked there. We always love a good customised Superfly spot on the Instep, and Sergej Milinkovic has given us a nice one at that with his own Red/Black Superfly IVs. They also match up relatively well with the Serbia kit too, so we can kinda see the inspiration behind Sergej's boots.
Wang Shanshan (China) – Nike Mercurial Vapor X CR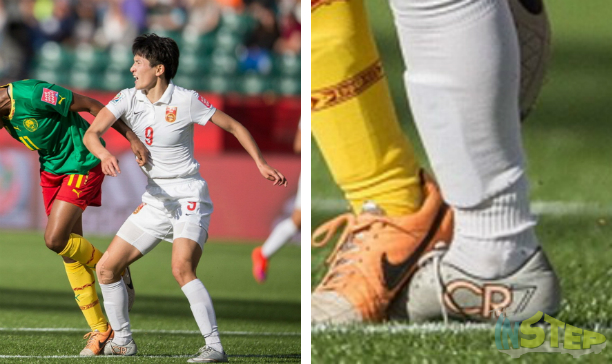 The Women's World Cup is awash with players wearing (pretty) up to date boots, but we dug a little deeper with our spots from the WWC. China's Wang Shanshan gave us a rather unexpected spot with the Nike Mercurial Vapor X in the CR7 signature colourway released in March this season. It is always a little strange to see a player wear a boot that pays homage to another footballer, but Wang did bring out her inner Ronaldo as she scored the sole goal in China's win over Cameroon. Ps. It looks like she's in a bit of pain with the studs right across the foot there…
Kenti Robles (Mexico) – adidas F50 adiZero TRX (Custom)
Got a pair of boots that match your kit? That is always a winner in our books. Kenti Robles of Mexico has got an almost chameleon-inspired looking boot with her F50 adiZeros, but the red matches up brilliantly with her Mexico kit, while the green gives that little pop of colour that a good pair of boots always need. We do have two boot spots in one here, as France's Laure Boulleau is rocking a pair of Nike Mercurial Vapor Xs with the HG soleplate on it. It is surprising that so few footballers have been spotted in HG or Turf boots considering the WWC is being played on synthetic grounds.
Denise Pesantes (Ecuador) – Nike Bomba Pro II
Which feeds us in nicely to this boot spot. Denise Pesantes counts herself in a very select group of footballers who have gone for Turf boots at the WWC, as the overwhelming majority have opted for normal FG boots while playing in Canada. There are downsides to playing in FG boots on synthetic surfaces. From my personal experience, it tends to wear down the studs quicker, and playing in bladed studs (like those found on Superfly IV) does carry the risk of the studs catching on the surface and increasing the chance of ankle injuries. However, I have found that playing in rounded, conical studs does seem to be better on synthetic surfaces.
Jadson (Corinthians) – adidas X15.1 (Custom)
The new adidas X15.1 and Ace are absolutely everywhere at the moment, and the new boots will get their global retail launch come the 1st of July. Putting up a spot of the regular X15.1 is just too easy though, so of course we want to go a little bit further and get something a bit out of the blue. Or maybe that should be out of the black, considering Jadson of Corinthians has been spotted wearing a customised blackout version of the new boot. Everything looks better in blackouts, everyone knows that, and that certainly proves to be the case once again with the X15.1.
Marko Petkovic (Serbia U21) – Nike Magista Opus (Custom)
It seems the Serbians are pretty keen to wear customised boots, as Marko Petkovic has gone for a simple and clean White/Red Nike Magista Opus. Does it feel like a case of déjà vu with Petkovic's White/Red Magista Opus boots? You would be right in thinking that, we have seen a pair of boots very similar to this worn by Kyle MacFadzean, who made the boots match with his MK Dons kit back in January this year.
Madeleine Ngono Mani (Cameroon) – Nike Mercurial Vapor Superfly IV (Custom)
When it comes to boot spots this week, it seems the girls bring us some pretty damn interesting boots for our weekly boot spotting. Madeleine Ngono Mani brought out her own custom Superfly IV, but we must admit it does look a lot like the launch colourway for the Superfly IV. However, the black Dynamic Fit Collar does give away Mani's boots being her own custom creation.
That is it for our boot spotting today, what was your favorite spot this week? Share your thoughts in the comments section below.