Okay, weekends of football, or weeks of football, do not get much better than that. We had an awesome midweek of Champions League football, that mauling of Arsenal at the hands of Chelsea, Alexander Tettey's goal of the season screamer against Stoke for Norwich (no bias intended) and, well, THAT El Clasico. Yup, us blokes at the Instep were definitely stuck in front of the TV screen this weekend, and we had a damn good reason to be. So now we have hit Monday, we go from the TV screen to the computer screen to search for only the world's greatest boot spots. And damn, there were some mighty fine boot spots on the pitches this weekend. Get up to date with the first boot spotting of the web, courtesy of the Instep!
Cristiano Ronaldo (Real Madrid) – Nike Mercurial Vapor IX (Custom)
Got a social football boot you want the world to see? Why not casually put it on the feet of the reigning Balon D'Or winner in one of the biggest fixtures in world football? In a rather well timed marketing ploy, Cristiano Ronaldo debuted the final Fast Forward Vapor IX in Sunday's blockbuster against Barcelona. As expected, Ronaldo wore his own customized Vapor IX that ditches the Speed Control technology upper, with the superstar favoring the Teijin upper that has a leather-like finish to it.
Gareth Bale (Real Madrid) – adidas F50 Crazylight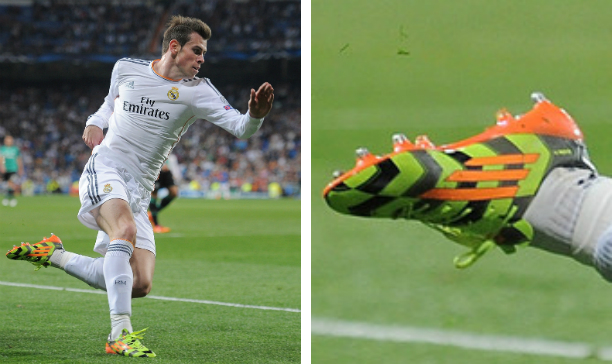 Damn, Nike and adidas pulled out all the stops when it came to El Clasico hey? Okay, so maybe this is not the first time we have seen the F50 Crazylight (Bale debuted the F50 Crazylight in Real's midweek UCL game against Schalke), but amongst a sea of bright boots, Bale's stood out like no other with the insane arrow design on the upper. Considering the weight of the F50 Crazylight pushes the envelope when it comes to protection, we wonder if we will see any other footballers try the boot out for themselves.
Andrew Durante (Wellington Phoenix) – Puma evoPOWER 1
When you balance it up, it seems Puma have had a relatively successful launch when it comes to their new Puma evoPOWER. They had an insane video to launch the boot, they captured the inspiration of fans when they poached Mario Balotelli out of nowhere, and it is generally a very good boot. However, demand for the Fluro Peach/Ombre Blue/Fluro Yellow launch colourway has been immense, and it is refreshing to see Andrew Durante picking up the alternative colourway. Sadly, Durante's Wellington Phoenix went down 4-0 to Newcastle Jets, with Lord Heskey netting the first goal in the mauling.
Zhang Chengdong (Beijing Gou'an) – Nike CTR360 Maestri III (Double)
Well, we always respect those who like to be a little bit different. Zhang Chengdong is the latest player we have seen doing an 'Assou-Ekotto' and wearing two different pairs of boots at the same time. We always wonder why a player does decide to do it himself. Assou-Ekotto famously did it as he had one pair of F50s and a pair of adiPowers, but one of the adiZeros and one of the adiPowers broke. Benoit did not want to go and buy a new pair of boots, so he decided to save money and, well, wear two boots at the same time. Perhaps he is being a bit like Ebenezer Scrooge with his money, but he has certainly started a craze!
Noborizato Kyohei (Kawasaki Frontale) – Mizuno Supersonic Wave III
There are quite a few brands that capture the curiosity of myself and Andrew, and one of those is undoubtedly Mizuno. While Mizuno launched themselves into the US soccer market last year, it is in Asia where they have a strong support from players. Noborizato Kyohei showed off the Mizuno Supersonic Wave III for Kawasaki Frontale in the Asian Champions League, which is Mizuno's answer to the Heritage boot, but juiced up with modern day tech. With the interesting Feather Touch upper, it is a boot we would certainly love to give a good go at!
Leon Best (Sheffield Wednesday) – Nike Mercurial Vapor XV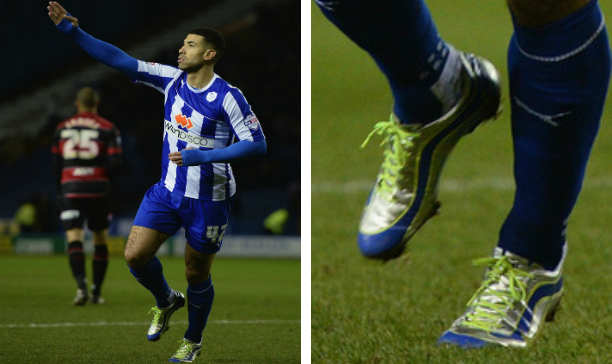 You have got to love a footballer bringing out a limited edition boot from their collection for the rare football match! Limited to only 1,992 pairs, the Mercurial Vapor XV was the first Mercurial Nike decoded to pay tribute to with a modern reincarnation of the boot before Nike made it mainstream with the Fast Forward series of boots. Leon Best has seemingly stashed his own Vapor XV, and he scored one of Sheffield Wednesday's three goals over QPR in their midweek tie.
Zhang Xizhe (Beijing Gou'an) – adidas Predator LZ SL II
Anyone else noticing the run of boot spots from Asia we have had lately? With the Asian Champions League in full swing (yeah, it is not quite the UCL, but it isn't half bad), it means we get to take a look at some of the weird and wonderful boot spots from a part of the world that is isolated from a boot spotting perspective. Zhang Xizhe is just another spot we have sourced from Asia this week, showing off his Samba-inspired Predator LZ SL IIs. Andrew gave us his thoughts on the Predator LZ SL II last week, and while they did take a bit of breaking in for him, he ultimately found them a lot of 'fun' to play in. I guess the fun nature of the boots is a bit like the Brazilians then hey?
Tomoaki Makino (Urawa Red Diamonds) – adidas Nitrocharge 1.0 (Custom)
Alright alright, I know we have already seen a spot with a player wearing two different types of boots. But come on, having one of these spots in a weekly boot spotting article is the equivalent of finding a unicorn, let alone two in one week! This time around, it is Urawa Red Diamond's Tomoaki Makino with two different Nitrocharge 1.0s. Interestingly, both boots are customised creations, even though the red Nitrocharge is dangerously similar to the Nitrocharge we saw released last year, bar the different coloured stripes. Notice how the stadium is eerily empty? Urawa Red Diamonds were forced to play their game behind closed doors this weekend after a racist banner saw fans banned from the game. A nasty piece of business…
That is it for our boot spotting today, what was your favourite spot this week? Share your thoughts in the comments section below!