Leicester continue their march to the EPL title, things are getting spicy in Spain and the EUROs are getting ever so close. It is a good time to be alive football fans, but let's make things a little better with your usual lowdown of the week's big boot spots. Custom boots, strange boots, boot switches, we cover it all. Check out what caught our eye this week.
Olivier Giroud (Arsenal) – Puma evoPOWER 1.3 Tricks
Fellow Frenchman Antoine Griezmann may have let the cat out of the bag by wearing the new Puma Tricks boot last week, but Puma endorsers around the world officially unveiled the new Tricks range this weekend. Inspired by Rigobert Song when he wore a red King on his left boot and a yellow one on his left at France 98, the latest installment in the Tricks range certainly catches the eye like many of it's predecessors. Pity the boots did not help Giroud as his goal drought goes on.
Marco Boriello (Atalanta) – Nike Mercurial Superfly IV
We love how Nike is ever so reliable with it's Academy Pack, and while we kinda wish they did a whiteout pack one year, we still cannot knock the blackout pack. Marco Boriello looks to have picked up the Mercurial Vapor Superfly IV version of the boot, and the boot certainly looks sharp against the Atalanta kit too. Now I am not sure why, but it seems to me that Boriello's Superfly has a higher than usual Dynamic Fit Collar. Maybe it is just me…
Carlos Sanchez (Monterrey) – adidas X15.1 Leather
When Nike kinda bums us because they do not release whiteouts, at least adidas have picked up the ball and given us a few clean whiteouts in the past 12 months. The latest of those is the Etch Pack that saw not only a blackout ACE 16.1 launched, but also a clean K-Leather whiteout X15.1. The Etch Pack X15.1 is a contrast to the standard leather X15.1, as the Etch Pack boot has a Techfit collar that is normally not added to the leather X15.1. Fair to say Sanchez makes the boots look great too.
Keisuke Honda (AC Milan) – Mizuno Wave Ignitus IV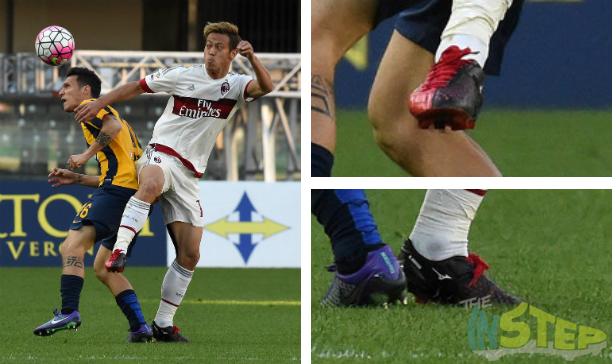 He was only in our boot spotting article a month and a half ago, but Keisuke Honda has been spotted in yet another unreleased Mizuno Wave Ignitus IV colourway. Mizuno have kept up their theme of two contrast colours when it comes to their colourways, this time opting for a straight black and red boot split right down the middle of the boot. We are fairly sure that Mizuno made this colourway with Honda in mind, as it will be a perfect match with the AC Milan home kit.
Matthias Henn (Rostock) – Nike Tiempo Legend VI (Custom)
You know, these boots do not look half bad. It seems to us that Matthias Henn has grabbed the standard release Black/White/Metallic Gold Tiempo VI and coloured in (what was) the white Nike tick. The result? A super classy blackout boot that still has gold surrounding the Nike tick and accents of white and gold running down the soleplate. If I can say so myself, these look better then the normal release boot…
Israel Jimenez (Tigres) – Union?
There are a lot of different boot brands out there, and there are some that are so small that I do not know much about them. Israel Jimenez laced up in a strange boot that appears to have 'Union' written on the instep of the boot, but I could not find any information about the boots. The brand could be a South American or Mexican boot company, and based off what we can see about Jimenez's boots, they do feature a synthetic microfiber and are probably geared towards fans looking for speed boots based on the low profile nature of the boot.
Rômulo (Hellas Verona) – Nike Tiempo Legend VI (Custom)
Black and volt, that is a colourway we have seen on various boots in the past (think the Tiempo V released last year, the classic black and volt Vapor V), but the Tiempo Legend VI is yet to be released in the two colours. Which could be the reason why Rômulo has gone ahead and made his own Tiempo VI combining the two colours for the first time. The boots are certainly bold, featuring more volt than they do black, but if making a statement is what Rômulo was looking for, he's done the right thing!
That is it for our boot spotting today, what was your favourite boot spot this week? Share your thoughts in the comments section below.