Football is finally back! While international football is not awful, it does not have the same vibe as our regular league football. But you know what the best thing is? There will not be any more international breaks for 5 months! But let us get to the boot spotting, and as usual, we have scoured through the week of football just past to leave you with only the best boot spots to kick-start your Monday. From boot switches to custom boots and everything in between, check out what caught our eye this week…
Gareth Bale (Real Madrid) – adidas F50 adiZero TRX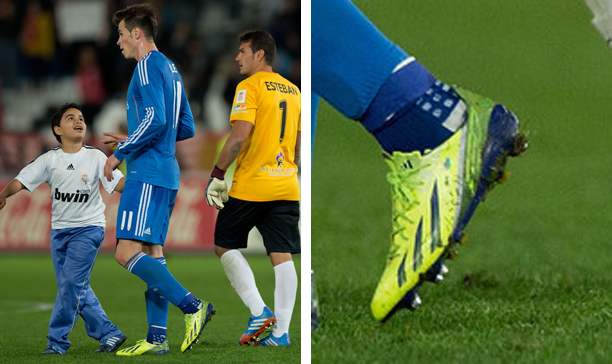 Last week, it was his team mate Karim Benzema who stubbornly held onto to his third generation F50 adiZeros, now Gareth Bale has followed suit as he wore the old boot during Real Madrid's destruction of Almeria. It is never a good sign when your sponsored athletes do not wear the latest generation of boots, and maybe there is something with the F50 Bale does not really like. Bale has always been a fan of Sprintskin, perhaps the major change to Hybridtouch is something Bale cannot quite get over. Either way, it's a situation worth keeping an eye on.
Mario Balotelli (AC Milan) – Nike CTR360 Maestri III (Custom)
There are normally two giveaway signs when a player is going through contract negotiation issues with their footwear. One, they wear blackout boots. Two, they cover up the company logo. The former applies here to Balotelli, who has blacked out his Hi-Vis CTR360 Maestri III. Balotelli has a huge amount of marketing power behind him, and if you ask us, Nike really do not maximize him to his full capacity in their ad campaigns. If Nike do in fact lose out on Balotelli, it will be a big blow for Nike coming up to a World Cup year.
Gary Cahill (Chelsea) – adidas F50 adiZero TRX
When a new boot comes out, it is never uncommon to see players switch out of their old boots into the new model. We did not, however, expect to see Gary Cahill trade in his Predator LZ IIs for the new F50. We see the hardy Cahill as the sort of player who would prefer the solid nature of the Predator, making his switch to the lightweight F50 that little bit more interesting. Cahill wore the Predator LZ only a few days ago for England and no photos of Cahill wearing the adiZero in training leading up to the game, it seems to be a snap decision by the Chelsea centreback…
Daniel Sturridge (Liverpool) – Nike Hypervenom Phantom
While the Hypervenom got off to a slow start earlier this season, the boot has slowly been picking up admirers as the season has gone on. It definitely does not hurt if the EPL's most in-form striker is parading your boots, but Nike probably will not be too happy with Sturridge dominating EPL defences with the old Black/Lime Green Hypervenom Phantom. Perhaps Sturridge is superstitious like RVP was in wearing the slime adiPower for the whole of last season, but we wonder how long it will be until we see Sturridge put on the Hi-Vis Hypervenom.
Yaya Toure (Manchester City) – Puma King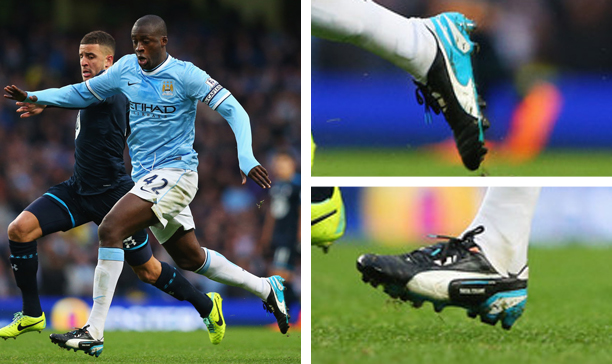 He may have worn the old launch colourway of the Puma King last week whilst playing for the Ivory Coast, but Yaya Toure has come back in the new Black/White/Blue Puma King launched just this week by Puma. After the major snub of the peacoat colourway by the pros, Yaya Toure, as well as Cardiff's Steven Caulker, ensured the new Puma King colourway had some exposure in the EPL this weekend. With Nike and adidas releasing some ridiculously bright colourways for winter, it is refreshing to see a classy black boot being released by Puma.
Ranko Despotovic (Sydney FC) – Nike Mercurial Vapor VIII (Custom)
There is something about predominantly white boots that makes us fall weak at the knees in love. Even though it is an old Vapor, we are loving Ranko Despotovic's minimalistic White/Red Vapor VIIIs. In days where fluorescent yellow and pink appears on a regular basis, a classy white and red boot is proof that you do not need bright boots to stand out on the pitch. It reminds us of the limited edition 'Don't tread on me' Vapor SL worn by Clint Dempsey back in 2009, but these are certainly a tidy NikeiD effort by Despotovic.
Robbie Kruse (Australia) – adidas F50 adiZero TRX
Sometimes, a good indication of a new boot release is if you see players switching out of the rival boot into the newly released boot. Robbie Kruse has been wearing Mercurial Vapors for much of his career, but the Australian has made the switch into the new F50 adiZero. It is perhaps a testament to the new F50. The F50 has been very popular amongst the pros since the boot was released, and we certainly cannot wait to get our pair to review.
Austine Ejide (Nigeria) – Nike Tiempo Air Legend II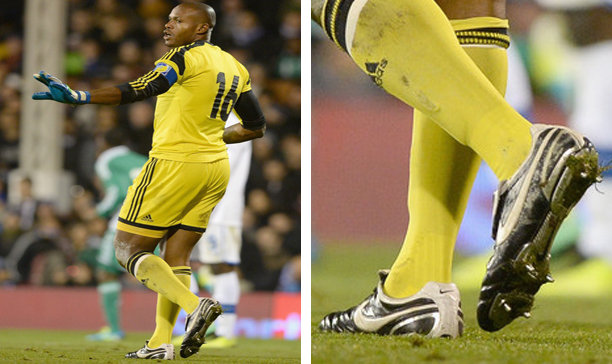 You have got to love a retro boot spot, but it is not too often we have a retro boot spot featuring boots from the Tiempo range. Released way back in 2008, the Tiempo II was released way before Sprintskin, Kanga-Lite and speed control technology was even thought of. Austine Ejide has done well to keep his boots in such good condition, but it is perhaps a reminder of how much things have changed since the Tiempo Legend II was around. Cesc Fabregas was the headline athlete of the boot back in 2008, now he has gone through not only the CTR, but also the Powercat. Who would have thought of that 5 years ago…