We may only be two weeks in, but the EPL has already thrown up loads of drama and controversy. Whether it be questionable refereeing decisions or shock results, the one way to cap off your weekend of football is with a round of the best boot spots from the Instep. We have had some very surprising boot switches in the past week, and you can check them all out with our wrap up of the week just past with an all new boot spotting courtesy of the Instep. Take a look at what caught our eye this week…
Steven Gerrard (Liverpool) – adidas Nitrocharge 1.0
So it seems the Gerrard boot saga continues to go on. Gerrard gave us the talking point of the off season when he flirted with the Nike CTR360 and the adidas adiPure 11Pro, but he returned to his normal Predator LZ last week, with adidas citing a blister being the reason behind Gerrard picking up the adiPure 11Pro. But Gerrard was seen in the Nitrocharge 1.0 this weekend, the idea of Gerrard playing in a boot that isn't a Predator in a Premier League game is something we have never seen before. It could be a recurrence of his blister issue, but it is certainly worth keeping an eye out for developments.
David Silva (Manchester City) – adidas Predator LZ II
Another player who was indecisive about his boots in the off season is David Silva. The Manchester City midfielder wore the 2nd generation F50 adiZero for the whole of last season, but he switched into the Nitrocharge 1.0 at the start of the summer break. Yet the playmaker has now turned to the Predator LZ as his boot of choice for the new Premier League campaign. Maybe Silva heard Samir Nasri praising the boot from the bench (badum tish), but it will be interesting to see how long Silva will stick with the Predator.
Santi Cazola (Arsenal) – adidas adiPure 11Pro and Puma evoSPEED 1
This week's boot spotting seems to be all about players switching boots, but Santi Cazola playing in the adiPure 11Pro is hardly news. Rather, it is about what he wore in training this week. The crafty Spaniard trialled the Puma evoSPEED whilst training for Arsenal's midweek European fixture, so a switch could be on the cards. In saying that, Cazola was seen testing out the Warrior Sports Skreamer K-Lite last season in a switch that never eventuated. Considering that Puma will be sponsoring the Arsenal kit from next year, it could be a move from Puma to get more Arsenal players wearing Puma boots in advance for next year.
Scott Parker (Fulham) – Nike CTR360 Maestri III
While the switch from the T90 to the Hypervenom has gone relatively smoothly for strikers, it is the midfielders and defenders who suffered the most from the transition to the Hypervenom Phantom. Some players have switched to the Tiempo, a few have refused to part with their T90s, but Scott Parker has embraced the Nike CTR360. We named the CTR as the most popular boot in the EPL this weekend, so it was maybe an easy choice for the Fulham midfielder. Ps. Am I the only one who did not know that Parker left Spurs for Fulham? I did not know about that happening….
Maicosuel (Udinese) – Nike Mercurial Vapor IX (Custom)
You can have all the brightest boots in the world, but sometimes, you cannot beat your plain vanilla white or black football boots. We do not see Nike release a predominantly white Mercurial Vapor with black detailing, but if they end up looking as good as Maicosuel's customised Vapor IXs, it is a boot that we would love to see Nike releasing. Judging by the smoothness of the upper of the boots, it seems Maicosuel has chosen to go with the Teijin synthetic upper on his boots. The next Teijin synthetic leather boot Nike will be releasing will be the new 'Galaxy' CR7 colourway. It is a boot we certainly cannot wait for at the Instep…
Carl Jenkinson (Arsenal) – Mizuno Morelia Neo
It seems adidas is losing their stock of Arsenal players. Santi Cazola may be moving on to Puma, but Carl Jenkinson has permanently ditched his F50 adiZeros in favor of the Mizuno Morelia Neo. The full back signed a new deal with Mizuno this weekend, making Jenkinson the only Arsenal player flying the flag for the Japanese brand. Coming from an owner of both the adiZero and the Morelia Neo, I know I would take the comfort and superior touch of the Morelia over the adiZero, so I wonder if Jenkinson agrees with me!
James McClean (Wigan Athletic) – Nike Hypervenom Phantom (Custom)
When news arose of James McClean's transfer to Wigan, it was saddening that we may not get to see too much of the EPL's resident boot nerd anymore (I am a self confessed boot nerd). But we hope McClean wears boots as interesting as this in the times we do get to see him this season, with the midfielder rocking a customized Red/Black Nike Hypervenom Phantom. McClean is the second midfielder we have seen wearing custom Hypervenoms, the first being Nick Blackman's boots that featured some nifty paintwork on the upper.
Robin Van Persie (Manchester United) – unknown adidas boot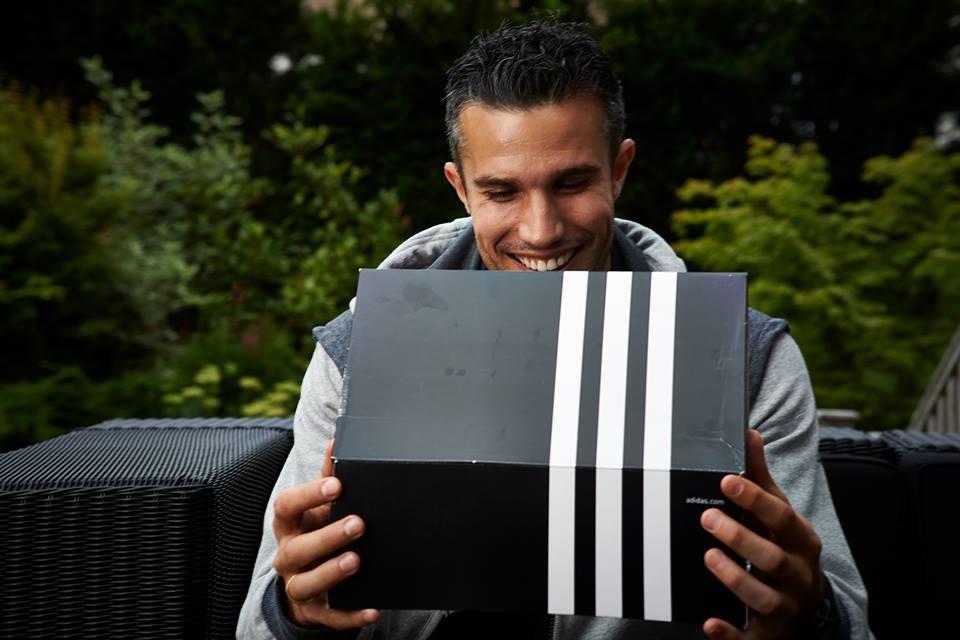 If we needed another reason to be excited for United against Chelsea coming up later today, then this might be it. Robin Van Persie posted this photo on his Facebook page yesterday saying he has taken in a "a special delivery from adidas Football today." Van Persie said everyone will find out what they are tomorrow, but this most probably means he will be wearing whatever boot is inside (at least we think it is a boot) when Manchester United line up against Chelsea in a few hours time. It could be anything, a new colourway, a customised Predator, it could even be a pair of Nitrocharge 1.0s. Only time will tell…
That is it for our boot spotting this week, what was your favourite spot today? Share your thoughts in the comments section below.