Alright, everyone can now take a deep breath. That was one hell of a week in the football boot world, so much so that Sergio had to spend a few days sitting in the corner of a dark room with the blinds down (he is still there by all accounts). We saw two new football boots hit the market and a bunch of colourways from Puma and adidas, plus a cheeky Neymar signature Hypervenom yesterday just to make sure Nike kept themselves in the loop. What is the best way to sum things up? A boot spotting courtesy of the Instep is your answer! Check out what caught our eye this week…
Angel Di Maria (Manchester United) – adidas Predator Instinct
The attention may have been on the new adidas F50 and Puma evoPOWER 1.3 boots (and rightly so), but the week also saw new colourways pushed onto the various other silos carried by the respective companies. The Predator Instinct saw a rather aggressive new colourway in the form of a Solar Red/White/Night Flash number. We will be honest, when we think of Predators, this is not what we would have in mind, making it kinda fitting that the boot is launched under the #therewillbehaters campaign. Di Maria was one of a number of players who brought the boots out for the first time this weekend.
Olivier Giroud (Arsenal) – Puma evoPOWER 1.2
Pretty much a year to the day that Puma launched the original evoPOWER 1 that succeeded the PowerCat, Puma have launched the all-new Puma evoPOWER 1.2, which carries the same mantra of the original evoPOWER: maximising shot power by re-creating the feeling of barefoot kicking. Launched in a Peacoat colourway (who names a colour after a jacket style?), Olivier Giroud was one of a number of players who rocked the new evoPOWER 1.2 this weekend, including Cesc Fabregas and Giorgio Chiellini.
Lionel Messi (Barcelona) – adidas Messi 10.1 (Custom)
There may have been plenty of flashes of red from the instantly eye-catching 6th generation F50 adiZero this weekend, but one player who we did not see in the new F50 adiZero is Lionel Messi. The little Argentine stuck with his signature Messi 10.1 boot, complete with his own leather upper. There is a leather option available on the new F50 adiZero, but a reason why adidas have not put Messi in the new F50 could be because they could be wanting to continue their trend of having Messi only wearing his own signature colourways when it comes to boots. A new Messi boot is on the horizon, but we think Messi will be rocking the old F50 for a few weeks to come.
Benik Afobe (Wolves) – Umbro Velocita
We did see two new boots officially launched this week, but I would say that we had a 'ghost' launch of a third boot this week too. Pros all over Europe suddenly brought out a White/Silver/Pink Umbro boot this weekend, a boot that is unlike anything else Umbro currently have on the market at the moment. The boot will be unveiled this week as the Umbro Velocita, Umbro's new entry into the Speed boot market. The boot does seem to take inspiration from the Mercurial and F50 ranges, and us folks here at the Instep think that is a very exciting idea. This could be a boot to keep an eye out for…
Antoine Griezmann (Atletico Madrid) – Puma evoSPEED 1.3
Of all the colourways that were launched in the past week, I would have to narrow down the new Bright Plasma evoSPEED 1.3 as my personal favourite. The super clean colourway definitely turns heads and is refreshingly simple in comparison to some of the colourways that look outrageous in comparison. Antoine Griezmann was one of a number of pros seen debuting the boots this weekend, and he netted a brace in the new boots as he carried Atletico to a win over Rayo Vallecano.
Andrej Kramaric (Leicester City) – adidas Nitrocharge 1.0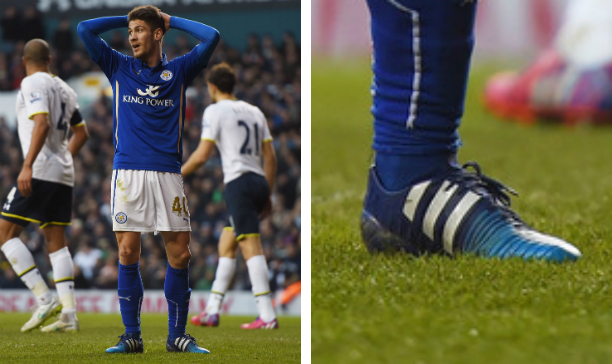 We are pretty sure that pros love it when a new release matches up with their kit perfectly, a bit like Bayern Munich players probably frothing at the co-ordination presented with the new Predator and their home kit. The match-up between the new Nitrocharge and Leicester City's kit is not too shabby itself, as shown by Andrej Kramaric this weekend. Come to think of it, there are probably a lot of kits that the boot would match up to hey?
John Welsh (Preston North End) – Umbro UX-1 Pro
Remember the days when Power boots were Power boots? These days, they seem to getting slimmer than ever, with the Puma evoPOWER 1.3 arguably being the only Power boot from the 'Big Three' that still carries elements of a traditional Power boot about it. There is so much about the UX-1 that reminds me of those boots from a bygone era, but it is a pity that very few players are spotted wearing them. The boots had Andrew swooning when he tested them out last year, and it is good to see John Welsh wearing an quality boot that is under-represented amongst the pros.
Fernando Torres (Atletico Madrid) – adidas Kaiser 5 Cup
This is a rather strange boot switch. While many would have anticipated Torres bringing out the new Predator colourway this weekend like many of his colleagues, the Spaniard went right in the other direction with his adidas Kaiser 5s, the boot that plays second-fiddle to the Copa Mundial in adidas' Classic boot silo. It is something that is hard to explain, it could be that Torres is feeling a bit of a foot injury and thought that the more comfortable Kaiser 5 could be more forgiving on his injury (a bit like Stevie Gerrard wearing adiPures during Liverpool's tour of Australia mid-last year), but it will be a situation we will monitor over the next few weeks.
That is it for our boot spotting today, what was your favourite spot this week? Share your thoughts in the comments section below.