So there is a LOT of footy on the telly at the moment, there is a new massive football headline every day and it's like two months until Christmas? Man, it's not a bad time to be alive at the moment! But let's take a moment out to check out something close to our hearts: this week's boot spots. There was quite a few interesting spots this week, with a few new boots, boot switches and more, check out the boots that caught our eye this week.
Paul Pogba (Juventus) – Nike Magista Obra (Custom)
May as well kick things off with the bloke who probably has the best boot collection in Europe at the moment. It is always worth keeping an eye on the feet of Pogba to see what he's wearing, and once again he has not disappointed as he brought out a new customised Magista Obra. The Silver/Black Magista Obra looks absolutely brilliant out on the pitch, and it also provides a nice little match up with the Juventus home kit too. If only a few of Pogba's boots became proper Magista releases…
Isco (Real Madrid) – Nike Mercurial Vapor X
Man, the athletes who are deserting the Hypervenom are coming quick and fast. After Neymar shocked many by effectively ditching the Hypervenom last week with his Vapor/Hypervenom hybrid creation, Isco is the latest player to make the move to the Vapor X. The Real Madrid man has been playing around with his boots quite a lot this season, he wore a heavily modified Hypervenom a few months ago where the Dynamic Fit Collar was taken off the Phantom and he reverted to the first generation Hypervenom last week. We have a feeling this is not the last we will hear from Isco when it comes to his boots though.
Juan Cuadrado (Juventus) – adidas X15.1 Leather (Custom)
Normally, we would not bother putting up a spot where a player is wearing a leather version of the adidas X or ACE, but there is something a touch different this time around with Juan Cuadrado. The leather version of the X is supposed to come with the standard traditional ankle cut, but Juan Cuadrado has gone for somewhat of a hybrid with his K-Leather boots. Cuadrado's boots come with the Techfit collar that is normally only sold on the synthetic version of the X. It is a change from the many athletes who are ditching the new high collar styles in favour of traditional cut boots, making Cuadrado somewhat of a pioneer here by demanding the Techfit collar on the X.
Mauricio (SS Lazio) – Nike Tiempo Legend V (Custom)
It is always good to see players try something a little different when it comes to their boots in an effort to stand out on the pitch. Mauricio did just that with his blacked out Tiempo Vs, and given that Mauricio has just left a green Nike tick on his boots, we think his boots either started life as the Green Strike Tiempo V or the Wolf Grey/Green Strike colourway launched a few months ago. The green tick gives the boots a nice little pop, and if anything, it reminds me of the Black/Volt CTR 360 Maestri II. Man those were a gorgeous pair of boots…
Trudy Camilleri (Sydney FC) – adidas Messi 15.1
Co-ordinated boots and kit combos always go down well here on The Instep, and faced with the sky blue kit of Sydney FC, Trudy Camilleri has gone for something that is not exactly a mainstream boot choice when it came to her new boots. The Metallic Ice/Bright Yellow/Core Black provides a wonderful match with the Sydney FC home kit, so we can see where Camelleri is going with her boot of choice.
Frederik Midtsjo (Rosenborg) – adidas X15.1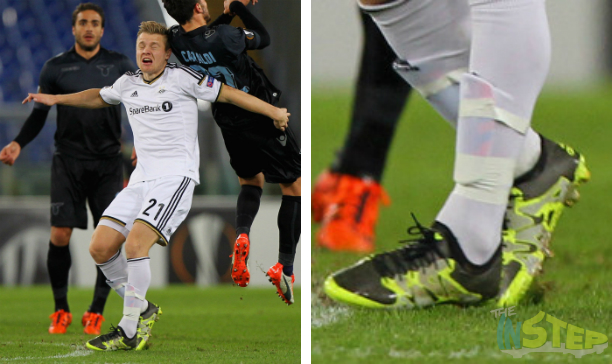 Speaking of boots we do not see too often, while the X15.1 has proven to go down well with the professionals, it seems all the pros in Europe have picked up either the current Solar Orange/Core Black Primeknit colourway or the Solar Yellow/Core Black launch colourway. It is easy to forget that adidas has in fact released 5 alternative X15.1 colourways, including the Core Black/Silver Metallic/Solar Yellow colourway being worn by Frederik Midtsjo. The Norwegian is the first player we have seen rocking the bright colourway.
Mario Mandzukic (Juventus) – Nike Mercurial Vapor X
Isco was not the only player who sealed their move from the Hypervenom Phantom to the Mercurial Vapor X this weekend. It seems the Vapor X is a popular choice for players who are not into the new Hypervenom, and Mandzukic co-incidentally followed the same path as many players who were not fans of the Hypervenom II. He switched from the new Hypervenom II to the original Hypervenom I, before finally sealing the move to the Vapor X. Nike will certainly be concerned with this growing trend of high profile footballers picking up the Vapor X, and we will keep an eye on any further players who make the same change.
Christoph Kramer (Bayern Leverkusen) – adidas ACE15.1 Leather and X15.1 Leather
Now for something a little different. If you ever wanted to work out what boot you prefer out of two different choices, you could always try something a little weird like Christoph Kramer has done. The defensive midfielder wore the leather ACE 15.1 on his right foot and the leather X15.1 on his left boot last weekend. While both offer similar feels for the ball (since they are both made from K-Leather), it seems the leather ACE15.1 won the battle, as he wore the ACE15.1 in Leverkusen's epic 4-4 draw against Roma in the UCL.
That is it for our boot spotting today, what was your favourite spot this week? Share your thoughts in the comments section below.