What happened in the past seven days? Well, adidas re-released a classic in 5 Samba inspired colourways, Nike showed off some new Hypervenom and Tiempo Legend V colourways…and that is about it. Yeah, it may not have been the busiest week in the boot world, but that does not mean the boot spots stop rolling in. Oh no, we had some terrific boot spots this week, and as we do, we go through this week's biggest boot spots. We search the planet for the biggest and best boot spots, from custom boot spots to a sneaky unreleased boot, check out what made the cut this week!
Maya Yoshida (Southampton) – Mizuno Wave Ignitus III
Remember 2 or 3 years ago whenever Mizuno had a massive 12 months, so much so that they were almost considered to be the 'third' football boot brand behind Nike and adidas? They have not quite continued on that path of dominance lately, but they made the wise decision of finally moving into the US soccer market. But it seems Mizuno have released a US exclusive Mizuno Wave Ignitus III colourway which is not available in Europe. The Blue/White/Orange colourway has somehow made it's way into Maya Yoshida's hands, perhaps they are being pencilled in for a worldwide launch soon…
Devante Clut (Brisbane Roar) – Nike CTR360 Trequartista III (Custom)
You can never knock a blackout cleat, and while it is very, very convenient that Nike have had a tendency to release a blackout pack of boots (a la the 'Stealth' pack at the start of this season), it is not much fun wearing the exact same boot that everyone has. So perhaps in an effort to wear a blackout CTR that is different from what everyone wears, Devante Clut has hit up NikeiD to create his own customised Black/Red Nike CTR360 Trequartista III. Nike, of course, do not offer the top tier Maestri available for customisation, a decision which we have always found a little on the strange side…
Kieran Lee (Sheffield Wednesday) – adidas F50 adiZero TRX
We see you sneaking around in the background there Mr Lee, and we can see you wearing two different adiZeros on your feet. It is not an event we see happen too often, but we love it when we see a player being very different in wearing two different boots at the same time. Kieran Lee is rocking the Electricity/Hero Ink/Silver F50 on one foot and the Green/Dark Blue/Joy Blue F50 on the other. It is always a nice little contrast, but we can never quite figure out what makes a footballer want to do it!
Emile Heskey (Newcastle Jets) – Nike Tiempo Legend V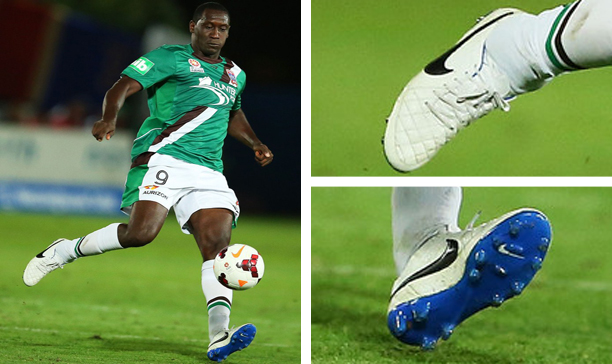 Even though he is kicking back in semi-retirement down in the Australian A-League, Emile Heskey is still keeping up with the recently released boots on the market. The Newcastle Jets big man is wearing the rarely seen Reflective pack Tiempo Legend V, the only normal release Tiempo V on the market that does not feature a two tone upper design. The Reflective pack has been very popular in the A-League, with many players seen wearing the boots from the collection, as opposed to the European leagues where the vast majority have snubbed the boot pack.
James McClean (Wigan) – Nike Mercurial Vapor IX
If I had to pick one player who I go out of my way for to see what boots they wear, it would have to be James McClean. With some of the outrageous boots we have seen the Wigan star in (customised Vapors, Hypervenoms, F50 adiZeros, limited edition Mercurials, nearly the whole kit and caboodle!), it is always worth checking out what the star is wearing each week. This week, it seems McClean has settled with an old favourite of his, as he was decked out in the Vapor IX from the Stealth pack released last year. We wonder what boot we will be seeing McClean in next…
Carl Jenkinson (Arsenal) – Mizuno Morelia Neo
Credit to Mizuno, they have one of the best speed boots on the market in the Mizuno Morelia Neo, but they always release classy colourways for the boot that match the heritage feel of the Morelia range. But with the lack of Mizuno Morelia Neo endorsers in the big European leagues, we sometimes do not get a good look at these colour ways. Thankfully, Mizuno signing Carl Jenkinson in the tail-end of last year means we have some Morelia Neo representation in the Premier League, as he wore Mizuno's recently released Pearl/Blue/Orange Morelia Neo colourway in Arsenal's Friday night FA Cup fixture against Coventry.
Grace Gill (Canberra United) – Nike Tiempo 94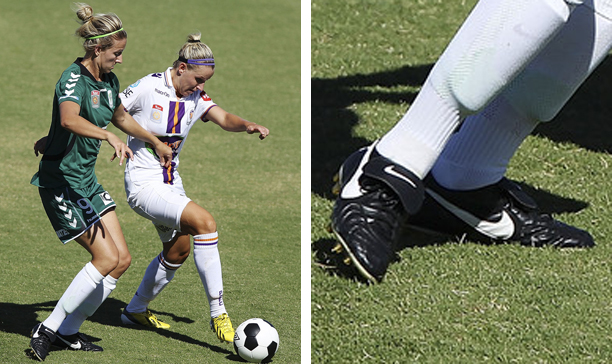 Sure, we seem to have a limited edition release monthly these days, but back in 2009, the Nike Tiempo 1994 was something that little bit special. The Tiempo 94 is a throwback to what was the genesis for the Tiempo brand we know today, with the boot originally being released for the 1994 World Cup. The Tiempo 94 re-created that classic boot, from the stitching on the vamp to the fold-over tongue. Despite being limited to just 1,994 pairs, Grace Gill still wears the Tiempo 94 for Canberra United in the W-League. I hope she knows that the boot she is wearing is very special!
Clayton Donaldson (Brentford) – Nike Mercurial Vapor II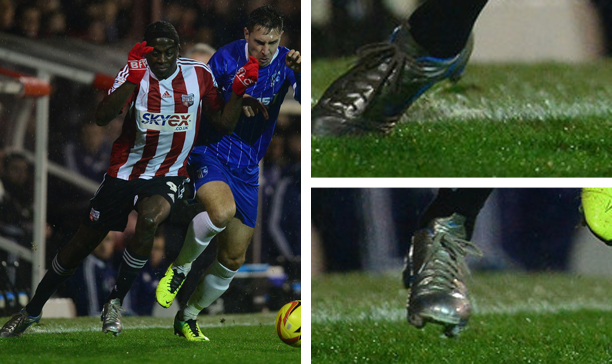 From one classic boot to another, we love our retro Mercurial Vapor boot spots! And in a time where Nike is re-releasing classic Vapor boots into their modern day versions, it is fitting that Clayton Donaldson is sporting the Silver/Blue Vapor II, released way back in 2004. Of course, those were the days before Flywire or carbon fibre soleplates, boots were much more simplistic back then. Plus they were worn by a different Ronaldo, with the Vapor II being smack bang in the middle of Brazilian Ronaldo's heyday. Still, gotta love seeing a classic out on the pitch!
That is it for our boot spotting this week, what was your favourite spot today? Share your thoughts in the comments section below.