You know, it would have been really good if on the weekend that most of us have a bit more time off (thanks to Easter) that we would have had a little more football on the TV hey? Ah well, but even though it may be Easter Monday, The Instep has pumped out another installment of our weekly boot spotting article. We are your reliable source for the week's hottest boot spots, and there are a few special spots this weekend. Check out who wore what below.
Cristiano Ronaldo (Portugal) – Nike Mercurial Superfly CR7 Quinhentos (Custom)
I have to admit, out of the two global superstars, Ronaldo gets nicer boots over Messi…6 months after the reveal of the CR7 Quinhentos, Ronaldo has finally debuted the boots that were released in commemoration of the star surpassing 500 career goals. The boots are a modern take on the very same Vapor III colourway, and as usual Ronaldo has had his boots customised with his usual lower cut Dynamic Fit Collar. Ronaldo could have done with a bit more luck when he wore the boots though, as he missed a penalty as Portugal went down to Bulgaria.
Granit Xhaka (Switzerland) – Under Armour Clutchfit Force AE 2.0 Superman
Superman or Batman? It seems we know Granit Xhaka's answer to that question. In light of the release of the Superman vs. Batman movie, UA have released a special Superman and Batman series of boots where the inner nerds in us can pledge our allegiance to the two superheroes. What is even more awesome is that both Batman and Superman boots are available in either the Clutchfit Force or the Speedform. With Xhaka in the Superman Clutchfit Force, we wonder if Memphis Depay will appear in one of the two Speedform releases.
Paul Pogba (France) – adidas ACE16.1 PureControl Pogboom and General Release
Paul Pogba has it pretty good, the midfielder had a go in arguably the two best looking ACE16.1 PureControl releases to date. And while the Pogboom edition is only assigned to the (now) headline athlete of the ACE16.1 PureControl range, Pogba also played in the just-released Shock Blue PureControl boot. Pogba was one of many athletes this week who showed off the new boot which has certainly drawn a great response from the football boot community.
READ: This Is Pogboom: adidas Golden Boy Pogba Snags Custom ACE Purecontrol
Harry Kane (England) – Nike Hypervenom Phinish (Custom)
It started as a rumour, but now it is starting to look like there is a bit of truth to it: could Nike be returning to the original NikeSkin upper for the Hypervenom? Harry Kane, as well as a number of Nike footballers, brought out the new Radiant Reveal Hypervenom featuring a distinct honeycomb-like upper, which is of course the NikeSkin made famous from the original Hypervenom. Nike are rumoured to reintroduce NikeSkin onto the Hypervenom after the EUROs (or maybe a few months after that), but considering NikeSkin made the original Phantom a brilliant boot, we are a little excited for this one…
Reginal Goreux (Haiti) – adidas Primeknit 2.0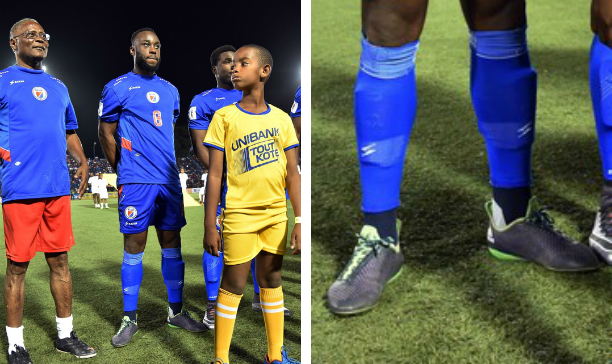 I do not think I have ever had a Haitian make it into my boot spotting articles, but if they all wore boots as cool as this, then they would make it in my articles pretty damn often. Reginal Goreux wore the second ever adidas boot to feature Primeknit, which back then adidas called "the best fitting football boot in the world". This was the sign that adidas started to take Primeknit seriously, and now it is to adidas like what Flyknit is to Nike. With only 10,000 pairs around the world, Goreux is pretty lucky to be able to have a pair to call his own!
Juan Fernando Quintero (Columbia) – Nike Tiempo Legend VI (Custom)
Custom boots in the exact colour of your playing strip? We love it! But when the boots have also been customised to match your country's outfit? Well, that it taking patriotism to the next level. Juan Fernando Quintero hit up NikeiD to create his own Yellow/Orange/Blue Tiempo Legend VI, and the boots match up pretty damn well with his Columbia kit. Quintero's Columbia only drew with the USA in their U23 Olympic Qualifying Playoff Match in a game where Quintero converted a penalty for the Columbians.
Duncan Weir (Scotland) – adidas Predator Mania
Okay, so maybe this is a rugby boot spot, but given how retro and how highly valued Duncan Weir's boots are, does it really matter that much? Weir was rocking the adidas Predator Mania during the week, a boot which is arguably one of the finest adidas Predator releases of all time. Launched back in 2002, Weir's 14-year-old boots have certainly still look extremely sharp on that pitch. Plus it has that iconic fold-over tongue, man I miss the old Predators…
That is it for our boot spotting today, what was your favourite boot spot this week? Share your thoughts in the comments section below.