New boots, loads of goals in the EPL, some shocking results and an injury to one of world's premier footballers? What a jam-packed week of football that was! But for those of us who have a love for the equipment side of things, this week saw some epic boot spots. A shock boot switch, an unreleased spot, a potentially game-changing prototype and a cheeky retro boot spot are the big talking points from this week's spotting. Check it all out in our weekly round up of this week's boot spots.
Neymar (Barcelona) – Nike Mercurial Vapor X
Check out Neymar's new hairstyle, how weird is it seeing him with his hair completely shaved off? Oh wait, that's not what I'm here for is it? Neymar definitely alerted everyone in the boot world when he unexpectedly made the switch to the Mercurial Vapor X this week, despite being the headline athlete for the Hypervenom Phantom range. Neymar does have a history with the Mercurial range; he was a headliner alongside CR7 for the Vapor VIII, but it is not a good look for the new Hypervenom with Neymar jumping ship to the Vapor. Could it have something to do with the Dynamic Fit Collar that Neymar has tried to alter on his boots? Who knows, but what a strange switch this is…
Ivan Rakitic (Barcelona) – adidas ACE15.1 Primeknit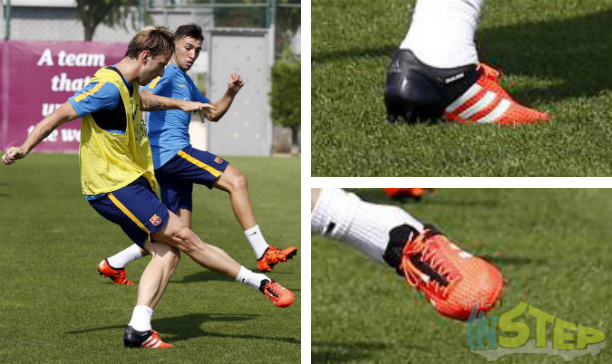 Ready to get knitted up in adidas boots? Because it seems a lot of pros are going to be doing so pretty soon. Barcelona players, including Ivan Rakitic here, brought out the new adidas range of ACE and X Primeknit boots. Both boots feature a one piece Primeknit upper and an ultra-thin 3D synthetic later over the top for ball control, and we believe they will be worn for a one-off week during either a UCL game week or one weekend of regular European football. We have a feeling it will be the former.
James Wilson (Manchester United) – adidas prototype
Soooooo yeah…I do not really know what these are. James Wilson brought out what we believe to be a new adidas prototype (given that the youngster signed a contract with adidas just last week), which features an amazing one piece sock-like upper, short laces and no external heel counter. We do not believe this is the next generation X16.1, as those boots are expected to come with the standard tongue design. It could even be the next generation Messi boot, but Messi is known to love his leather boots, so we cannot imagine him putting these on. I do know one thing about the boots though, for some reason, I really want a pair!
Alexis Sanchez (Arsenal) – Nike Mercurial Superfly IV
Alright, we can finally get on to Nike's newly released boots. Nike showed off the new Electro Flare Pack early last week (which go on sale today over at SoccerPro), and a number of Nike athletes took the opportunity this weekend to move on to the new boots. Alexis Sanchez marked his first week in the new boots with his first hat-trick in Arsenal colours, and while the boots do have an edgy look about them, they certainly look brilliant on the pitch.
Wayne Rooney (Manchester United) – Nike Hypervenom Phinish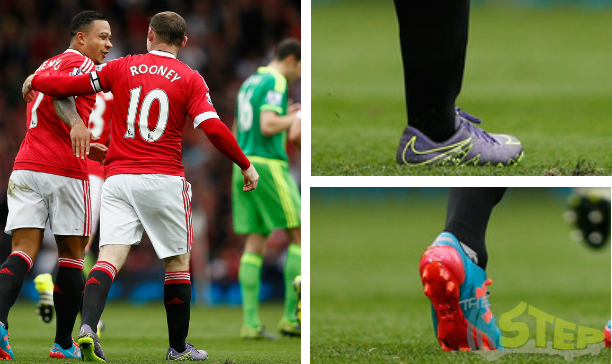 Alexis Sanchez was not the only player to christen his new Nike boots with a goal, Wayne Rooney ended a barren goal spell with a predatory finish in the Hyper Grape/Volt Hypervenom Phinish. It is also worth pointing out Memphis Depay made another boot switch this week, even though he was in our boot spotting last week in the special camouflage UA Speedform made just for him, he switched back to the blue UA Speedform this weekend.
Cesc Fabregas (Chelsea) – Puma evoPOWER 1.2
It was a new pair of boots for many of Puma's stars as well, as Puma brought back the cool (if not polarising) 'Tricks' treatment of boots which they first introduced for the World Cup last year. The split colourway saw one boot decked out in 'Orange Clownfish' (seriously Puma?) and 'Electric Blue Lemonade' (which is not much better name-wise). The evoPOWER has the right boot in blue and the left in orange, and Fabregas was one of a number of Puma athletes in the new colourway.
Robert Kenedy (Chelsea) – adidas Messi 15.1
You know how we normally think you are being a bit of a fan boy if you wear the custom made boots of one of the world's best players? Well, when you have been hand picked as a rising player and given permission to wear the boots, we think that is an exception to our rule. Robert Kenedy is one of 10 young players taking part in the Backed By Messi campaign, where 10 players who are expected to reach greatness have been given the opportunity to wear the Messi 15.1. Cool campaign, plus it is an opportunity to wear arguably one of adidas' sweetest looking boots.
Milan Lalkovic (Walsall) – Nike Mercurial Vapor III
I just had to end this week's spotting with this beauty of a retro boot spot. There are two retro boots that cause a flutter in the hearts of diehard boot fans: Mercurial spots and Predator spots. Milan Lalkovic gave us the former this week, as he brought out the Mercurial Vapor III for Walsall's midweek League Cup tie against Chelsea. The Vapor III was launched way back in 2006, so it is a wonder that Lalkovic has kept his boots in such good condition. We would think they are a pair kept for special occasion. Like playing Chelsea I guess…
That is it for our boot spotting today, what was your favourite spot this week? Share your thoughts in the comments section below.