Both sides of Manchester won, Chelsea did the job against Villa, the two giants of Spain were victorious and Jagielka scored THAT half-volley, we could not have anything about the weekend of football we just enjoyed! The entertainment value has our mouths watering for the next few weeks of football, but between the days of no football action, The Instep boot spotting is here to get through those dreary days! Big boots switches and custom boots are the call of this week's spotting, check it all out below.
Robin Van Persie (Manchester United) – adidas F50 adiZero (Custom)
Normally I should not pick out my favourite boot spot of each week, but this is certainly the biggest boot spot from the weekend. Robin Van Persie stepped out for United in a mysterious blackout, which we believe is one of the standard Van Persie customised F50s that he has been wearing in the past 12 months (or in this case, the Glow/Earth Green/Solar Zest F50). Blackout boots are almost always a sign of contractual issues when it comes to a player's footwear, so it may mean Van Persie is on his way out of adidas after being a loyal endorser for them. Watch this space, because this will not be the last we hear of this…
Bacary Sagna (Manchester City) – Nike Magista Obra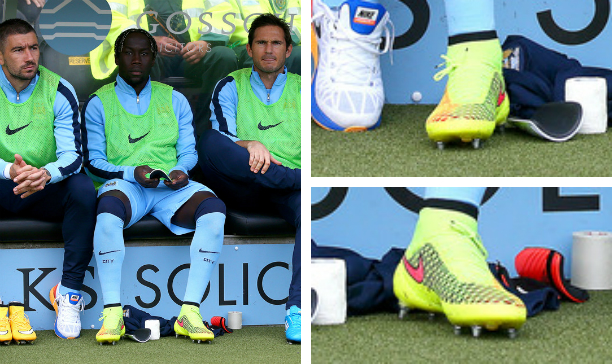 It has been a tricky week for Puma. With signs indicating that Samuel Eto'o has one foot out the door, Bacary Sagna is another player who has seemingly severed the ties with Puma. The Manchester City fullback sat out Manchester City's win against Hull in the Nike Magista Obra, after spending several seasons representing Puma. The Magista seems to be picking up new wearers every week, which perhaps says strides about the boot itself.
Dani Alves (Barcelona) – adidas Nitrocharge 1.0 (Custom)
Talk about contractual issues (hey, they do make the boot spottings interesting), Dani Alves seemingly has an unresolved issue when it comes to his boots of choice for the season. While he was one of the headline Nitrocharge athletes before the World Cup, he has been seen flirting in the Nike Mercurial Vapor Superfly I and the 2nd generation F50 adiZero ever since. It seems he has settled back with a blackout Nitrocharge, albeit in a customised version of the boot that sees the Hybridtouch upper replaced with Sprintskin. It could be a sign of Alves settling down in a boot, but we are sure that there is quite the battle going on at the moment between Nike and adidas to secure the full-back's signature.
Marvin Sordell (Burnley) – Puma King SL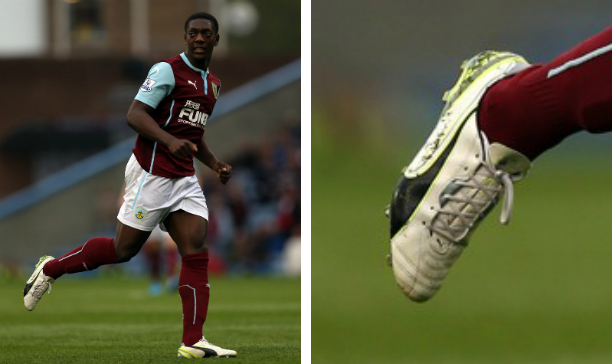 Honestly, when is the last time you saw a player wearing the Puma King? With Puma shifting all of their stars to either the evoSPEED or the evoPOWER, seeing someone wearing a boot from the King range is rather rare. So it is nice to see Marvin Sordell rocking the rather fresh White/Black/Yellow/Glacier colourway that Puma released over the summer. Considering that Puma are currently gearing up for the launch of the next generation Puma King (and it is not the only heritage boot re-launch we are seeing between now and Christmas too), expect to see a wave of stars back in the Puma King soon.
Rodrigo Palacio (Inter Milan) – Nike Mercurial Vapor IX (Custom)
Oh dear, not another pair of boots that have succumb to a rather poor permanent marker job…Rodrigo Palacio has gone rather aggressive on his Vapor IX, colouring the big Nike lettering on the heels of his boots but leaving the rest of the boot untouched. If he wanted to not let people know he is not wearing Nike boots, he probably should have thought about that big Nike tick too…certainly a strange customisation from the Argentine!
Johnny Russell (Derby) – Nike Hypervenom Phantom (Custom)
When you are wearing a white and black kit, it would look smart of you make sure your boots match up with your kit hey? Johnny Russell has done just that, creating a custom pair of white and black Hypervenoms on NikeiD. While we always have a bit of time for a nice and simple pair of white and black boots, we cannot help but think that Russell could have saved himself a bit of cash and gone for the black and white Hypervenom that was released last year by Nike…
Rene (Sport Recife) – adidas F50 adiZero Messi
Who says you need to be Messi or Ronaldo to wear their signature football boots? Maybe Rene has a soft spot for the Argentine superstar, with the Sport Recife left back wearing the Neon Orange Messi F50 that has been set aside for domestic league games for Messi. While Messi is rocking two different pairs of signature football boots at the moment, it will not be too long until Cristiano Ronaldo gets a new pair of signature boots to call his own. And this is one pair of boots that will raise an eyebrow…
Jonjo Shelvey (Swansea City) – adidas Predator Instinct (Custom)
Over the ages, we have had a number of Premier League players that advertise themselves as boot nerds. Think James McClean and Yannick Bolasie and you will get what I mean. I think it may almost be time to add Jonjo Shelvey to the list, because the Swansea midfielder seems to be quite fond of custom boots and limited edition releases. His latest effort is a black and warning Predator Instinct, his first boot since becoming the envy of many and wearing the Predator Accelerator throwback release. The boy certainly has taste…